Legendary Adventures
The Green Bay Packers are known around the world for having a special bond with their fans and with the community. Local history-makers, Curly Lambeau and George Calhoun brought together athletes and organized a sandlot football team. Today, Packers fans can be found around the world. 
Lambeau Field is one of the most storied and hallowed stadiums in the United States, and the Green Bay Packers are the only team in the National Football League to be owned by the fans. Consistently ranked #1 for the "fan experience," Lambeau seats 80,000 Cheeseheads. Curiously enough, we could fill another stadium with the number of fans that are on the season-ticket waiting list. The team has season ticket holders in all 50 states and many different countries! Public tours of the stadium are available year-round, except on game days.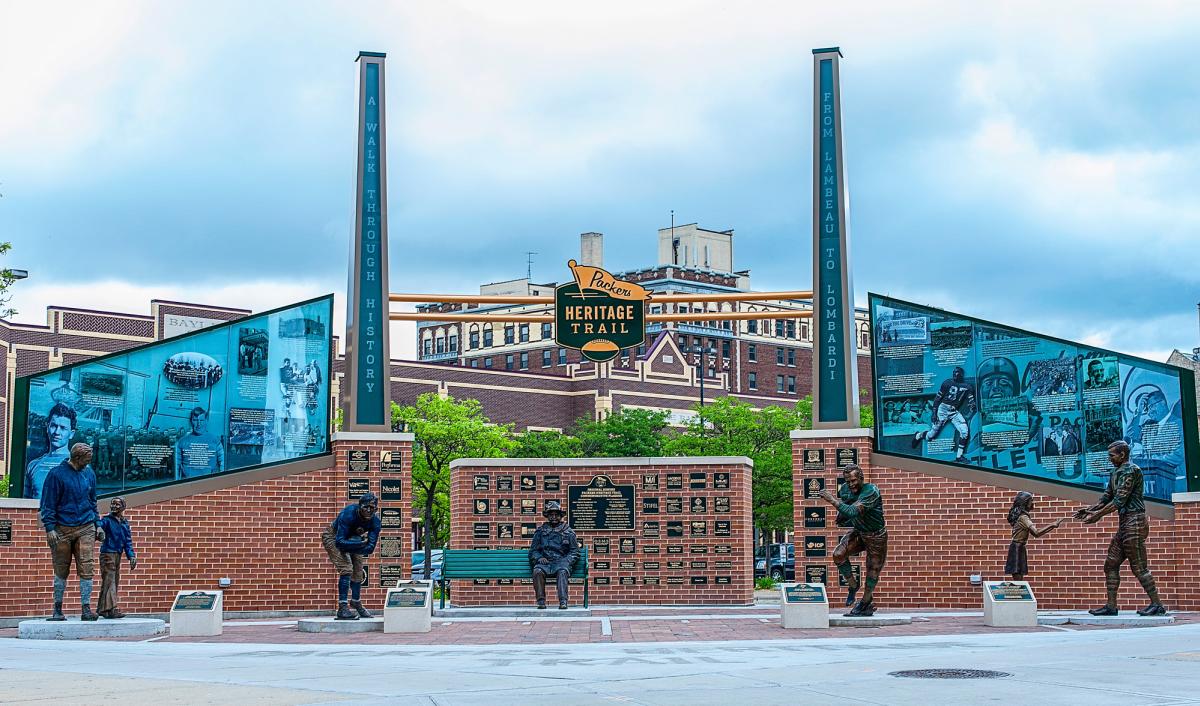 Two self-guided walking tours are available for Packers history buffs. The Oneida Nation Walk of Legends is near Lambeau Field and features stories and photos on large granite-engraved monuments. The Packers Heritage Trail pays homage to the buildings and businesses in downtown Green Bay that have historical significance for the team and the community. The Trail starts at the Neville Public Museum. Each location displays large bronze plaques explaining the significance of the site.
The Packers Hall of Fame is located inside the Lambeau Field Atrium. Interactive displays will have you exploring teams of the past and present. When you're in downtown Green Bay, look for the famous receive statue, painted in the likeness of Packers great #80 Donald Driver. A perfect location to snap a few pictures. 
Finally, your experience wouldn't be complete without grabbing a few souvenirs at the Green Bay Packers Pro Shop. If you can imagine any item in green and gold, you'll find it here!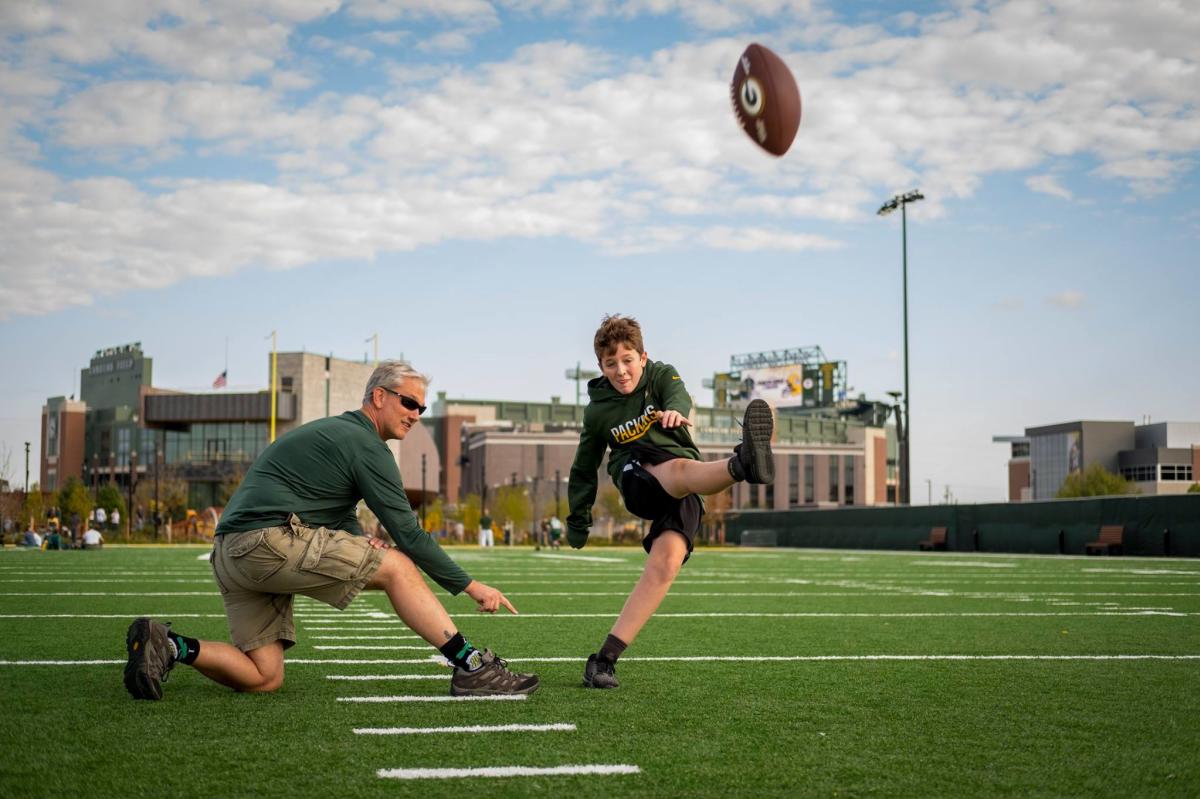 Just across the street from Lambeau Field, you will find Titletown. Titletown's park is open to everyone all year round, with an ice skating rink and snow tubing hill in winter, and in the summer outdoor games, free, daily activities, a unique playground and a full-size football field in the heart of the action. 
Check out the Green Bay Packers schedule to plan a trip to see some Green & Gold action at Lambeau Field.
COVID-19 Updates
Lambeau Field Atrium has resumed regular hours, with the Packers Pro Shop now open from 9 a.m. to 7 p.m. on weekdays, 9 a.m. to 6 p.m. on Saturdays, and 10 a.m. to 5 p.m. on Sundays. The Packers Hall of Fame is also now open from 9 a.m. to 6 p.m. Monday through Saturday and 10 a.m. to 5 p.m. on Sundays. Lambeau Field Stadium Tours also are back in action. Fans can visit packershofandtours.com to purchase tour tickets.
Signage at Lambeau Field and at Packers events will remind guests that the CDC recommends mask-wearing for those who are not fully vaccinated. Signage also will direct guests to current CDC information which includes descriptions of settings that may be experienced at Packers games and events, including crowded outdoor and indoor areas, indoor seating areas, and crowded concession and restroom lines (outdoor and indoor).
La-la-la-Lambeau - the ultimate destination for…
Read More
Hey Packers Fans! Are you planning a trip to…
Read More
Ticket brokers can connect you with the…
Read More
Enter to win gift certificates to the Packers Pro…
Read More
It's no mystery that game days in Green Bay are a full weekend affair. From tailgating and appreciating the food scene to live music and craft beers, you trip will be beyond legendary. Thursday Morning Pull into town with your spirit blazing with Green and Gold. You will…
Green Bay history goes all the way back to early prehistoric times, when Indigenous tribes like the Winnebago, Menominee, Fox, and Ojibwa, called the area home. They settled near the Fox River since it was an easy gateway to the Great Lakes, which made trading easier. They were…
We are looking forward to the return of football and all the excitement that fills the streets throughout Green Bay's stadium district and beyond. With full capacity at Lambeau Field this season, we are excited to welcome back fans and hear chants of "Go Pack Go…
Summer is in the air and live music is back on the patio. Enjoy FREE outdoor concerts at local bars, breweries, restaurants and community events. With a full calendar of shows, here's a sneak peek of what the summer and fall of 2021 has in store for you in Greater Green…
The Packers 13-3 season has kept the dreams of a championship alive and earning the NFC's No. 1 playoff seed with a first-round bye (and now advancing to the NFC Championship) is something to cheer about! Packers tailgating is a one-of-a-kind Green Bay tradition that…