Family Vacation
You may know the name Green Bay thanks to the Packers, but you may not know this city has much more to offer the great north than a championship NFL team. From the friendly dining options to new attractions for families of any age; the roars may happen on game day, but there's a highlight reel waiting for your family to make in Green Bay.
Stay
Choosing a place to stay can be a common sticking point when planning a family vacation, but it doesn't have to be. There are tons of great options for where to stay in Green Bay, and depending on what you want your visit to look like, one of these three might be the perfect fit.
Comfort Suites
If you're hoping to spend more of your time (and budget) on your adventures around Green Bay and not at the hotel itself, the Comfort Suites in Green Bay offers a beautiful stay at a friendly price point. Featuring an indoor pool and a great location near the Green Bay Botanical Garden and Lambeau Field, this hotel offers an amazing bang for the buck.
There are tons of great options for where to stay in Green Bay
Tundra Lodge Resort & Waterpark
his hotel doesn't have an indoor pool...it has an indoor waterpark! No really, the kids will be begging to make the trip to Green Bay an annual visit after staying at Tundra Lodge. Centrally located in the heart of it all, you won't have to sacrifice a moment of commute time between exploring all the attractions, restaurants and outdoor fun Green Bay has to offer and your excitement packed hotel.
Apple Creek Campground
Maybe you're taking your accommodations with you and just need to find the best place to park it. Boasting a long list of fun amenities ranging from a Game Room, to a heated swimming pool, and laid back camping fun like fishing and fire pits; Apple Creek Campground is set up for your family to have a memorable and relaxing visit in Green Bay.
Dining
What's a vacation without some great food? Being home to the most storied franchise in the NFL, it should come as no surprise that Green Bay knows food and does it well. There's no reason to visit the restaurant chains you have back home with the long list of local favorites to choose from around town. Here's a few to keep your eye out for while visiting:
Pancake Place
You have a full day of adventure ahead of you, so start your day off right with a great breakfast. Pancake Place has won 10 Best of The Bay awards, but remains extremely affordable and family friendly. Feast on giant, fruit-covered pancakes and the local favorite, stuffed hash browns. While they're celebrated for their breakfast, they also serve lunch and dinner.
Kroll's West
It's hard to visit Lambeau Field without being tempted to wander into Kroll's West, after all it is located directly across the street. But you wouldn't be alone. Kroll's is an original Green Bay staple, serving up great charcoal grilled food since 1936. Their hamburger is legendary. Get it with a side of chili and a shake like the locals do.
It should come as no surprise that Green Bay knows food and does it well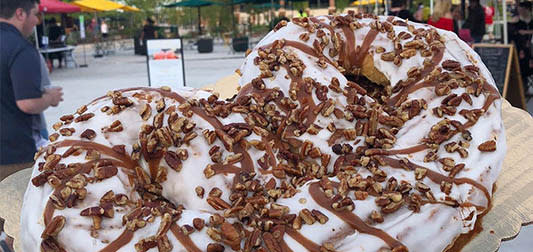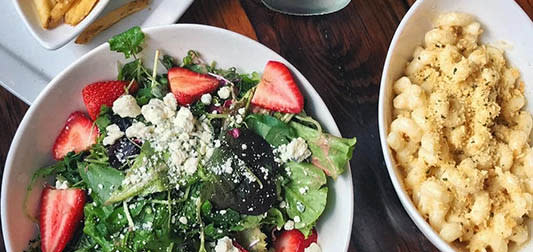 1919 Kitchen & Tap
peaking of Lambeau Field, you can't get much closer than inside the building. This spacious sports bar features a menu filled with locally sourced ingredients, and a tap list longer than the Chicago Bears Super Bowl dry spell. Maybe you'll be lucky enough to sit at the table signed by Brett Favre!
Happy Joe's Pizza
Sometimes the only thing that will satisfy your hungry crew is a classic pizza. Swing through Happy Joe's and snag a pizza...or a few...from their great list of options. You can even grab some ice cream for dessert on your way out.
Zesty's Frozen Custard
Speaking of dessert...a trip through Green Bay is not complete without a visit to Zesty's.
Their custard is whipped fresh in house and topped with the freshest ingredients of your choice. Their Riverside Drive location comes with a view. Grab your treat from the walk-up window, and head down to the riverfront to watch the boats on the Fox River.
Do-It-Yourself Fun
There are tons of attractions, tours and things-to-do around Green Bay. But sometimes you just want to enjoy everything at your own pace; for your family that might be at breakneck speed, or a snail's pace. Either way, you'll love exploring these great attractions.
Bay Beach Wildlife Sanctuary
This 700-acre urban wildlife refuge is packed to the gills with live animal exhibits, educational displays for folks of all ages, miles of hiking or skiing (if you visit during the winter) trails and wildlife viewing opportunities. Feed the ducks and the geese at the waterfall and check out the babies in the nursery.
NEW Zoo & Adventure Park
You'll find great personalities and entertainment from the residents at the zoo. Watch as Aldo the bear shows off with a roll down his hill, or Al and Tootie "Mr and Mrs'' tortoise show you their best slow-motion moves. Loud the lion will sit atop his mountain for photos while Zuri and Nigel the giraffes love to get treats from visitors. You'll be impressed by Pip the penguin's driving skills!
sometimes you just want to enjoy everything at your own pace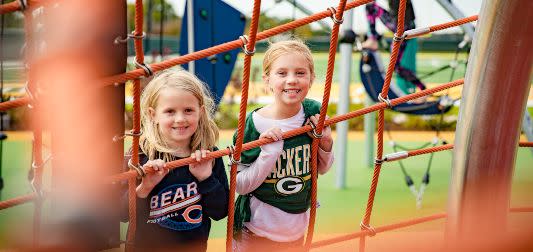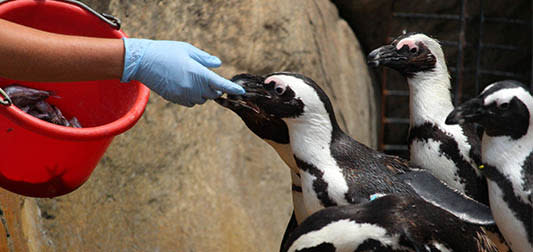 Think full size football field, playground, shuffleboard and a 40-yard dash with a timer to measure your skill. Then adding markets, live music, art installations, restaurants and a brewery all in the same place. Wintertime fun includes ice skating, a 3-story tubing hill and a holiday light show. Definitely enough to entertain the whole family year-round, all next to Lambeau Field.
Tried And True
From adrenaline packed adventures to educational explorations, these next couple of options should be a must-add to your Green Bay family vacation itinerary.
Bay Beach Amusement Park
This amusement park has been entertaining local families and visitors alike for over a century. Here, the adrenaline junky can get in their thrills on the Zippin Pippin roller coaster, or take it slow on the Big Wheel. Good luck peeling your family away from affordable Bay Beach, with ride tickets at just 25 cents each, and all rides a dollar or less.
Children's Museum of Green Bay
If you want to add an extra dose of education into your visit in Green Bay, you'll fall in love with the Children's Museum. Your little ones will be able to explore the digestive system by literally crawling into a giant mouth, learn how to shop for fresh veggies at the farmers market, run a fire station or veterinary clinic and it's conveniently located across from Bay Beach.
National Railroad Museum
If you have a train lover in your family, you need to take a trip through the National Railroad Museum. Here you can get an up-close look at the world's largest steam locomotive and climb aboard the trains to see the gadgets, dining cars and sleeping quarters. Take a train ride around the grounds in an open-air car and climb the tower to get some of the best views in the city.
from adrenaline packed adventures to educational explorations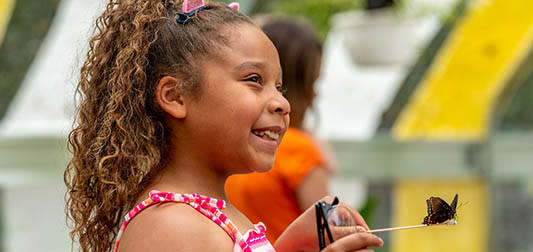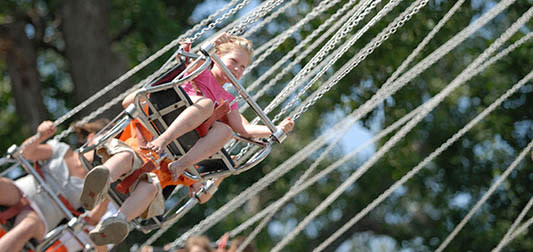 There is plenty to see, do and taste around Green Bay even if a Packers game isn't on the agenda. Hopefully this quick list will give your itinerary a jump start. Be warned, the toughest part about visiting Green Bay is trying to convince your family it's time to leave at the end of your trip.
You may know the name Green Bay thanks to the…
Read More