You could spend days eating and drinking in the Downtown District without visiting the same place twice. There's so much! Here are a few options we think should be at the top of your list.
For a Casual Dinner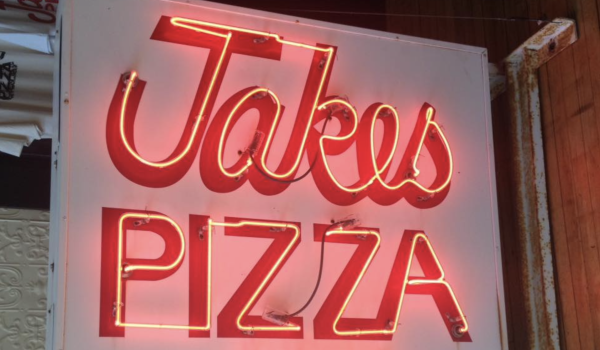 White Dog is the perfect place for a casual dinner with your favorite people. Their menu is full of classic pub food with elevated ingredients, like the Drunken Pig (pulled pork with beer cheese and onion crisps) or The Hungry Cat (a burger sandwiched between two grilled cheeses). In the summer, they will often have live music on their dog-friendly outdoor patio!
Pizza is the ultimate casual group dinner option and Jake's Pizza is a downtown staple. Their recipes are the same ones they've been using since they opened in 1974 and honestly, we don't see why they would ever want to change them. We recommend the Classic Special, which comes with pepperoni, sausage, ham, green peppers, fresh mushrooms and green olives.
Green Bay's original sushi bar is still thriving for a reason: it's so good! The Party Platter for Four is perfect for a group dinner. It comes with 20 pieces of nigiri sushi, 20 pieces of assorted sashimi, a California roll, a spicy tuna roll, an Alaska roll, and a sassy shrimp roll. They also just added a new Thai menu with Drunken Noodles, Pad Thai, and other favorites! 
Have you ever thought to yourself, "Why isn't there a Star Wars themed cheesesteak joint that also has ribeye butter burgers, homemade soup, cheesecake, craft beer, and oh yeah… pinball machines?" Well if so, we have good news. Cheesesteak Rebellion has all those things and MORE and want to know the kicker? Their food is phenomenal. We can't gatekeep this one! 
Elevated Fine Dining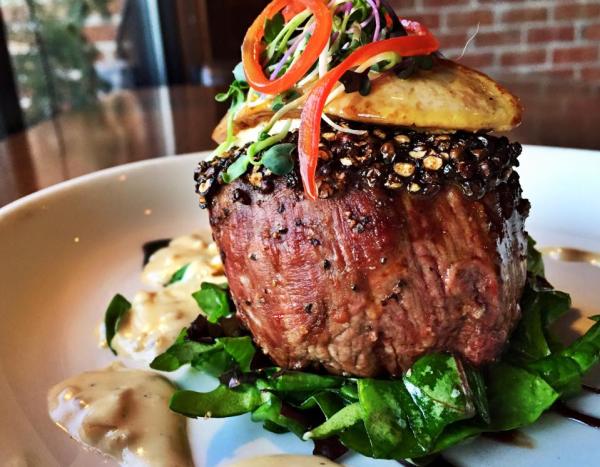 Angelina has been a staple in the downtown district for decades, and once you step inside, you'll understand why. The atmosphere is immaculate, the food is created with love, and nothing is rushed. The menu is full of authentic Italian dishes like Vitello al Limone, Bucatini all' Amatriciana, and Spaghetti e Polpette. Don't forget to save room for the Tiramisu!
Republic is THE place to go if you want an unforgettable steak dinner in Downtown Green Bay. Try one of their Reserve Cuts for the ultimate celebratory dinner (or "just because" experience). They also have a sister restaurant, Mangiare located just down the street. Their menu is inspired by the Tuscany region of Italy and are *chef's kiss* delicious.
Reinvigorated fine dining restaurants in Green Bay and it is a haven for foodies. Their menu is well curated and eclectic, featuring items like Crab Stuffed Chilean Sea Bass, Wild Mushroom Stroganoff, and an 10 oz. Filet Mignon. Their cocktail menu is just as mouthwatering. In fact, you might just end up grabbing a spot at the bar to keep the party going rather than heading somewhere else.
Want to go to a place the locals love? Go to Chefusion! This is the restaurant people go when they want to celebrate something special or have a memorable date night. Josh Eckes is the executive chef, and his three course prix fixe menus have so many options, it might be a little tough to decide. Or, just get a bunch of small plates so everyone can try everything!
C'mon, Let's Grab a Beer!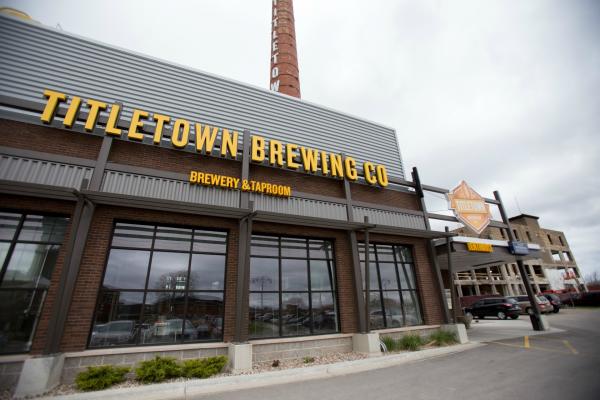 Friends that love beer are the best kinds of friends. Titletown Brewing Co. is the perfect place to grab a pint or two with your crew. This is a full service brewery with a tap room and a "Roof Tap" rooftop bar. If you're interested in learning more about their beer, they do offer a tour that comes with four 6 oz. pours and a souvenir pint glass. Just call ahead to make a reservation!
Another amazing brewery in Downtown Green Bay is Copper State Brewing Co. They usually have more than 20 beers on tap, including limited and seasonal options. So, whether you prefer a light sour ale or a rich dark stout, there's going to be something good for everyone. Brewery tours are also available, but advanced reservations are required for those. 
If you want more of a typical Wisconsin bar experience, The Sardine Can is the place to go. This place is always packed on the weekends, and that's because the vibes are always right. Their beer list is unpretentious, but it also has a good mix of selections from local breweries. If you're looking for a fun place that stays open until 2am, this is your place.
Going out with a group is so much more fun when there's a little bit of healthy competition. Player 2 has everything you need for a fun night out: a great beer list, super friendly people, a killer food menu, and tons and tons of games! The coolest part is that all of their games only cost one token (quarter) to play, except for pinball which is only two tokens!
Sip Some Wine and Cocktails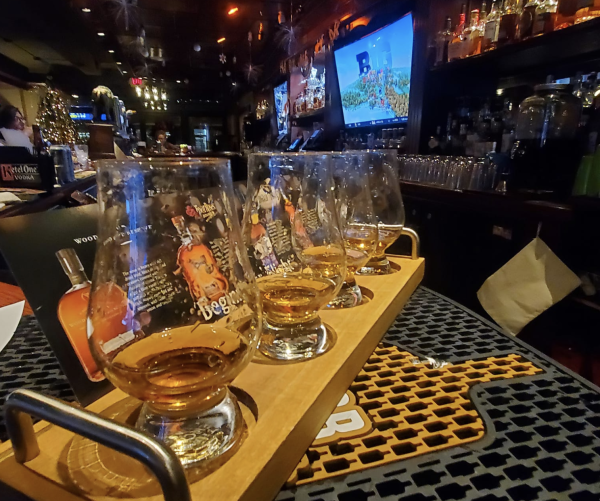 Captain's Walk Winery is the perfect place to "unwine" with your friends! You can sample some of their wines in a wine flight or try one of their inventive wine cocktails, like the Spicy Shirley cocktail made with Captain's White and Door County Cherry hard cider. They also have a great bistro menu – if you love charcuterie, you have to try one of their charcuterie cones!
Madrid is a tapas restaurant and wine bar located on Walnut Street in Downtown Green Bay. The ambiance is perfect for a cozy night out with the people you love most. If you visit when it's warm outside, we highly recommend sitting in the courtyard. It's stunning! In addition to great wine, they also serve food until 1am. Try the paella, bacon-wrapped dates, or the ceviche! 
Prohibition Spirits and Cigar Lounge
What is a cigar lounge? Well, it's exactly what it sounds like… it's a cozy bar where you can kick back, light up a cigar, sip a beverage, and relax with friends! Here, you can sample some of the best bourbons, scotches, rums, tequilas, gins, and cognacs. They also have a massive humidor where you can find a selection of hundreds of cigars at all price points. 
Finally, we want to tell you about the Main Street Bourbon Room. They have a truly impressive drink menu featuring over 100 different bourbon options, craft beer, and specialty cocktails. Whether you're a bourbon beginner or a connoisseur, they can put together a flight that will blow you away, and they can tell you what menu items pair well with each bourbon on their menu!

Which of these places have earned a spot on your "must visit" list? We would love to know what you think and if we missed any of your favorites, leave a comment! For recommendations outside of the Downtown District, check out the "Communities" page of our website here.
Looking for Brunch spots, things to do, or the something outdoors? We've got you covered! ✅