If you are looking to bike, hike, camp or relax, we've got you covered. There are thousands of acres of green spaces, and miles and miles of trails that can be enjoyed by visitors. Want to sleep under the stars? We've got campgrounds for you to escape the day to day grind and enjoy nature.
Green Bay is located in the heart of Brown County in Northeast Wisconsin. Brown County spreads across 3,600 acres of parks for you to enjoy cross country skiing, biking, hiking, camping, disc golf and more! You can even rent a shelter at a variety of the parks for your group gathering or enjoy a day of fishing out on the Bay or a boat cruise along the Fox River.
No matter what outdoor adventure you are looking for, here are some of our best kept secrets for you to explore nature in Greater Green Bay.
1. Parks
From city parks to county parks, you can find a spot in the woods for the perfect picnic, a trail to hit or for the sports enthusiast head to the courts to get lost in a game of basketball or tennis. Here are a few of our favorite parks to explore.
Pamperin Park
Located within the limits of metropolitan Green Bay off of Packerland Drive, Pamperin Park is the largest developed park in the Brown County Park system. Pamperin Park offers a quiet serenity with its gently rolling hills and wooded areas enhanced by the slowly flowing Duck Creek.
Enjoy a stroll along the scenic creek and over its picturesque suspension bridge, have a relaxing afternoon of fishing or play a round of disc golf on the scenic course. Pamperin Park boasts the largest children's structured playground in this area, wooded picnic areas, and several volleyball courts. A large stone pavilion containing two halls with restrooms, kitchen facilities and a fireplace can be reserved for your private function. 

Map it!
Green Isle Park
Located along the East River, Green Isle Park offers recreation for everyone. For the sports enthusiast, you can find soccer fields, baseball and softball diamonds, tennis, volleyball and basketball courts. In the winter there is an ice rink for skating and hockey. If you want to hit the trails, Green Isle Park is located along the East River Trail for hiking, running and biking. You can also find some great fishing spots and kayak launches along the East River. When you are done with your outdoor adventure, hit up one of the picnic areas and enjoy lunch with nature.

Map it!

Photo Credit: Annette Grunseth
Baird Creek
Located on Green Bay's east side, Baird Creek is a popular spot to hit the trails for hiking, biking and cross-country skiing. The Triangle Sports Area is a popular spot among locals for disc golf and sledding and snowboarding in the winter with a 80-foot-tall tubing hill and two 75-foot-tall skiing and snowboarding hills with rope tows.

Map it!
Related blog: Get outside and enjoy winter in Greater Green Bay
Lily Lake
If you enjoy fishing, you'll want to check out Lily Lake! This beautiful wooded park includes a 40-acre lake which is a popular destination for the local fisherman. This park features a boat launch for non-motorized watercraft. Electric motors are allowed. There are two fishing piers that provide ADA access for anglers. Catch of the day includes panfish and small mouth bass. When you need a break from fishing, enjoy a picnic under the overhead shelter.

Map it!
Voyageur Park
Located in the heart of De Pere, Voyageur Park boasts 21-acres for outdoor recreation. You'll find docks along the shoreline of the Fox River to anchor. A variety of local fishing either on boat or from the shore, a huge playground area and access to the Fox River Trail. You'll also find the foot trail to the De Pere Riverwalk and Wildlife Viewing area where you can see the locks in action.

Map it!
Related blog: Five parks for fall outdoor dates
2. Preserves and Sanctuaries
There are few hidden gems scattered throughout Greater Green Bay that are being preserved to protect the wetlands, wildlife and plant species. The following spots are managed by the parks or private groups and are open to the public to explore. These are some of the most beautiful and scenic places to visit in the area.
L.H. Barkhausen Waterfowl Preserve
Located along the west shore of the Bay of Green Bay, L.H. Barkhausen Waterfowl Preserve is made up of 920 acres of forest, meadows and wetlands. This natural area is a refuge for a wide variety of waterfowl, wildlife and plant species. Take a trek on the scenic hiking trails that run through the marsh and forest of the preserve to view its beauty. In the winter months, visitors can enjoy cross country skiing, ice skating on the pond and snowshoe hikes.

Map it!
Osprey Point
Located in the Village of Bellevue along County Highway GV, Osprey Point is an 80 acre conservancy area. This area is a peaceful place to enjoy nature and wildlife. There are two ponds for fishing, walking and hiking trails. Wildlife sightings include a Heron rookery, wild turkeys, an Osprey nesting area, Sandhill Cranes, deer, pheasants and more.

Map it!
Brown County Reforestation Camp
With almost 1,600 acres of wooded area, trails and bodies of water, the Brown County Reforestation Camp offers a variety of outdoor activities for every age. The perfect spot for hiking, biking and cross-country skiing.
There is no other place around where you can hear a lion's roar as the camp neighbors the NEW Zoo & Adventure Park. At the Adventure Park Base Camp, you can rent fat bikes for you to trek through the trails any time of year. There are designated bike trails ranging from 2.5 to 10.5 miles.

Map it!
3. Find the Falls
Nature's gems are sometimes hidden in plain sight, step off the beaten path to find the falls of Greater Green Bay. We've got two spots you'll want to see before you go. Be sure to bring along your camera to capture some spectacular views of the falls.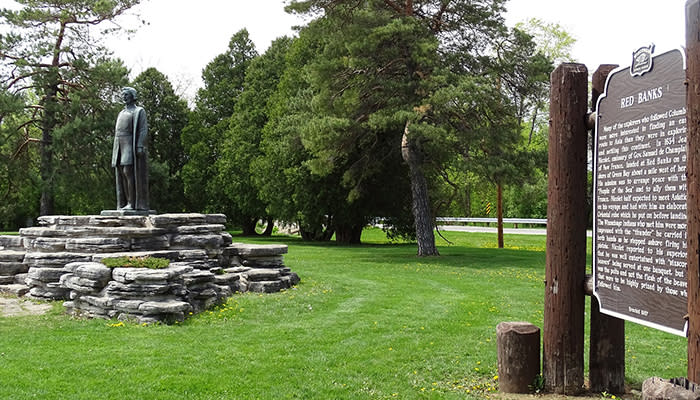 Fonferek's Glen
Located in Ledgeview, off of County MM on Memory Lane, Fonferek's Glen is a 74-acre geological gem featuring a 30-foot waterfall, dolomite cliffs and stone archway. The waterfall can be viewed from the designated use area, an easy 100-yard walk from the parking lot.

Map it!
Wequiock Falls
Located off Highway 57 and Bay Settlement Road, you will find Wequiock Falls. The park contains a large ravine featuring a close-up inspection on the Niagara Escarpment rock formation. A pretty place to picnic and relax. The park is equipped with tables, restrooms, drinking water and ample parking.

Map it!
4. Hit the Trails
Most of the parks mentioned have scenic trails for you to explore during your visit, but if you are looking to get a few more miles in, hit one of the state trails in the area for a bike ride or training run.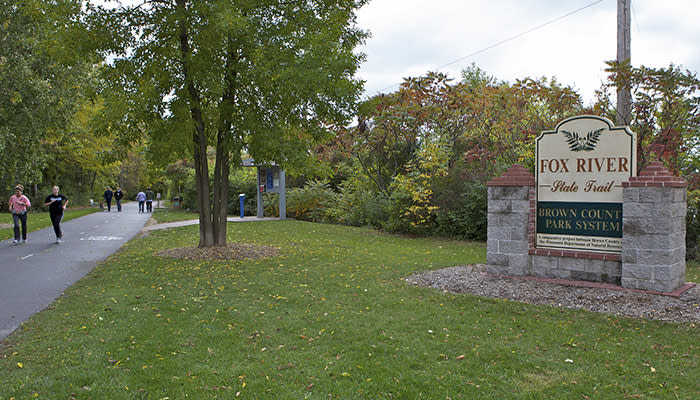 Ahnapee Trail 
The Ahnapee State Trail in Northeast Wisconsin provides a scenic 45-mile journey with paths in Luxemburg, Algoma and Kewaunee in Brown County.
East River Trail 
The East River Trail winds for just over six miles along its namesake waterway through the communities of Green Bay, Bellevue, Allouez, De Pere, and Ledgeview. The trail is truly a gem in Green Bay, passing through wooded areas, marshes, open fields, and several parks. Keep a lookout for deer, turkeys, herons, red-tailed hawks, and the many other animals that call the area home. A few wooden bridges connect the way, offering nice water breaks to take in the view.
Fox River Trail 
The Fox River State Trail starts at the corner of South Adams and Porlier Streets, you can either take it towards Downtown Green Bay to relax on the CityDeck or head towards De Pere for a 26-mile excursion along the Fox River.
Mountain-Bay Trail 
You can catch the Mountain-Bay State Trail on Lakeview Drive in Howard. This is one of the longest trails in the state stretching 83 miles to Weston in Central Wisconsin.
5. Cool Off in the Water
You can find a few swimming holes in the area to cool off during the summer months. Dive into the quarry or enjoy a dip in the man-made lake at Ashwaubomay Park. If you don't want to fully immerge, there are a number of kayak launches you can find for a cruise on the Fox River or East River.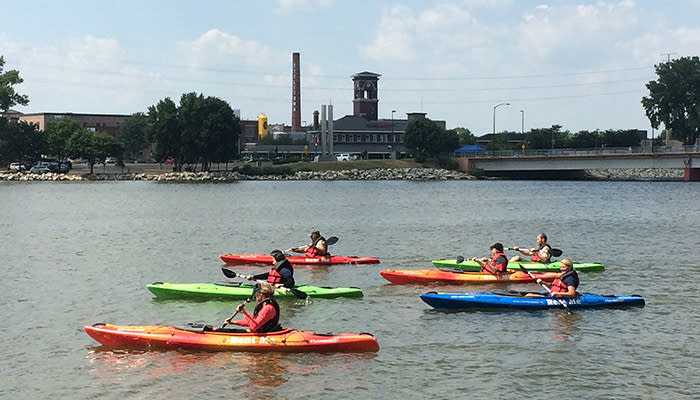 Ashwaubomay Lake
Ashwaubomay Lake is located within Ashwaubomay Park at 2881 S. Broadway Drive. This 53 acre facility overlooks the Fox River, offering picnic area, playground equipment and a 3 million gallon man-made lake with beachfront, slides, floating rafts and diving platform. Operates June-August. (*The beach will be closed for the 2020 season due to COVID-19 concerns, plan to reopen for the 2021 season).

Map it!
Duck Creek Quarry
Duck Creek Quarry Park located at 2140 Glendale Ave in the village of Howard opened last summer. It is a 38-acre park with two beaches and a natural, fresh-water swimming area that reaches 130 feet deep. The quarry has become a popular destination among many during the hot summer days. 

Map it!
6. Camp Greater Green Bay Style
Looking to sleep under the stars? There is nothing like the smell of a campfire and escaping from the city for a few nights in the woods. Choose from Bay Shore Park equipped with easy access to the Bay of Green Bay if you are looking for a shoreline experience, or for a more intimate experience, check out family-owned Apple Creek Campground just outside of De Pere.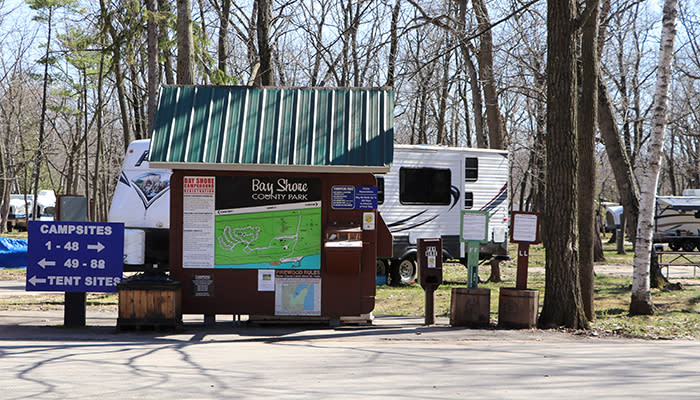 Bay Shore Park
Cecil Depeau Bay Shore Park is located just off Highway 57 about 15 miles north of Green Bay.
Cecil Depeau Bay Shore Park is situated atop the Niagara Escarpment and offers breathtaking views of the Bay of Green Bay. Scenic hiking trails follow the ledge of the escarpment – a geological formation.

A breakwater and boat launch facility with a protected harbor are located within the park to provide safe access to fishing, sailing and boating. An exciting, nautical-themed playground adorned with a huge wooden ship provide the backdrop for children to have a fun make-believe high-sea adventure on the shores of the Bay of Green Bay. Bay Shore Park also offers an open air shelter and an enclosed building for rent to family reunions, birthday parties and gatherings of all types.

The campgrounds at Cecil Depeau Bay Shore Park are nestled in the woods, with trails for exploring the bluffs leading down to the water's edge. Bay Shore Park has a first-come, first-served policy for camping registration and does not take reservations for campsites. 

Map it!
Apple Creek Campground
Apple Creek Campground is a family campground ideally located between Green Bay and Appleton, Wisconsin. This campground is a place where the kids can have fun and the parents can rejuvenate. Apple Creek Campground consists of 155 sites, located on 14 acres of wooded land. Apple Creek runs through the property, offering a serene setting for a nature-filled escape from the city. 

Enjoy the heated swimming pool, open from Memorial Day weekend through Labor Day weekend. There's a playground and video game room for kids, as well as kid's crafts, volleyball, basketball, and tetherball. WiFi is available at the campsites. A snack bar and convenience store are available for treats and camping supplies. 

Map it!
7. Bring your Pets
If you are traveling with your furry friend, Greater Green Bay has dog parks you can visit to let your best friend run free and burn off some energy.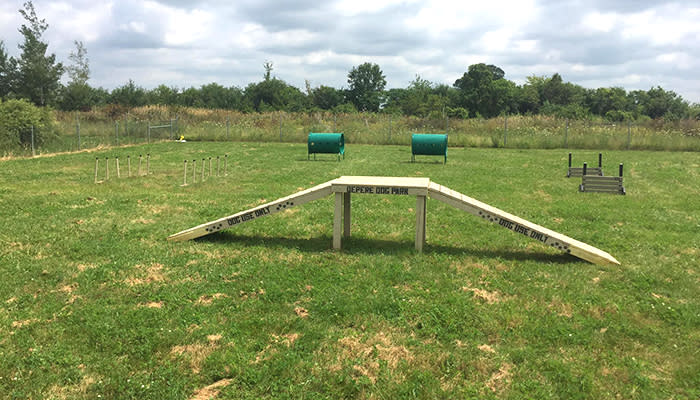 Brown County Park and Pet Exercise Area
Brown County Park is home to the Brown County Dog Park, with special fenced areas designed for off-leash use. Pet owners may also walk their dogs on-leash through the rest of the park. The Pet Exercise Area is open year-round from 8:00 AM to sunset. 
The off-leash fenced area is 4 acres in size and includes a small dog portion as well as an all dog portion.

Map it!
Bellevue Dog Park
Located at 2282 Bellevue Street near HWY 172, you can find Laura & Peter Mossakowski Family Dog Park. This is a place where your best friends have a place to run, roll around in the mud, meet new four-legged friends and even catch a ball or a frisbee.

Map it!
De Pere Dog Park
Located in the west side Industrial Park at 1400 Biotech Way in De Pere. The De Pere Dog Park is a fenced-in, off-leash park with sections for both small and large dogs. There are a total of 8 acres of open and wooded spaces. Your furry friend can enjoy shelter and water, climbing structures, exercise equipment and more!

Map it!
Other pet friendly parks in Greater Green Bay include:
Whitney Park in downtown Green Bay
Wietor Wharf Park in Howard
Related blog: Dog friendly spots in Greater Green Bay
No matter what season you visit Greater Green Bay, if you are looking for outdoor recreation, there are endless miles of parks and trails for you to explore by foot, ski or bike.