Headed to your very first home game at Lambeau Field? You are going to have the time of your life! Here are 12 things you need to know before you go…
#1 - Lambeau Field is Totally Cashless
Lambeau recently transitioned to entirely cashless payment systems throughout the stadium on both game days and non-game days (checks are also not accepted). This includes the on-site restaurant, 1919 Kitchen and Tap, and the Packers Pro Shop, the on-site team store which is owned and operated by the Packers. Bring your credit or debit card with you and you'll be fine!
#2 - Check Out the Johnsonville Tailgate Village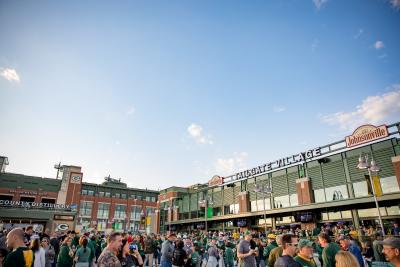 You will find people tailgating all over the Stadium District on game day, but the BIG tailgate party can be found at the Johnsonville Tailgate Village on the eastern side of the parking lot. It's totally free to hang out here and listen to live music, enjoy great tailgate food (with cold beverages, of course) and make some new friends!
#3 - It's Easy to Get Online at Lambeau
Good news! Free wireless internet access is available inside of the Lambeau Field Atrium! You can post your photos and videos in real time and make all of your friends jealous.
#4 - No Smoking, Please!
Lambeau Field is a smoke-free facility. No smoking is allowed inside the Lambeau Field Atrium, the stadium bowl and all of the concourses. This also applies to smokeless and electronic cigarettes. Anyone caught violating this rule may receive a fine and may also be asked to leave.
#5 - Everyone Will Need a Ticket
Some football stadiums allow small children to sit on your lap without having to purchase an extra ticket for them. Because of the unique bench-style seating, Lambeau Field requires all individuals — regardless of age — to purchase a ticket to enter on game day. Also, as of 2022, tickets are mobile only, so make sure you have them locked and loaded on your smartphone!
#6 - You'll Want to Review the Carry-In Policy
For everyone's comfort and safety, carry-ins are extremely limited at Lambeau Field. You are not allowed to bring food, drinks, weapons, backpacks, coolers, strollers, umbrellas, noisemakers, or video cameras… to name a few. You are allowed to have a clear bag smaller than 12" x 6" x 12" or a one-gallon, clear plastic bag. You can review the full carry-in policy here. 
#7 - You Will Have to Pay for Parking
There's no such thing as free parking around Lambeau Field on a game day. However, you won't have to walk very far. To park at Lambeau, you need to be a season ticket holder, but there's plenty of paid parking in the Titletown parking lot starting 4 hours before kickoff, as well as in Lots 10 and 14 off of Ridge Road and Lot 15 off of Ridge Road and Lombardi Avenue.
#8 - The Area Around Lambeau is a Food Mecca
There are so many great food options located near Lambeau Field. For example, Kroll's West is across the street on Ridge Road, and they have been a local favorite for over 80 years… mostly because of their unforgettable butter burgers. Hinterland Brewery, Burkel's One Block Over, and Sammy's Pizza are also great options to try!
#9 - You Can Book a "Day Before Home Game" Stadium Tour
Take a Lambeau Field stadium tour – it will immediately become a core member, especially for super fans. Walk down the player's tunnel, get an oral history of the team, and see things you never expected to see first-hand. They offer a limited number of Day Before Home Game tours, so if this is something you're interested in, you'll want to book your spot ASAP.
#10 - The Stadium District Turns Into a Party Zone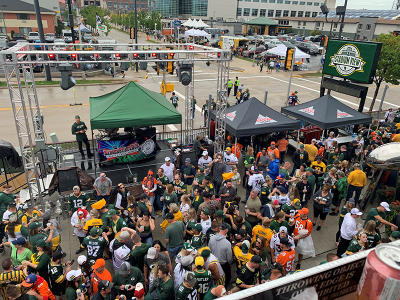 If you're looking to keep the party going (or get it started early), head over to Holmgren Way. Here, you'll find four popular sports bars that go all out on game days! Stadium View, The Bar, Anduzzi's Sports Club, and D2 Sports Pub are all located on the same block, and they will all be packed with fans decked out in green and gold. 
#11 - Check Out Live Music at Titletown Gameday Live
Titletown is located across the street from Lambeau Field, and it is a great place to be on game day before kickoff. Titletown Gameday Live features live music, food, beverages, and plenty of games and activities to keep you entertained.
#12 - Don't Be Shy!
The culture here is insane on game day, and we mean that in the best possible way. You will make so many friends in and around the stadium. Don't be afraid to walk around before the game to see all of the people tailgating. Chances are, you'll be invited to join in on the fun. We're known for being a friendly fan base who loves to party. Take advantage of the good vibes!
Whew! That's a lot but we wanted to make sure you had all the information you need to make the most out of your first visit to Lambeau Field to cheer on the Green and Gold!

We would also love to help you plan the rest of your time in Green Bay! Check out the Green Bay Packers section of our website for more ideas and don't forget to grab a copy of our latest Destination Guide, which is full of great suggestions for places to stay, eat, drink, and play!