You are planning a trip to Green Bay for a home Packers game for the first time, what could be more exciting than that?! Of course, you'll visit Titletown, the Green Bay Packers Hall of Fame and perhaps partake in an alumni led stadium tour at Lambeau Field or hop on the Packers Heritage Trail Trolley Tour. The last thing you will need to know about to complete your weekend adventure in Green Bay is where you can find the best pre-game party.
Every NFL city has their own take on tailgating and each team has different fans with their own pre-game rituals, but we like to think Packers Nation has the best fans and they sure know how to cheer on the Pack in style.
If kickoff is at Noon, 3:25 p.m. or even on a Monday night, have no fear, there's a party happening at least four hours prior to game time and it's impossible to miss. But with so many options, how do you choose? Who has the best live music, the best beer selection, or how about an all you can eat and drink buffet?! 
It is important to note once you enter the area surrounding the stadium, you will find people everywhere and the locals that live near the stadium may offer you the chance to park on their lawn for a fee of $10-40 dollars for an easy in and out. Once you find your spot, maybe for free on the street if you arrive early enough, or in one of the lots surrounding the stadium if you don't feel like walking too far, it's time to decide where to go to get in the gameday spirit. After you cross Lombardi Avenue, you will be sure to find the action. Some of the roads will be closed for ease of walking from tailgate to tailgate, all within a short walk to Lambeau Field.
So, where should you go? Here are the top tailgating spots you can find every gameday in Green Bay.
Titletown Gameday Live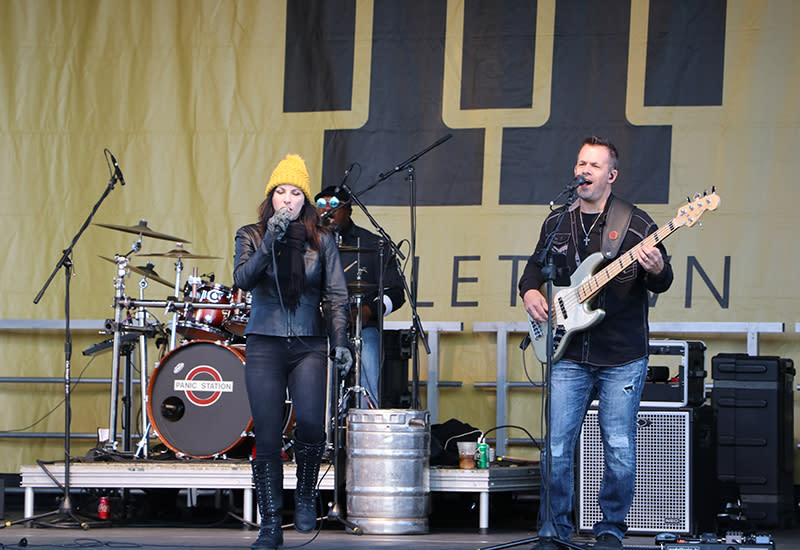 Explore Titletown! Every gameday you can find Titletown Gameday Live hopping in the Titletown District.
Enjoy live music, food and beverages, fun activities and more. Titletown is the perfect place to celebrate each home game. Play some games like foosball or bean bag toss, perfect your spiral or touchdown celebrations on Titletown's football field, try your hand at breaking the 40 yd dash record, or run up and down Ariens Hill. Once the snow hits, the tubing hill and ice rink will be open for business.

Titletown Gameday Live is open to the public and starts four hours before kickoff.

Entertainment lineup for remaining 2021 home games:
Sun., Oct 24 | 8 am - Noon | The Third Wheels
Sun., Nov 14 | 11:25 am - 3:25 pm | Scratch & Bang
Sun., Nov 28 | 11:25 am - 3:25 pm | Eric Lives Here
Sun., Dec 12 | 3:20-7:20 pm | DJ Mando
Sun., Dec 25 | 11:30 am - 3:30 pm | TBD
Sun., Jan 2 | 3:20-7:20 pm | TBD

The Titletown parking lot off of Lombardi Avenue is also open for paid parking, with refunds offered to those with vehicles that leave the lot earlier than four hours before the game starts. Additionally, guests parking at the Titletown parking lot will not be permitted to tailgate in the lot.
Find it at the intersection of Lombardi Ave. & Ridge Rd.
Kroll's West
Next to Lodge Kohler at Titletown, you can find Kroll's West. This family-owned, family-friendly restaurant has been a part of Green Bay history and tradition for the past 80 years. With a coveted spot directly across the street from Lambeau Field's Fleet Farm gate, Kroll's West has become a destination landmark for the ever-popular Wisconsin Butter-Burger. And like the others, craziness will ensue during your pre-game warm up. Enjoy live music, a food truck stocked with Kroll's West favorites and drinks galore.
Find it on Ridge Rd. directly across from the stadium.
Johnsonville Tailgate Village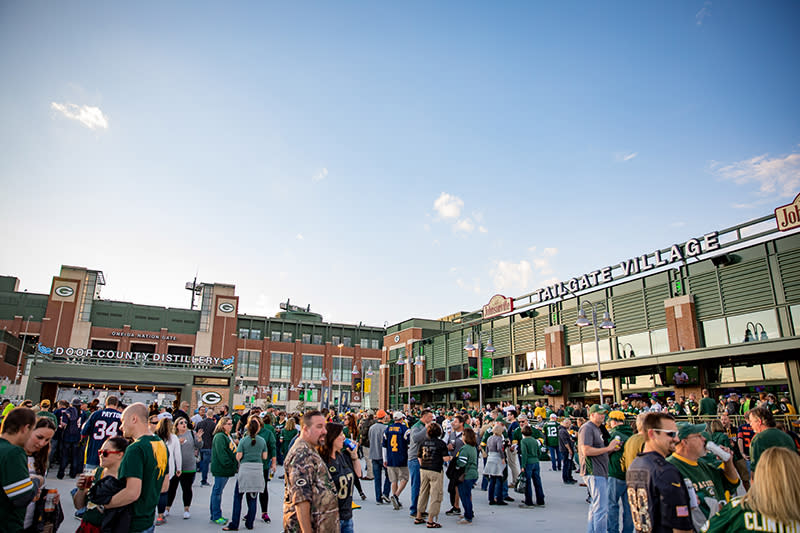 On the other side of the stadium, you can kick off gameday at Lambeau Field's Johnsonville Tailgate Village, located in the east parking lot, outside the Oneida Nation Gate. The Johnsonville Tailgate Village gives fans a tailgating experience like never before. Located in the shadows of Lambeau Field, this 13,242 square-foot temple has: a full kitchen, spacious bar, floor to ceiling windows, and overhead doors that open to a 4,300 square-foot party deck. In addition to these outstanding amenities, the Village hosts live bands and that one-of-a-kind Packers' atmosphere.
No ticket? No problem! The Tailgate Village is free of charge and open to the public. Listen to live music, enjoy great food and cold beverages and watch the game on any of the 35 plasma screens located throughout the Village.
Find it at the intersection of Oneida St. & Armed Forces Dr.
Veterans Tailgate Zone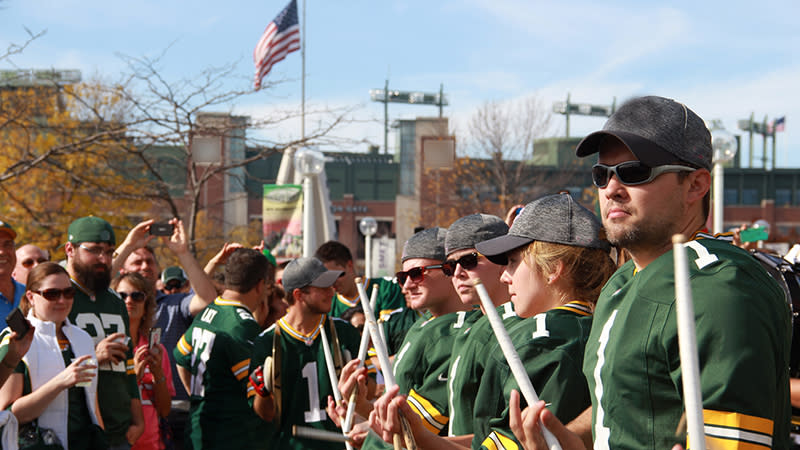 Among the hundreds of tailgaters in the Lambeau Field parking lot, you can find a tent that will stand out to those who've served in the military. New in 2019, the local VFW POST 2037 has been hosting the Veteran's Tailgate Zone in Lot 1. Vets who are cheering on the Pack or even the opposing team, make a point to stop by and say hi and bond with fellow vets.
So, if you are a vet or plan on going to the game with one, be sure to stop on by.
Find it at the intersection of Oneida St. & Armed Forces Dr.
You can find more information on parking and tailgating in the Lambeau Field parking lots, here.
Bart Starr Plaza Tailgate Party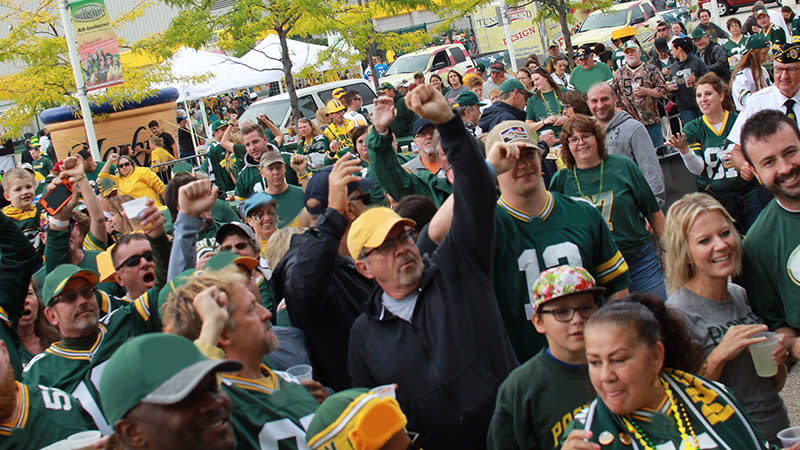 At the Bart Starr Plaza Tailgate Party you'll get beer, food, music and the football winning spirit in the air, and it's all-inclusive! They'll keep the drinks pouring for you and your friends while you get amped up for the game. If you want to tailgate without the hassle of bringing all of the gear- the Bart Starr Plaza Tailgate Party has got it all for you. Plus, with being located right across the street from the stadium in front of the Resch Center, you don't have to worry about a long walk or getting back into your car to get to the game. Tickets can be purchased ahead of time online.
Badger State Brewing Company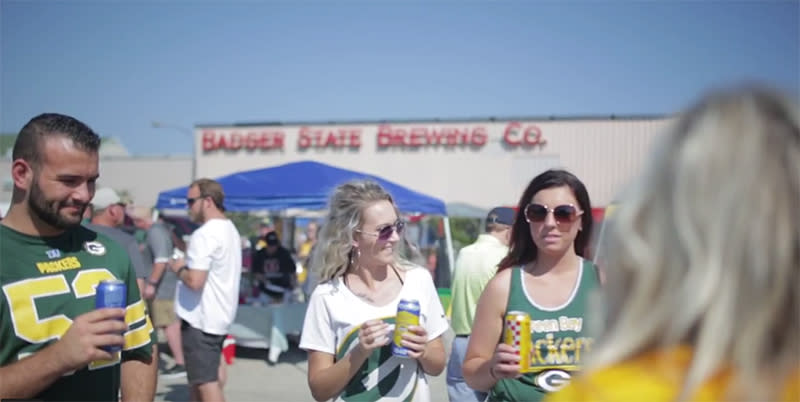 Tailgate with a local Green Bay brewery located in the heart of the gameday action at Badger State Brewing Company!

Enjoy fresh beer from the source, local food trucks, outdoor games, and a fun atmosphere in both the Tap Room and Beer Garden on all regular season home game days.

Gameday hours vary based on game start:
9am for Noon & 3 pm games
11am for night games
Find it at the intersection of Tony Canadeo Run & Reggie White Way (across from SpringHill Suites).
The sports bars located in the heart of the action has your gameday entertainment covered for every home game. Hop around from bar to bar to catch a variety of live bands and keep the drinks flowing until kick off and in a most cases return to celebrate some more after the Packers win!
Stadium View
Stadium View is known for their pre & post game parties. Head on over four hours prior to kickoff for live music, visit the vendors to get your gameday accessories, and enjoy food, drinks and games. With recent renovations including an outdoor beer garden and patio where you will find the live musical entertainment, a unique 4-season rooftop bar, along with the recently renovated indoor Sports Bar, Stadium View is a must see stop along the way.
Stadium View has been named one of the "Top 10 Sports Bars in North America" by ESPN, and the "#1 Sports Bar in the Nation" by Forbes for two consecutive years! Once you stop in and try the great food, take advantage of the drink specials and dance to the live music, it'll be easy to see why.
Paid parking can also be found on site.
Find it at the intersection of Holmgren Way & Armed Forces Dr.
Anduzzi's
If you like all-inclusive options, Anduzzi's has you covered! Come tailgate with your friends and fellow Packers fans and enjoy a wide array of ALL YOU CAN EAT AND DRINK items. Tickets may be purchased online or at the door. Their Packers Tailgate Party menu features the following tailgate essentials:
Drinks: Bud Light, Bloody Marys, Rail and Call Mixers, Soda
Food: Burgers, Brats, Beans, Pub Chips and Dip, and Cookies
Enjoy endless food and bottomless beverages until game time!
You don't want to miss out on the greatest tailgate party in the shadows of Lambeau Field! Be sure to head back after the game as the fun will still be going strong!
Find it at the intersection of Holmgren Way & Mike McCarthy Way.
The Bar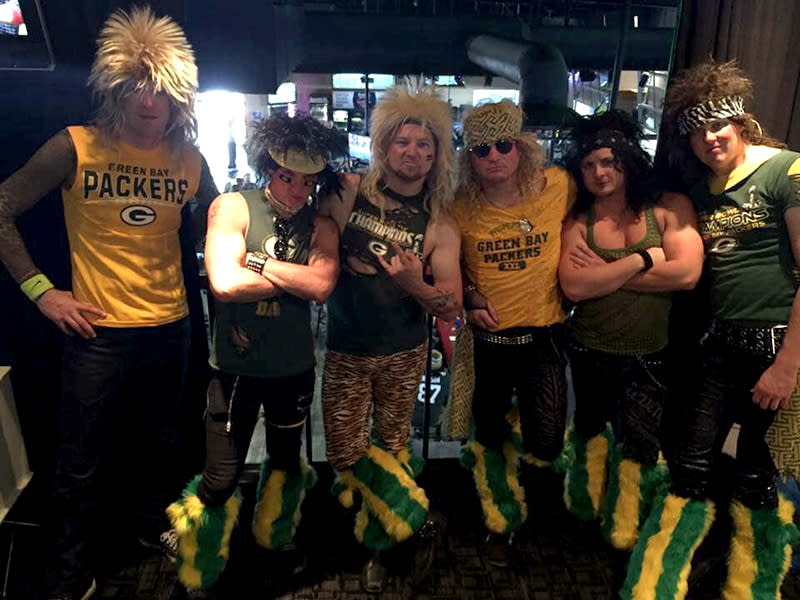 Along the way you will find another party at The Bar on Holmgren Way. Similar to the atmosphere at Stadium View and Anduzzi's you can find drink specials, food and live music to rock away with all your fellow Packers fans under the tent.
Paid parking is also available on site.
Find it on the intersection Holmgren Way & Mike McCarthy Way.
Official Event USA Tailgate & VIP Tailgate Party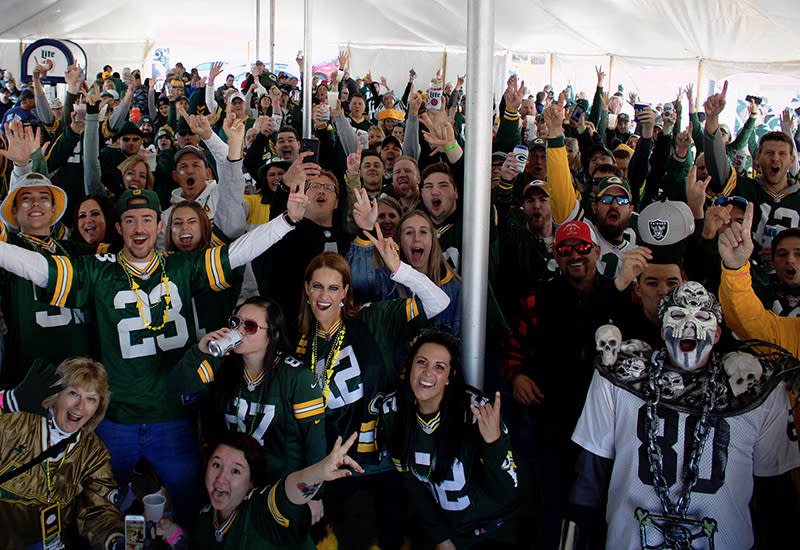 Event USA has partnered with Green Bay Distillery for their World Famous Tailgate Party! Join the celebration with an exciting tailgate menu including an all NEW VIP indoor area to help keep you warm before entering the Frozen Tundra.
With two different tailgate party options to choose from, Event USA has your pre-game needs handled!
Whether you go VIP or keep it traditional, their Fan Tailgate Party includes an "all-you-can-eat" buffet or traditional Wisconsin "tailgate party" fare! Chow down to your heart's (and belly's) content before you pull out your Tickets and enter Lambeau.
Starting three hours before kickoff, it's held outdoors just one block from historic Lambeau Field. Find it on Mike McCarthy Way.
D2 Sports Pub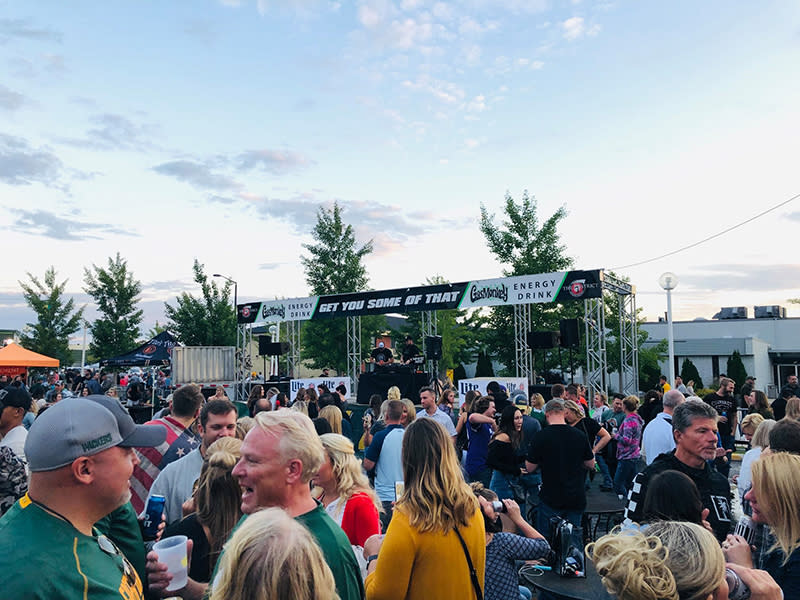 If you want to stay close to the stadium with a short walk to the Oneida gate, check out D2 Sports Pub. They'll also be rocking away until game time.
Find it on Armed Forces Dr. next to the Resch Center.