Locally grown, cold-hardy grapes supply some of the finest family-owned wineries in Northeast Wisconsin. Home to seven wineries each with its own unique appeal is worth a visit just for a taste. You'll find some wineries in historic buildings, and others surrounded by scenic vineyards to stroll.
Here is a snapshot of the wineries in the area to help you map out your very own wine trail during a visit to Greater Green Bay. Whether it's a Cabernet, a Riesling or a specialty "ice" wine, your taste buds are sure to be pleased. 
Wineries you'll love a taste of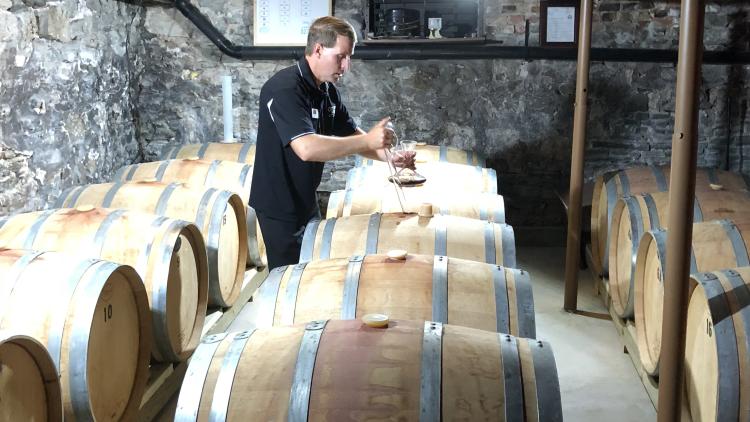 Captain's Walk Winery
Located in the heart of Downtown Green Bay, you can enjoy big wines from small batches at Captain's Walk Winery that are true to Wisconsin and complemented with flavors that will have you coming back again and again.
The pre-Civil War building has been updated carefully to preserve over 160 years of character. The tasting room's hardwood floors have a unique window with a view into the barrel-aging room. There is a third-story widow's walk, also known as the 'Captain's Walk'. With historic character, comfortably furnished rooms, and a friendly atmosphere, Captain's Walk Winery is a great place to gather with friends and family for a casual and fun wine tasting.
Known for: Captain's Red, Captain's White, Seven Seas, Titletown Moscato, Sangiovese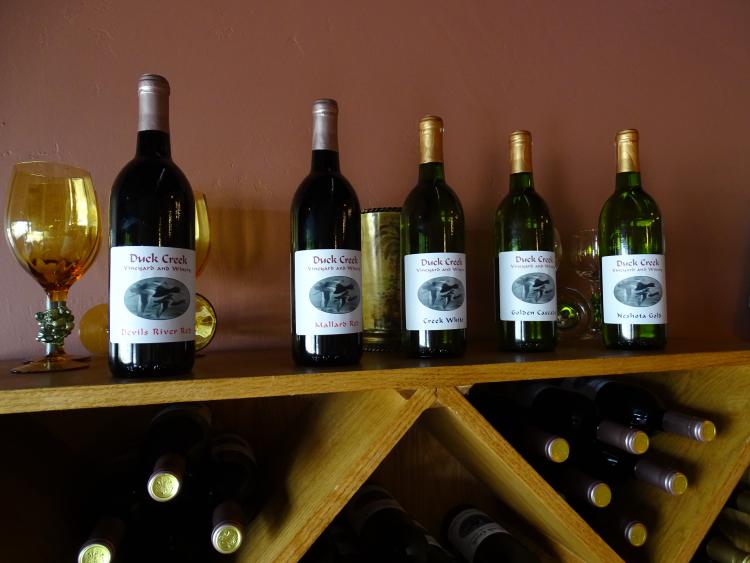 Duck Creek Vineyard and Winery
Duck Creek Vineyard and Winery is a small boutique winery established in 2013 and located just 15 minutes southeast of Green Bay in Denmark, Wisconsin with easy access off Interstate 43.
Their first grapes were planted in 2006, expanding the vineyard with additional grapevines in 2011, 2014 and 2016. Owners Jim and Suzi Ploetz had a dream of opening a winery near their home by the Duck Creek area in the village of Howard so the name "Duck Creek Vineyard & Winery" came to fruition even though it is physically located in the town of Denmark.
While they only carried a handful of wines when they first opened in 2013, today they have more than 20 award-winning wines and meads that have received international acclaim and offers something for everyone…even those who say they don't like wine!
Duck Creek also features several different "seasonal" wines and meads throughout the year, original Kombucha Tea, and since 2018 a new distillery called Denmark Distilling which is housed in the same building as the winery and wine store and offers a variety of spirits. So, they do really have something for everyone.
Known for: Kay Gray, Concord, Delaware, Catawba, Marechal Foch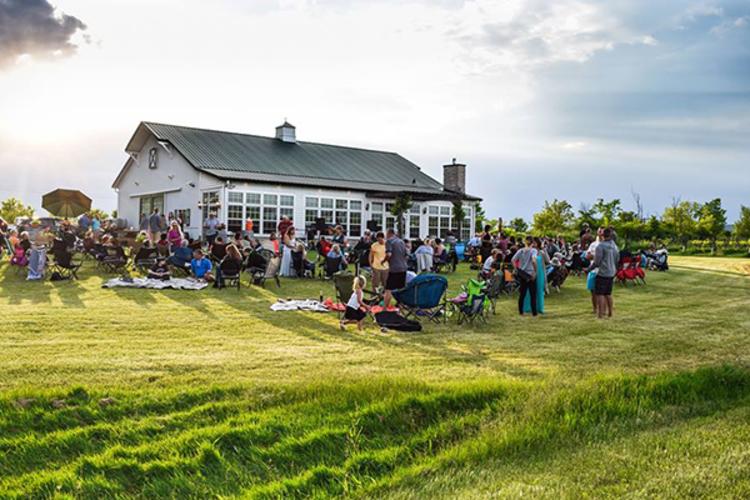 Ledgestone Vineyards
In a vineyard at the foot of the Niagara Escarpment in Greenleaf, Wisconsin exists a place where friends gather to share wine, stories and laughter. Ledgestone Vineyards is located right off the Fox River Trail, making this winery a great pit-stop while you are out for a leisurely stroll or bike ride.
Ledgestone Vineyards was established in 1999 by two passionate wine lovers. It sits on a 15-acre property with 10 acres of planted vines and a beautiful tasting room and winery. In 2017, winemakers Adam Magnuson and Katrina Cegledi began to write their chapter in LedgeStone's history by purchasing the property from Tim & Sara Abel.
The tasting room offers a variety of options for the wine lover and wine explorer. The approach of the staff and winemakers is entirely focused on sharing, whether it's wine, knowledge about viticulture, winemaking or the wonderful things that accompany the great libation.
The tasting menu is always changing, it will be hard to find a day where there isn't anything new! Stop by and sample their featured selections. Wines by the glass and bottle are also available for you to enjoy in the tasting room or out in the yard.
In 2019, Gnarly Cedar Brewery joined the facilities at Ledgestone Vineyards. Now beer lovers and wine lovers can come together as one to find their favorite flavors and experience a beautiful space.
Known for: Marquette, Frontenac, Moscato, La Crescent, Sauvignon Blanc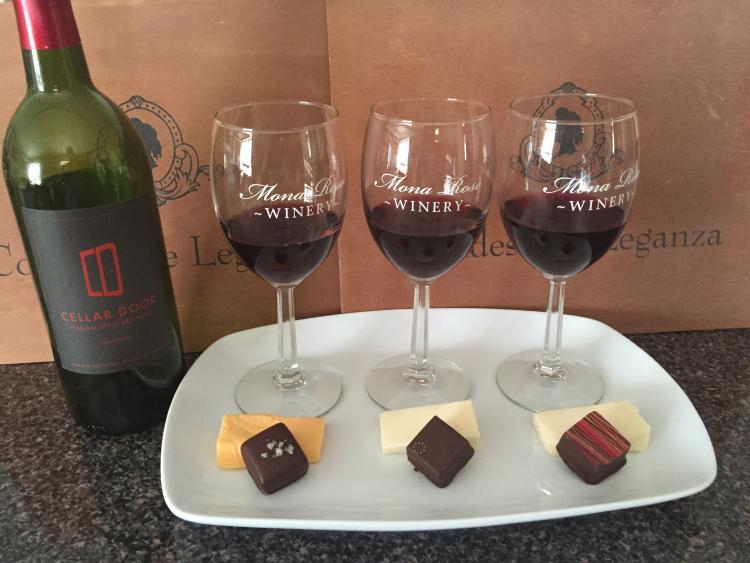 Mona Rose Winery
Mona Rose Winery, named after the owner, Craig Fletcher's wife, Monica Rose, was established in 2013. One of Wisconsin's premier wineries with internationally award-winning wines located on Green Bay's west side. This stop is also in a residential area and on a popular bike and walking trail. They specialize in small-batch hand-crafted locally revered and loved wines. Mona Rose takes a minimalist approach to winemaking limiting sulfates and other additives to their wines similar to the European style of winemaking. The fermentation room is located on-site and open for public viewing.
The tasting room is warm and inviting with a hand-crafted pallet bar and intimate seating area. Enjoy specialty cheeses and fine chocolates with your wine of choice, or local microbrews for the beer lover that tagged along for the ride. Stop in and sample the wines before purchasing them by the glass or bottle.
Known for: Peach on a Beach, Big Red, Super Tuscan blends, Tempranillo, Muscat
Parallel 44 Vineyard & Winery
With a trek to Kewaunee, you will discover one of the region's most popular hidden gems, Parallel 44 Vineyard & Winery. Husband and wife team, Steve Johnson and Maria Milano planted their first grapevines in 2005 and turned their passion for wine into a celebration.
The geographical location of the vineyard & winery was the inspiration for the Parallel 44 name. The winery is situated on 44° North Latitude - which circles the globe and is renowned as the world's finest grape-growing and wine-making region. This latitude includes the great wine regions of Bordeaux, France and Tuscany, Italy. Unlike our European counterparts, Wisconsin endures winters of subzero temperatures. We do, however, share many similarities with these regions such as seasonal growing climate, annual rainfall, and length of daylight.
It is the inspiration of Parallel 44 to share this latitude with our counterparts while celebrating their own unique tradition of growing grapes on the "Frozen Tundra" of Wisconsin.
With a beautiful Wisconsin landscape as a backdrop, you can enjoy samples of award-winning wines, stroll through the 10-acre vineyard, tour the winery, relax on the patio and enjoy the beautiful view!
Known for: Frozen Tundra (original, red, white), Vinter's Reserve, La Crescent, Ice Wine, Carl's Wild Grape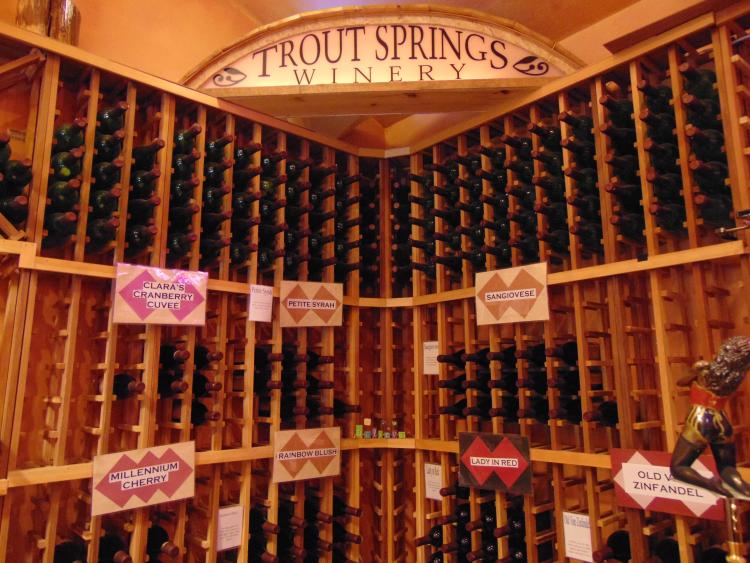 Trout Springs Winery
Trout Springs Winery, which is owned by husband and wife Steve and Andrea DeBaker, is a division of Branch River Farms--Wisconsin's only licensed fish hatchery, plant nursery, and winery all under one roof! Unique all right. Just like the man behind the scenes.
​Trout Springs Winery realized its first big harvest on Sept. 8, 2001. With over 20 friends and family members prepped and readied, the harvest began that Saturday morning. Expectations were exceeded as approximately 1-1/2 tons of "Reds" and about 600 pounds of "Whites" were gathered. The rest, as they say, is history. Wonderful wine, cozy tasting room, charming country setting and vineyard views. They've got your winery visitation expectations covered. And then some.
For starters, they also are a licensed trout hatchery. They grow grapes and trout, hence the name Trout Springs. Makes sense--trout are the wine of fish, after all.
Aside from wine, you can also enjoy craft beer, grape powder, cheese infused with the grape powder, and chocolate made with the grape powder by world-famous Seroogy's Chocolates in Green Bay. And don't forget glamping! Yes, glamping. For those romantics and nature lovers who think camping is cool but not for you—no bed, no hotel no amenities, no way—Trout Springs has something that might make happy campers out of you: glamour camping, or glamping as it's called.
Their Little Cabin in the Vineyard is perched on a  platform and outfitted with a queen-size bed and furniture, refrigerator, microwave, and lights. The personal porta-potty is the extent of roughing it. Meals are optional, wine essential.
Known for: Autumn Rouge, Babordo Vino Nuovo, Below Zero, Rainbow Blush, Ruby Slipper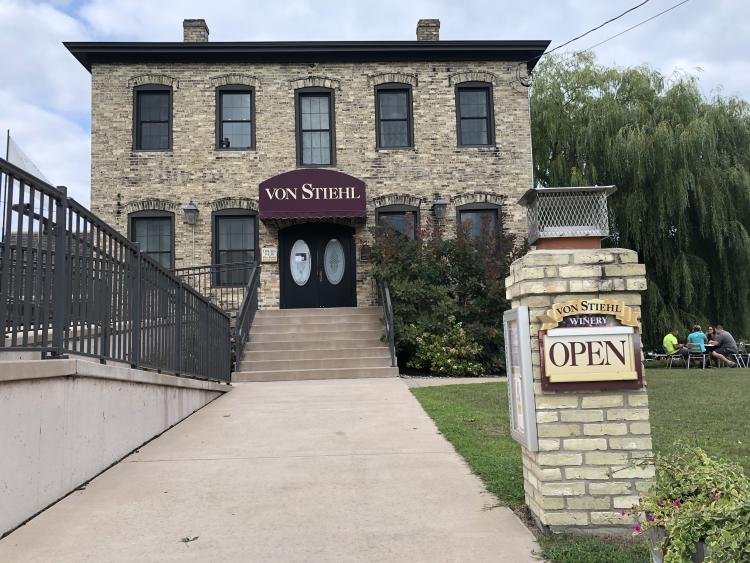 Von Stiehl Winery
Located in the harbor town of Algoma, you'll find von Stiehl Winery, and trust me, it's definitely worth the drive. Not only will you enjoy delicious wines, but ciders too with a visit to this historic winery. Enjoy wines made from Door County Cherries and local grapes from Door County's first vineyard, von Stiehl Vineyard, Stony Creek.
The vineyard is located in Door County, only six miles north of the von Stiehl Winery and production facility. The vineyard planted its first vines in 1996 on the land that has been in the Schmiling family for over 100 years.
Grapes are also sourced from the other grape regions around the United States, including Napa Valley, Sierra Foothills, Yakima Valley, Clarksburg, and other West Coast growing regions.
They have over 40 wine varietals for customers to sample and purchase while visiting von Stiehl Winery. Stop in and find your new favorite wine.
Known for: Crimson Royale, Cabernet Sauvignon, Cherry Bounce, Naughty Girl, Stony Creek Rosé
Whether you are planning a girlfriends getaway, a romantic weekend for two, or just looking for a day trip, you'll want to experience the wineries of Greater Green Bay.