Ah, summer—a season that beckons us to kick off our shoes, spread out a checkered blanket, and indulge in the simple pleasure of a picnic. Whether you're a visitor seeking a slice of quintessential Green Bay charm or a local looking for a new spot to savor your favorite snacks, we've rounded up the best places in town to feast al fresco. Grab your sunscreen, pack a cooler full of goodies, and let's explore the top picnic spots in the Green Bay area!
Communiversity Park
What's more "Green Bay" than a picnic on the bay? If you're looking for those picture-perfect views of a bayside sunset, Communiversity Park is the spot! Located right off Nicolet Drive along the campus trail at the University of Wisconsin-Green Bay, Communiversity Park is a beautiful little park with lots of open grassy areas, picnic tables, and grills, making it the perfect spot to post up for a leisurely afternoon or evening picnic. 
We could, of course, wax poetic about its beautiful views, but really nothing could say it better than this Green Bay local's recent Google review: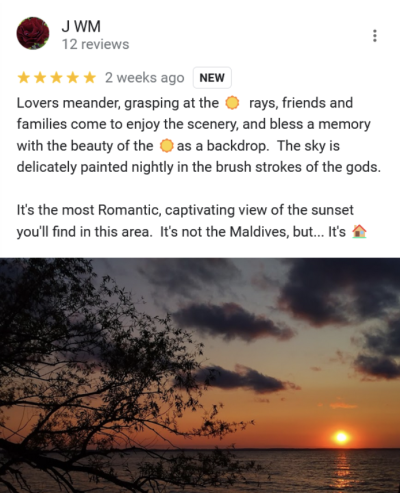 Communiversity Park is located at 2531 Nicolet Dr, Green Bay, WI 54311 is open daily to the public from dawn til dusk.
Bay Beach Wildlife Sanctuary
Nestled amidst the hustle and bustle of Green Bay lies a serene oasis for nature enthusiasts and picnic lovers alike—the Bay Beach Wildlife Sanctuary. There is an easily accessible and well-maintained picnic area right at the entrance to the sanctuary, so after you've finished up lunch, you can head into the sanctuary and enjoy the animal exhibits, educational displays, hiking trails, and various wildlife viewing opportunities across the sanctuary's 535 acres. And, if you want a cotton candy treat after your picnic lunch, Bay Beach Amusement Park is just a short half-mile walk or drive down the road! 
Bay Beach Wildlife Sanctuary is located at 1660 E Shore Dr, Green Bay, WI 54302 and is free to the public year-round. Please visit the website for current seasonal hours.
Green Bay Botanical Gardens
From the fragrant flower gardens to the colorful children's area, the Green Bay Botanical Garden provides the perfect backdrop for a summer picnic. You'll have no problem finding a shady spot to enjoy a delicious spread amongst the breathtaking beauty of over 45 acres of blooming gardens. On a hot day, your kids will love cooling off on the splash pad, or you can stop by on select Thursdays during the summer for live music in the Schneider Family Grand Garden. Guests are encouraged to bring picnics, lawn chairs, blankets, and of course, their dancing shoes!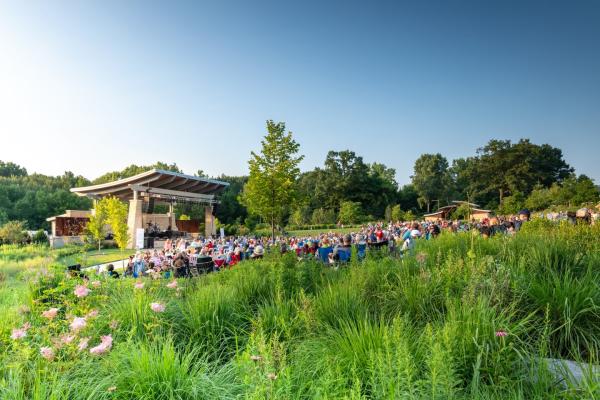 The Green Bay Botanic Gardens is located at 2600 Larsen Rd, Green Bay, WI 54303. General admission is $13 and free for members (seniors, students, and children receive a discounted rate). Please visit the website for current seasonal hours.
Pamperin Park
It's hard to pick just one park from the wide array of beautiful city and county parks throughout the Green Bay area, but Pamperin Park makes our list as the best picnic spot for anyone with kids looking for a fun way to burn off some energy outdoors. With Pamperin's brand-new playground now open, kids can climb and play while you grill up hot dogs at one of the public grills or just sit back in the shade. After lunch, take a stroll over to the butterfly garden, walk along Duck Creek, or play some disc golf on the free 18-hole course.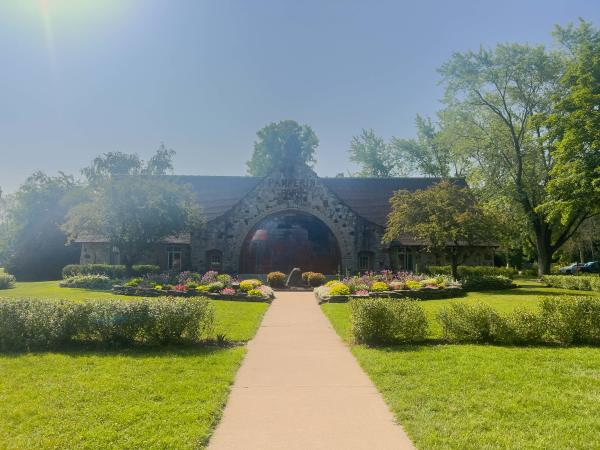 Pamperin Park is located at 2801 County Road RK, Green Bay, WI 54303, and is open to the public daily from 8:00 am to 8:00 pm.
Wequiock Falls
Wequiock Falls is a tranquil gem of a park located just off the roadside along Bay Settlement Road on the city's far northeast side. Cascading gracefully over limestone cliffs, the namesake waterfall makes the perfect backdrop and soundscape as you settle in at a table at the park above to enjoy a picnic lunch. Here's a hot tip from a local: the waterful is always at its most full after a good rainstorm, so plan accordingly for the best views!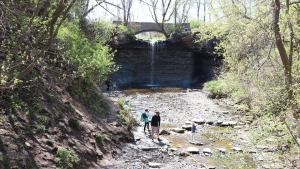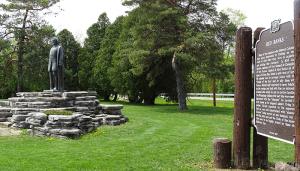 Wequiock Falls is located at 3426 Bay Settlement Rd, Green Bay, WI 54311, and is open to the public daily from dawn til dusk.
What to pack in your perfect Green Bay picnic basket
A picnic is only as good as its food, so why not keep it fresh and local and pick up your picnic staples from the best spots around the Green Bay area? For fresh produce and delectable baked goods, check out one of Green Bay's many Farmers' Markets. And is it even a picnic in Wisconsin without cheese? Up your picnic game to a whole new level with some artisanal Wisconsin cheese or a customized charcuterie board from Green Bay's premier fromagerie, Bountiful Boards!