Grab your reusable bags and come along to the Green Bay farmers markets for the best local produce, baked goods and hand-crafted specialty items around.
Farmers Market on Broadway
163 N Broadway, Green Bay, WI 54304
Wednesdays 3–8 p.m.
May 24–Sept. 27
This year, the Green Bay Farmers Market on Broadway is celebrating its 20th year in operation. With over 110 local vendors to choose from, this flagship farmers market has everything you could think of: live music, locally sourced goods and fine company! All you need to bring for an evening on the town is your reusable tote and some cash.

As the only Wednesday farmers market in the Greater Green Bay area, the Farmers Market on Broadway hosts an incredible range of vendors and draws a great deal of foot traffic. The following day, most vendors then split up throughout the many Thursday farmers markets in the area.
The 2023 season kicks off on May 24 at 3 p.m. Popular vendors in attendance include Great Harvest Bread Co., Monzu Bakery and Wayne's Jerky. There will be a bevy of fresh produce stands to choose from, too. It's a food lover's dream!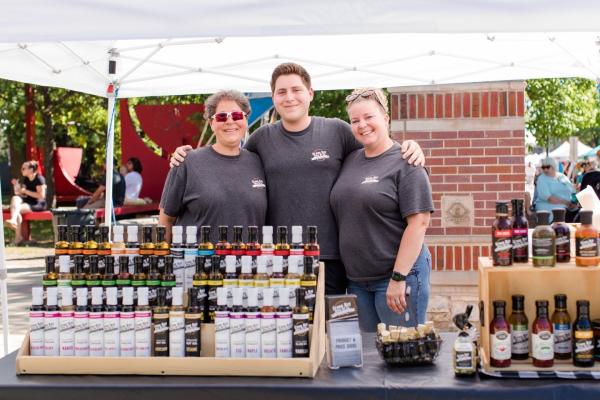 Already stocked up for the week? That's no problem! There are plenty of artists here, with booths sure to tickle your creative side. You'll find brightly colored hanging planters by Cherri Blossom Creations and beautiful handmade pottery by Agra Pottery.
Food trucks line the left side of North Broadway, making it impossible to leave hungry. Minzo's Kitchen, Rustique Pizzeria, The Dough Shoppe and Legendairy Cookies and Creamery are just a few of the trucks tempting market goers.
You'll find the beer tents close by, nestled into the Beerntsen's Candies parking lot. Six local breweries, including Titletown Brewing Co., Badger State Brewing, and Stillmank Brewing Co., offer their selections here, ranging from light to dark beers, and even a few hard seltzers (ask about the purple drink!).

Live music outside of Beerntsen's Candies begins at 4 p.m.; however, there are local musicians lining the entire block of the market, bringing music to your ears while you shop. Gather on Broadway also hosts a free evening show at the Green Bay farmers market, serving up specialty cocktails and a revolving food menu.
Downtown Green Bay Farmers Market
130 E Walnut, Green Bay, WI 54304
Saturdays 7 a.m.–noon
May–October
As the primary Saturday morning farmers market in Green Bay, the Downtown Green Bay Farmers Market is quickly gaining a similar popularity to its Wednesday counterpart.
Booths open at 7 a.m. You'll recognize many of the vendors if you went to the Wednesday evening market. Live music from the parking lot at 1255 fills the streets of South Washington, and a broad lineup of food booths and trucks await market attendees.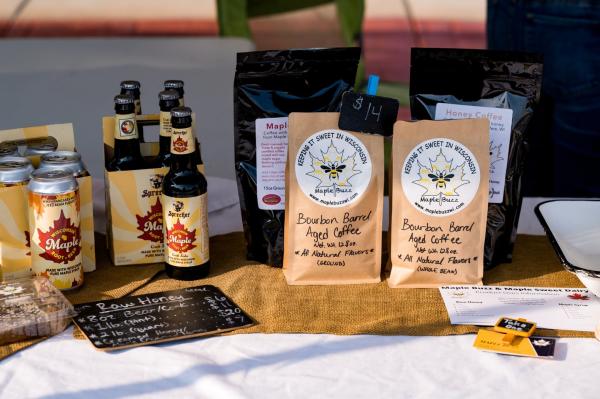 This Green Bay Farmers Market is a must-see if you're looking for that classic morning farmers market experience. While you won't find any beer tents here, there are plenty of businesses where you can grab a coffee, boba or tea while you browse. The attendance on these Saturday farmers markets tends to be a bit smaller than the one on Wednesdays, making this a nice choice if you prefer to stay away from big crowds.
Thursday Markets Galore
Summer Market on Military
1555 West Mason St, Green Bay, WI 54304
Thursdays 2–7 p.m.
June 1–Sept. 26
Downtown De Pere Farmers Market
George Street Plaza/between Broadway and Wisconsin St, De Pere, WI 54115
Thursdays 3–8 p.m.
June 8–Sept. 28
Titletown Night Market
1065 Lombardi Ave, Green Bay, WI 54304
Thursdays 4:30–8:30 p.m.
June 8–Aug. 31
Oneida Farmers Market
N7332 Water Circle Place, Oneida, WI 54155
Thursdays 1–6 p.m.
June 15–Sept. 28
As if the two farmers markets within the Broadway District didn't have enough produce and handcrafts for you, you can find a parade of smaller farmers markets within the villages and cities of Green Bay at varying times on Thursday afternoons.
Feeling ambitious? Try for a tour of the Green Bay farmers markets, where you hit every Thursday farmers market in one afternoon!