Color is a powerful language that can evoke strong feelings and for some artists, it is their primary mode of expression. Jenna Kast is one of those artists. The way she chooses and blends bright hues is both playful and energetic, and it results in pieces that radiate positivity.
Jenna is a self-taught artist with an inspiring journey. If you've ever convinced yourself that you can't do something because you don't have enough experience or you've missed your window of opportunity, you're going to want to hear her story. Jenna's evolution as an artist proves that nothing is as important as your passion and a commitment to keep showing up for yourself!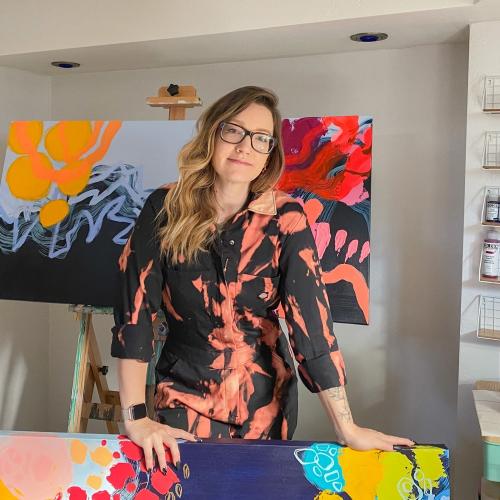 Finding her start in art
Jenna was what you would call an "artsy kid" — she was always getting her hands dirty with chalk or paint or paper mache. She loved drawing animals, and she would eagerly submit her drawings to magazine contests. When it was time to head to college, she knew she wanted to do something that was creative, yet practical. She graduated with a degree in Advertising and landed a series of marketing jobs that kept her busy throughout her 20s and most of her 30s.
When she was 35, Jenna started experiencing severe anxiety. She turned to art again as a way to help process her feelings and better manage her mental health. She bought paints and pastels and just started playing. She didn't see herself taking it any farther than that.
But when she started dabbling in abstract painting, something clicked for her. "I've always loved abstract art; being drawn to raw emotion expressed through gestures and color. When I started to make abstract work myself, it was like a window opened and I was finally able to breathe."
Go big or go home
For two years, she played around with different abstract painting techniques and started to develop a signature style. She also learned more about the business side of art and worked on building a social media presence. She was burning the candle at both ends, working during the day at her marketing job, and painting during her off hours on nights and weekends.
"I never set out with the goal of art being my 'job,' but there was no slowing down once I got started. I knew that this was what I was meant to be doing, and it was worth the time and sacrifices to get to that point."
It was around that time that the idea of painting a mural popped into her head. "The Mural and Busker Festival was in its first year, and I was approached about creating a mural. While I'm not a muralist, I thought the challenge of concepting and executing such a large piece would be a great way to test my limits as an artist and personally."
The piece she painted ended up being about a thousand square feet and took her about 20 hours to complete. It features the bright colors she's so well known for in a playful floral motif.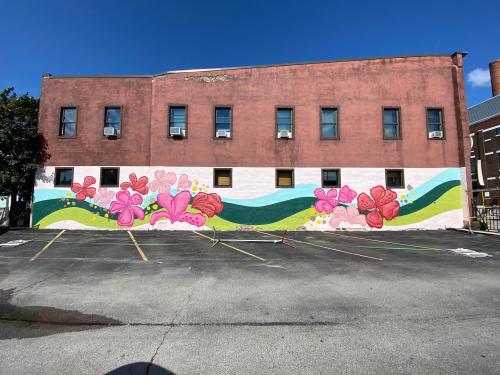 "Painting a mural was such a uniquely challenging but amazing experience. The experience of doing something this ambitious in less than a week crystallized a lot of things for me. Namely, that I needed to stop playing small… practically and figuratively."
You can see her mural at 319 N Broadway, right across the street from her favorite downtown cafe, Voyageurs Bakehouse. If you want to check out more murals from Green Bay, De Pere, and Algoma, head on over to our Greater Green Bay Mural Guide!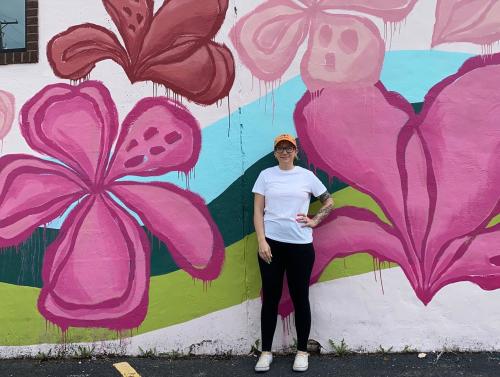 Even more art on walls
After her mural painting experience, Jenna really hit her stride as she expanded both the size of her pieces and the bold choices she was making with her colors and textures.
She also started making a bigger splash in the community. Soon after she finished her mural, she had her first solo show at Art Connective in De Pere. A few months later, one of her pieces was accepted into the 76th Art Annual at The Neville Public Museum, and in the summer of 2022, a collection of her work was featured at The Art Garage.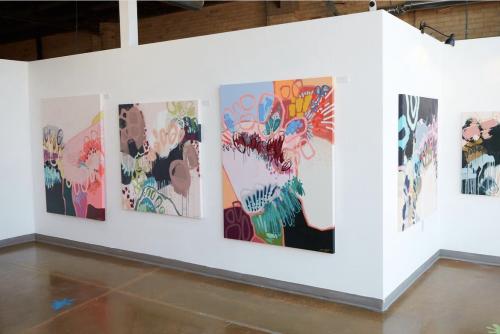 It was during this time that she hit her most significant artist milestone to date. She put in her two-week notice and left her marketing job to become a full-time artist at 36 years old. "2021 was the year of realizing a dream; becoming a full-time artist. I had many firsts that year, and I learned a lot about myself as a person and an artist."
An artist in the community
In early 2023, Jenna made another big change. She swapped her small-but-convenient basement studio for the much larger and more well-lit "Studio D" in The Art Garage complex. 
To celebrate her move into this new space, she invited the community in for an open house. "The space where I physically manifest my work has a spiritual level of importance to me. So to be able to invite the community into this space is a very meaningful act."
Her future plans include classes and workshops in her studio, as well as monthly "Open Studio Nights" where people can come hang out and see her completed and in-progress work.
Many artists find it difficult to open up their studio space and share works in progress. For Jenna, inviting the community into her workspace is not just important, it's invigorating. "I have written on my studio door that I'm open 'by chance or by appointment,' and I hope people take that opportunity because viewing artwork in person and talking with the artist who makes it is such a unique and moving experience."
A bright future
Today, Jenna's days are spent painting in her studio and running her business, but the thing she loves most about being a full-time artist is the flexibility. She loves being able to spend time with her husband during the day, pick up her daughter from school, and meet friends for lunch (by the way, her favorite lunch spot at the moment is Taco Burrito Mexico). 
Jenna's goals for her future are as bright as the colors she chooses to adorn her canvases. "Being able to work as an artist is a gift, and no path is ever a straight line. But the life and the joy and the freedom in being able to create artwork for a living is worth every minute of the hard work that goes into it."
We are so lucky to be able to see Jenna's beautiful artwork on display every time we drive down Broadway, and we can't wait to see what she does next. For more information about Jenna Kast or to browse her latest artwork, you can visit jennakaststudio.com or follow her on Instagram!