Yurts, Alpacas and Tailgating, Oh My!
From a night on the farm to charming lakeside inns, where to find unique lodging options in Green Bay
A trip to Green Bay is special — and your lodging should reflect that. Whether you want to learn how to raise alpacas or sit in the lap of Packers luxury, we've got something for you. Stay in a place as unforgettable as your vacation with these unique Green Bay area hotels and vacation rentals.
Astor House B&B - Green Bay
Dating back to 1888, the Astor House was originally built and owned by John Jacob Astor, a victim of the Titanic shipwreck in 1912. The Queen Anne-style home was later owned by a lawyer, then a doctor, and is now on its third set of B&B proprietors, Tom and Linda Steber. Each of the five rooms is named after a city destination, like London or Hong Kong. If you're a Gilmore Girls fan, you'll be happy to know this is the only place to get Scott Patterson's biscotti.
Apple Creek Campground - De Pere
Your family's outdoor dreams will come to life at Apple Creek Campground, where you can choose the standard cabin or campsite, or make it extra interesting by staying in a yurt. The Mongolian-style circular domed tent is 16 feet across and has two sets of bunk beds. You'll need to bring your own sleeping bags, but with a gorgeous evening view from the yurt's skylight, it's completely worth it. Plus, the campground itself has great amenities, like a heated pool and a game room.
Packerplex - Green Bay
Don't forget your cheese hat and game tickets when you stay at Packerplex, a 2,000-square-foot whole-house rental right across the street from Lambeau Field. From the outside, it's a simple brick home. But once inside, you're in Packers heaven. The entire place is decked out in Packers green and gold, stuffed with pennants, helmets, photos and even an entire scoreboard-themed wall surrounding the television. The house sleeps 16 for the perfect pre-game tailgate party. Want to stay a bit farther from the bright stadium lights? Check out the Packerplex apartment units about two miles away.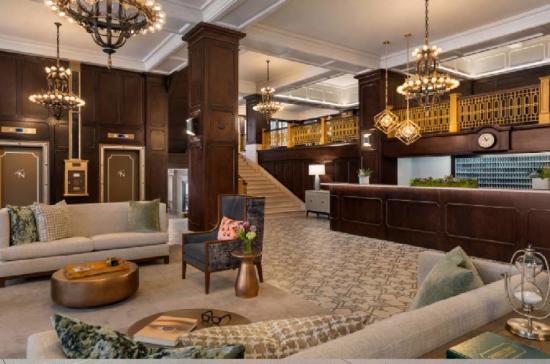 Hotel Northland - Green Bay
If you're perhaps less of a Packers fan, stay at the Hotel Northland — Green Bay's historic home for teams playing against the Green and Gold through the 1970s. (Though it was also the Packers' headquarters for a time). The hotel was the largest in Wisconsin when it opened in 1924 and has since been lovingly restored to its original splendor. You'll find vintage touches throughout, from the original key slots at the front desk to the decorative railing along the lobby balcony.
At the Waters Edge - Algoma
Whether you're a Harley, Hollywood or Northwoods devotee, At the Waters Edge has a spot for you. The bed and breakfast's seven themed rooms all have private entrances, sweeping views of Lake Michigan and access to a 1,500-square-foot deck that is literally "at the water's edge." For breakfast, enjoy local favorites like cheese souffle and apple pancakes. Owners Kari and Dave Anderson remodeled each room to be a celebration of places they've visited. Try to book the honeymoon suite — it has a fireplace and a two-person whirlpool for an extra romantic getaway.
Sabamba Alpaca Ranch - De Pere
With only two guestrooms, the Sabamba Alpaca Ranch is an intimate experience — between you and a herd of 50 alpacas. The renovated 1890s farmhouse offers a soft bed, a homemade breakfast and the chance to learn how to be an alpaca farmer. You can choose from three tours of the property (self-guided, one-hour guided or one-hour private) or try an entire alpaca experience where you spend a day working hands-on with the herd. There's a shop onsite, too, where you can buy knitted goods and yarn.
Find many great hotels in Green Bay to serve as home base during your getaway.