If you're interested in architecture, you are in for a real treat. Green Bay and the surrounding areas have some serious historical gems that you're going to want to see for yourself while you're here!
Joel S. Fisk House
123 N. Oakland Avenue, Green Bay
This house was built between 1862 and 1867 and is an example of the high-style Italianate design. It is the oldest house in the Oakland-Dousman Historic District. There are a few other historic homes in this style, but this is considered to be the only true high-style example in the city. After it was no longer being used as a residence, it housed a public library. After that, it was boarded up and suffered some vandalism. Today, it is being used as a commercial building.
Brown County Courthouse
100 S Jefferson St, Green Bay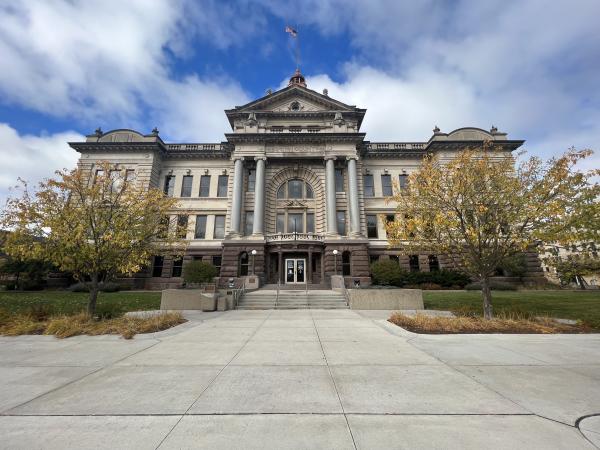 The Brown County Courthouse is a beautiful example of the Beaux Arts style of classical architecture that was popular between 1895 and 1920. You can see it in the large paired columns, ornamental balustrades and railings, decorative urns, and orb-shaped windows. The building was designed by C.E. Bell, the same architect who designed the state capitol of South Dakota and construction was completed in 1908. In 1976, it was added to the National Register of Historic Places because of its artistic and architectural significance.
St. Norbert College Main Buildings
100 Grant St, De Pere
The historic core of St. Norbert College is made up of six buildings that are still intact and in use today. These buildings are excellent examples of the Gothic Revival, Richardsonian Romanesque Revival and Neo-Classical Revival architectural styles. The oldest building that was built exclusively for St. Norbert College was the Main Hall, which was finished in 1903. Even though there are different architectural styles represented amongst these six buildings, they still look very cohesive since they all feature similar brown brick and stone trim.
Hotel Northland
304 N. Adams Street, Green Bay
Hotel Northland was the largest hotel in Wisconsin when it was completed in 1924. It was widely regarded as the best hotel in the area and it hosted many famous guests and visiting football teams. The nine-story Tudor Revival Style building was designed by a prominent Milwaukee-based architect named Herbert W. Tullgren. The full-service hotel was converted into apartments in the 1970's, but it was then restored back to its original glory and reopened in 2019. It's no longer the largest hotel in the state, but it is still one of the most beautiful!
St. Francis Xavier Cathedral
140 S Monroe Ave, Green Bay
St. Francis Xavier Cathedral was consecrated in 1881, but the building itself dates back to 1854. It was modeled after Ludwigskirche, a neo-romanesque style church in Munich, Germany. The cathedral is stunning; it features three rose windows and ten paintings by Munich-based artist Joseph Albrecht. Behind the altar, there is a very large painting by Johann Schmit, whose work also hangs in the Vatican. There are also stained glass windows from Austria. Guided tours are available both in person and virtually, on their website.
Hazelwood Historic House
1008 S Monroe Ave, Green Bay
The Hazelwood Historic House is a Greek Revival style home that was built overlooking the Fox River in 1837 by Morgan L. Martin for his family. It is still significant today because it is one of the earliest houses in Brown County that is still on its original site. In 1964, the home was turned into a historic house museum, which is still in operation today! The home has been preserved beautifully and is open to the public for tours. This is also where you can find the Brown County Historical Society, whose offices are located on the lower level of Hazelwood Historic House. 
Heritage Hill State Historical Park
2640 S Webster Ave, Green Bay
Heritage Hill State Historical Park is located on 54 acres of land in Allouez, a suburb just south of Green Bay's downtown area. The park houses 26 original and reconstructed buildings and more than 9,000 artifacts that showcase the history of the area – a history lover's dream! The oldest building you can see at the park is the Fur Trade Cabin, which was built circa 1800 in the French style of piece-on-piece (one log on top of the other). The cabin was discovered inside a house set to be demolished, and moved to the park in 1975.  
Kavarna Coffeehouse
143 N Broadway, Green Bay
The building that now houses Kavarna Coffeehouse on Broadway was originally built in 1931 to accommodate an auto-parts store and service garage. Here's what's interesting about it: the building was designed in the Egyptian Revival architectural style, a style that became more popular in the 1920's after King Tutankhamun's tomb was discovered. On the front of the building, you can see lots of ornamental decorations, including a terra cotta sun disk (likely a depiction of the Egyptian sun god Ra) and blue lotus leaf-shaped terra cotta medallions.
Green Bay Lustron Houses
998 9th Street, 322 Bellevue Street, and 717 Porlier Street
Lustron Houses are mid-century homes made entirely out of prefabricated enameled steel. They were developed between 1948 and 1950 in response to a shortage of homes for returning G.I.s and according to Wikipedia, Wisconsin received around 100 of them. Green Bay is home to three (there were originally four, but one has since been razed). Even though they're not as old as the buildings mentioned above, it's still cool to drive past and see one; it's believed that there are only about 2,000 of them left in the country at this point!
A special thanks to Mary Jane Herber from the Local History and Genealogy Department at the Brown County Library for all of her help and guidance with the research for this blog post. 

Are you ready to see these awesome buildings for yourself? Grab a digital copy of our Destination Guide and start planning your trip to Green Bay!