u've been to a restaurant in Green Bay on a Friday night, you've probably experienced our obsession with the Friday Fish Fry first-hand. In this post, we'll share a brief history as well as our favorite places to grab a plate of perch, walleye, or bluegill.
Seeing a "Friday Fish Fry" section on a menu isn't uncommon when you're in Green Bay. The origins of this tradition date back to the area's Catholic settlers, who would abstain from eating warm-blooded meat on Fridays. For many families, fish became a weekly staple.
During prohibition, tavern owners who were struggling to keep their businesses open realized they could bring in a crowd by selling low-cost freshwater fish like walleye, perch, and bluegill.
These days, many Catholics only avoid meat on Fridays during the 40 days of Lent, and prohibition has been over for almost 90 years. But the Friday Fish Fry is a year-round obsession for Green Bay locals and visitors for one reason: Because it's so darn good.
Here are some of our favorite places in and around Green Bay to experience Friday Fish Fry:
"I love the pan-fried Walleye here and get it every time." - Todd L.
Galley 57 not only has a Friday Fish Fry, they also have a Wednesday Fish Fry! They offer two different-sized plates of fresh lake perch, lightly breaded and fried. The perch is served with a choice of potato and tartar sauce. It pairs perfectly with a Wisconsin Old Fashioned!
"Finally decided to stop here. I really wish I would've listened to the locals sooner!" - Connor B.
1951 West's Friday Fish Fry is referred to as "Green Bay's Finest" for a reason. Their selection of fish typically includes lake perch, bluegill, beer-battered haddock, breaded shrimp, and pan-fried walleye. And if you can't choose, you can order one of their combination platters!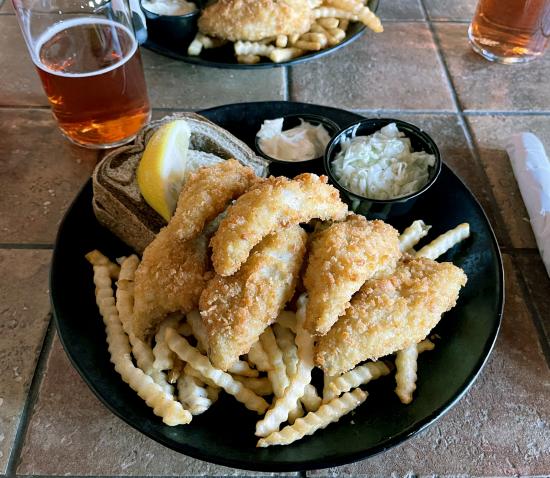 "Went for Friday Fish Fry... it was awesome!!!" - Lori P.
Fox Harbor Pub & Grill is located right on the Fox River. In the summer, you can sit out on the patio while you enjoy your Friday Fish Fry! They offer baked haddock or perch, which comes with a choice of french fries or potato salad, rye bread, homemade coleslaw and tartar sauce.
"Excellent fish fry, nice light breading, great flavor, awesome service!!" - Leslie B.
For a fish fry with a German-American twist, head to Lorelei Inn! They usually have perch or bluegill, which comes with either a baked potato, fries, wedge fries, German potato salad or potato pancakes. You also get coleslaw, sauerkraut, or red cabbage and dark rye bread.
"Might be the best fish fry I've had in my life! Busy little hole in the wall, but friendly staff and great food." - Jonathan S.
River Street Pier is one of Green Bay's best kept secrets. It might not look like much from the outside, but locals know how good the food is here! They have a huge Friday Fish Fry menu which includes sandwiches, fish plates, soup, and even a "little minnows" menu for the kids.
"The fish fry was very good. The pan fry walleye is a must try." - Mark L.
If you search "best fish fry in Green Bay" you'll see River's Bend near the top of the list. They have two Friday Fish Fry options: the Perch Plate or the Cod Plate (which comes either beer battered or baked). Both dishes include the salad bar, a choice of side, and rye bread.
"We love the fish fry and always have a consistent experience." - Gregg S.
Come hungry, because you get a LOT of food here. Mackinaws has several great fish options on their menu, such as the Lake Perch, the Pan Fried Walleye, and the Coconut Crusted Haddock. The best part is, you can order them any day of the week, not just on Fridays!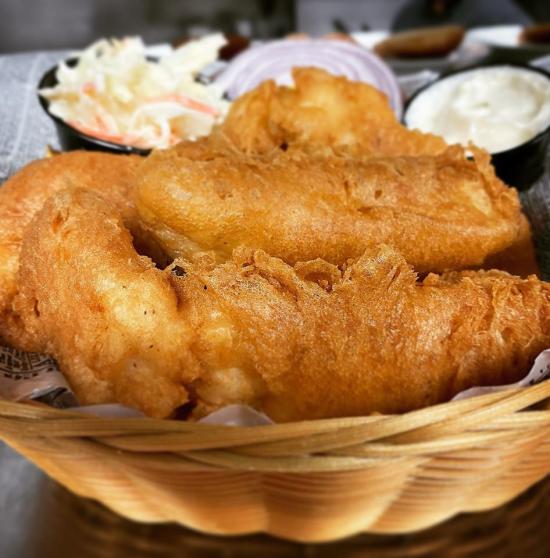 If yo
"We're back again for the delicious walleye dinners. Best fish in town." - James H.
The Ravine is a family owned and operated pub, grill and banquet hall that is known for their Friday Fish Fry. You can't go wrong with their Perch Plate (they offer a Jr. Perch Plate for smaller appetites) or their Cod Nugget Plate. No matter what, you'll probably need a "to-go" box.
"Fish fry was excellent! Huge portion for an excellent price." - Tina S.
Redwood Inn is the place to go in Green Bay if you want good fish and a lot of it. Their fans are always raving about the flavor of their perch and walleye and they also love that they don't skimp on the sides. They also swear there's something extra special about their tartar sauce!
"AMAZING fish fry for a great price! Some of the best fish fry I've ever had." - Emily A.
If you're heading to Algoma during your trip, you will definitely want to try the Friday Fish Fry at the Fishtale Ale House. Every Friday, they have "all you can eat" beer battered fish and chips. There's just one catch: no "to-go" boxes are allowed. So, make sure you come hungry!
Is your stomach rumbling? Come visit us and try some of these amazing restaurants! We can't wait to show you what else Green Bay has to offer. Start planning your trip today with the latest version of our official Destination Guide!