Five Days in Green Bay: The Ultimate Family Vacation Itinerary for Summer 2023
With a wide array of kid-friendly activities on water and land, Green Bay is a must-visit summer vacation destination for families.
The summer months can fly by, so best to get in as much outdoor fun with the fam as you can. Which is where this five-day vacation itinerary for Green Bay comes in mighty handy. As you begin planning your visit, consider this fun fact: Green Bay is ranked #3 on U.S. News & World Report's "10 Best Places to Live in the U.S. in 2022-2023," with the city described as "the perfect mix of big-city amenities complemented with a Midwestern, small-town feel." The rankings further note there's an energy in Titletown that appeals to young families. We couldn't agree more!  
Day 1
Start your visit with the "new," as in the new Children's Garden at the show-stopping Green Bay Botanical Garden. The entire family can stretch their legs exploring the grounds' nearly 50 acres, lush with 65,000 plants. At the Children's Garden, tree houses, a splash pad and nature-based sculptures beckon. You'll wish you could plant yourself there!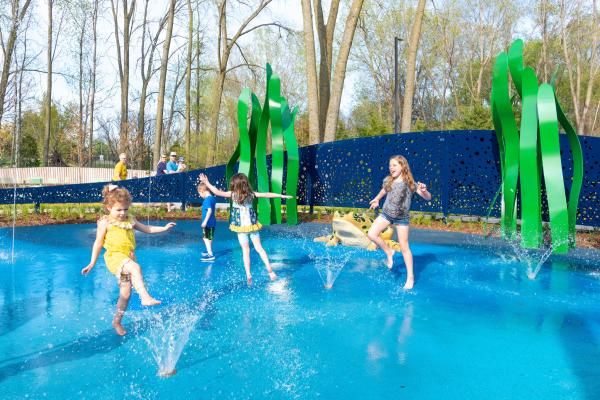 Follow that natural recharge with what is sure to be a highlight of the trip for everyone. Yes, we're talking Titletown District in the shadows of the famed Lambeau Field. Kids and parents can toss around a football (don't forget to pack one) on the full-size football field and play on the football-themed playground equipment. Thursday brings the weekly night market — think of it as a social hour, with food trucks and live music. Kids can roll down the grassy Ariens Hill while parents relax. If you're visiting during the weekend, take in a free outdoor movie. You can also grab a bite to eat at the Below 46 bistro, where the refreshing gelato is a summer favorite.
Day 2
Make your first stop of the day the NEW Zoo & Adventure Park, where the kids will love feeding the giraffes from a feeding tower (nominal fee) and visiting the petting zoo. Check out the Discovery Stations for red wolf, river otter, bald eagle and more. Adjacent to the zoo is an adventure park with dual racing zipline, ropes course and rock-climbing tower.
Green Bay has a stellar park system, with expansive Pamperin Park a case in point. Picnic here for lunch, then let the kids loose on the playground. There's also a disc golf course here, if that's your thing!
If you're itching to get out on the water, make arrangements for an intro to sailing session for the family at Green Bay Sail & Paddle. Family nights are scheduled once a month throughout the summer; boats seat up to four. You'll launch right from the beach at South Bay Marina. Enjoy pizza and soda afterwards, included in the cost of the sailing lesson. The center also offers an intro to kayaking class for ages 8 and up. You'll get a nice view of Bay Beach Amusement Park from the water, so take a minute to drop hints to the kids about Day 3's adventure.
Day 3
For more than a century, families have flocked to Bay Beach Amusement Park on the shore of the bay of Green Bay for old-fashioned fun. Ride the Ferris wheel, take a spin on the tilt-a-whirl and zoom up, down and around on the Zippin' Pippin' Roller Coaster, a wooden coaster that is a replica of the one Elvis Presley favored at Libertyland Park in Memphis. Ride tickets are an unbelievable bargain at 25 cents, with most rides requiring just a ticket or two. No visit to the amusement park is complete without a few treats from the concession stand. On a hot day, the snow cones hit the spot. There's a fuller food menu offered at the park pavilion.
You have lots of options for cooling off in the afternoon. Change into your swimsuits at the north end changing station at Crescent Beach on Lake Michigan in nearby Algoma and then take a dip. A scenic half-mile boardwalk also provides a reprieve from the summer heat. Ashwaubomay Lake has a zero-depth entry sand beach, a toddler slide on the shallow end, a tube slide on the deep end, plus floating rafts. There are three outdoor pools in Green Bay — Colburn Pool, Joannes Family Aquatic Center and Resch Aquatic Center, and at each, admission is a steal. Want more water? There are nine free splash pads around the city plus wading pools at three of the city parks.
Staying with the H2O theme, enjoy a free waterski show put on by the Waterboard Warriors Water Ski Show Team every Tuesday and Thursday evening throughout the summer. Staged on the Fox River at Mueller Park just south of Green Bay, the shows feature talented skiers performing high-speed barefooting, jumping and pyramids. Pro tip: Bring lawn chairs or blankets.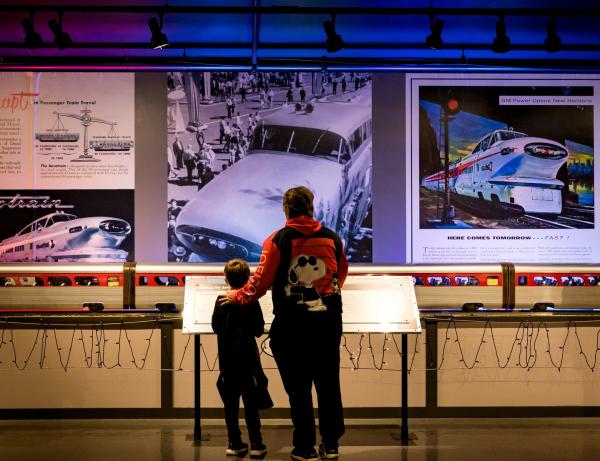 Day 4
What kid doesn't love trains? The National Railroad Museum is sure to please your locomotive lover. This is the only congressionally designated railroad museum in the U.S., with 70 pieces of rolling stock. Hop aboard for a ride!
Another place that makes history fun for kids is the Heritage Hill State Historical Park. This 56-acre living history state park on the banks of the Fox River has rotating crafts and games for kids throughout the park, with interpreters staffing the historic buildings on the ground Thursday–Sunday. New this year: A fife and drum corps will perform regularly throughout the season and a newly added building tells the story of migrant workers from the early 20th century.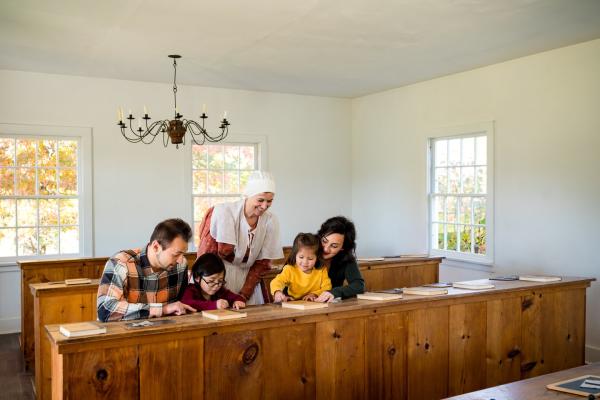 Squirrel away some time to hike the trails at the Brown County Reforestation Camp or bike a portion of the Fox River State Trail, running parallel with the river.   
Day 5
Get in some fun family competition with 18 holes of mini golf at Duck Creek Golf Center or Bay Beach Mini Golf.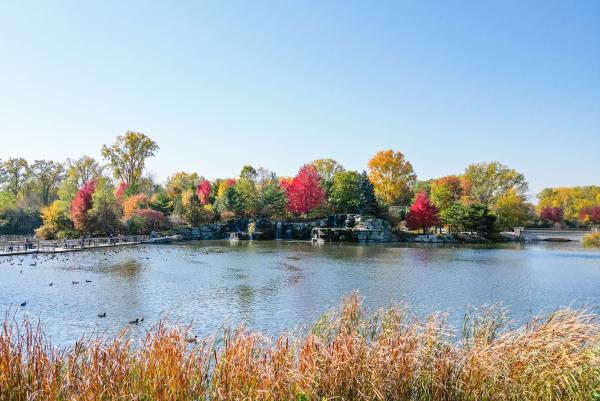 Coast into the close of your Green Bay getaway with a tranquil exploration of Bay Beach Wildlife Sanctuary, a 700-acre urban wildlife refuge responsible for the care and wellbeing of more than 4,500 orphaned or injured animals. Bring your fishing poles to fish in the Bay Beach lagoon. Hike the trails, do some birdwatching and enjoy the wildlife viewing areas — all very appealing to curious children.
More Recommendations
Where to Stay
Where to Eat
Plan at least one breakfast at the family-owned Pancake Place, where no one will leave hungry thanks to their plate-size pancakes.

The Saturday morning farmers' market in downtown Green Bay is a terrific place to pick up fresh produce, baked goodies, carryout food, coffee and cheese. There's also a Wednesday afternoon farmer's market on Broadway with upwards of 100 vendors, making it one of Wisconsin's largest.
Happy Joe's Pizza & Ice Cream is one-stop dining for these two kids' favorites.
For burgers, there's Al's Hamburger Shop, a classic diner, and Kroll's West, a family-friendly restaurant going back nearly 90 years.
Make one meal a "parents' choice," with Hinterland Brewery a fine eatery indeed. There's a kids' menu here to keep picky eaters satisfied.  
If you scream and your kids scream for ice cream, you're in luck, with three locations for Zesty's Frozen Custard.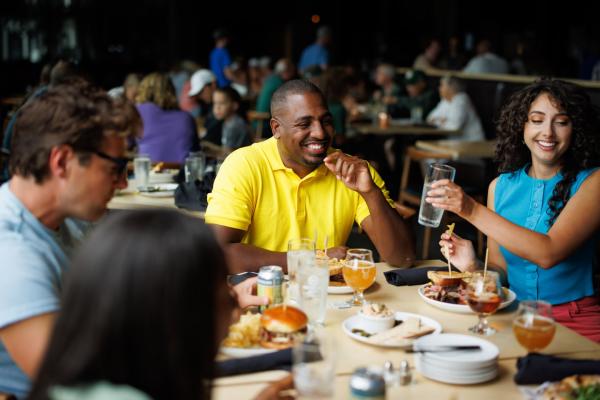 Time Your Visit
See dancers and singers showcase their talents at the Oneida Nation Annual Pow Wow, June 30–July 2 at Norbert Hill Center. Then the Oneida Nation commemorates its Wisconsin Bicentennial with a family fun day on July 30. Another key stop: the Buffalo Overlook where you can watch the buffalo roam: W903 Vande Bruggen Lane, Oneida.
Channel your inner Mary Poppins at Fly a Kite Fest, June 24, at the Arnie Wolff Sports Complex. Watch stunt kite routines and see giant show kites soar. You can even fly your own kites. For a later date with the same kind of attractions, come to Soar on the Shore, Aug. 19 at Crescent Beach.
Kids will get a kick out of seeing muralists at work at 10 locations in the Broadway District during Mural and Busker Festival, June 17–18. The streets will be filled with talent, including stilt walkers, jugglers, magicians, musicians, dancers and balloon artists.
Fire over the Fox on July 4 features multiple stages with live music, food trucks lining the Main Street Bridge and family activities. The main event, of course, are the brilliant fireworks commemorating our nation's independence.