Charcuterie — sometimes also referred to as an "adult Lunchable" — has taken the foodie scene by storm and we are HERE FOR IT. We're not talking about your typical Piggly Wiggly brand summer sausage layered in between cuts of sharp cheddar with some Ritz crackers. We're talking about edible works of art arranged and served on a wooden platter. 
We wanted to share a few spots in Green Bay that offer charcuterie plates on their appetizer menus. We love that each place has put their own spin on it and we know you will, too!
The Bottle Room is known for their wine, but they also have amazing food, craft cocktails, and craft beer on their menu. And what pairs better with wine than cheese? Their Charcuterie board includes items like Prosciutto, Cold Beechwood Smoked Norwegian Trout, 5-Year Aged Cheddar, and Bellavitano. Each board also includes one chef selection and is plated beautifully. Conveniently located just off I-41 on Lineville Road, The Bottle Room is an elegant, relaxing space to connect and enjoy delectable dishes with exceptional company.
Studio 1212 Cafe & Wine Bar is located right on the Fox River, which makes it a gorgeous spot to catch the sunset or dock your boat for a quick bite to eat in the summer. In addition to a colorful charcuterie featuring artisan cheeses, fresh fruit, nuts, and gluten-free crackers, Studio 1212 also serves up a full lunch and dinner menu that rotates with seasonal harvest times. This ensures that anything you order will have the freshest flavors sourced from small businesses and farms throughout Northeast Wisconsin.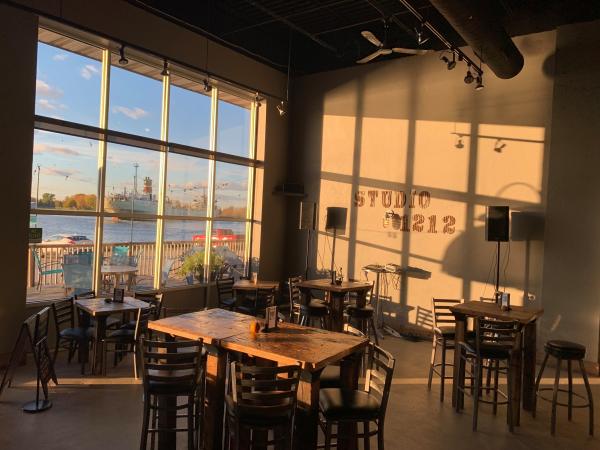 Amphora Wine Bar is an Art Deco-inspired lounge that shares globally diverse wines, cocktails, craft beers, and shareable plates. On summer nights, they'll open up their "garage door" so you can enjoy the fresh air and the bustling "On Broadway" district. Their chef-selected cheese board can be ordered with or without meat and features cheeses sourced from Carr Valley Cheese in La Valle Wisconsin. YUM. 
A'Bravo has been open for over 20 years, making it a Green Bay area staple. We would go so far as to call it a "must try" during your visit. With their rotating seasonal menu, you are guaranteed to find items made from the freshest locally sourced ingredients. They also have a full-service cocktail bar and unique wine options that are not readily available elsewhere. The shabby chic decor creates an ambiance that's fun, yet sophisticated, and their outdoor patio makes a perfect backdrop for photo-op (especially in the summer sun!)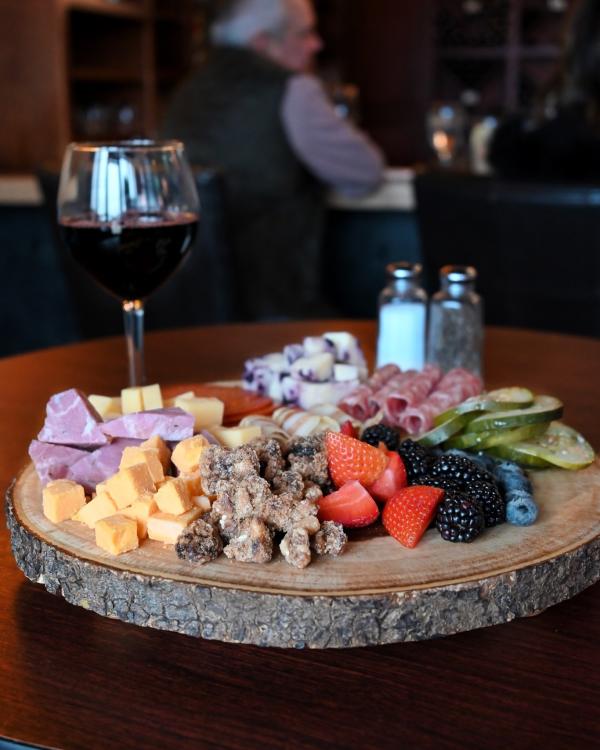 With their Vineyards in their backyard, LedgeStone creates aged-to-perfection wines, which are kept in oak barrels to ensure the perfect aroma and taste. A new, flavorful menu includes fondue, a gorgeous charcuterie board, and so many more dishes to compliment their wines. Ledgestone and Gnarly Cedar offer a unique, indoor/outdoor dining experience while still providing a luxurious feel. 
Picture this: a cozy, historic home turned impressive winery with a dreamy bistro menu! Situated in Downtown Green Bay, Captains Walk has a well-established reputation in the area. After being purchased by local wine lovers last fall, Captain's Walk has seen a revitalized bistro menu including gorgeous cheese boards, individual charcuterie cones, butter boards (and several other menu additions). You can experience it for yourself by popping in during open hours, signing up for a sip and paint class, or as a member of their Wine Club! 
Hagemeister Park may look like an intimate little restaurant from the front (Washington Street) side, but looks can be definitely deceiving! In fact, they are Green Bay's premier waterfront restaurant with over 4,000 square feet of riverfront patio space. Historic roots are paired with local beers, seasonal drink menus, and craft cocktails. Now, you may be checking their menu and thinking, "I don't see cheese boards…" This is true, but I couldn't not include them on this list, because their Bruschetta is UNMATCHED. So, while they may not have cheese *on boards* they have it on bread… and that is a vibe. 
Located in The Revolution Market in Ashwaubenon, Bountiful Boards specializes in pre-ordered charcuterie boards. If you're looking for a wine night dish to pass, look no further! In addition to the pre-made boards, you can also purchase all the fixin's to create your own boards. The owner, Ashley, also hosts classes regularly around all things cheese and charcuterie boards! Bountiful Boards is Green Bay's only licensed Charcuterie & Fromagerie and they supply some of the area's most unique and wonderful cheese, cured meats, and a variety of accompaniments! You HAVE to check it out in person, or follow her gorgeous cheese art inspiration on the 'gram: @bountifulboardsgb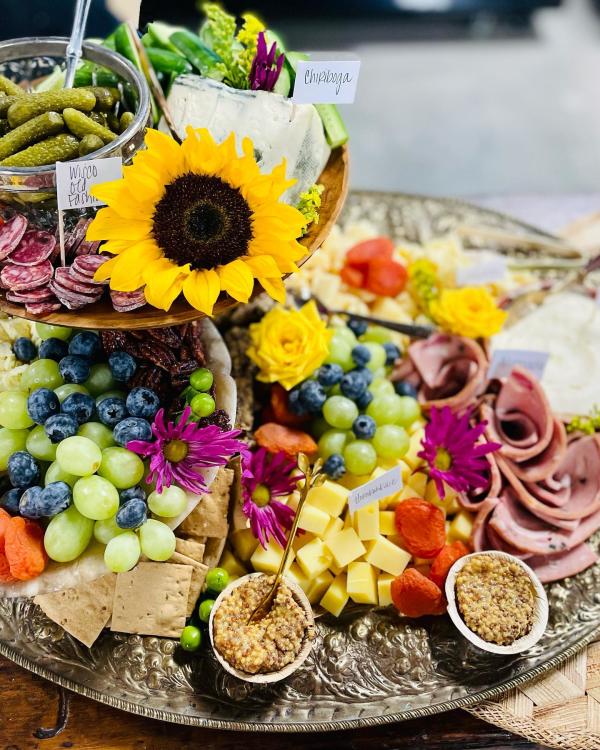 When you're ready to set up a date night, girl's night out, or a solo trip to test out the strength of those *lactose pills* (IYKYK), these restaurants and wineries are sure to please! 🧀🍷
2300 Lineville Rd.

(920) 661-9463
The Bottle Room is dedicated to creating a relaxing environment for those passionate about great wine and craft beer. Both the wine and beer list changes often to stay up-to-date with the freshest wines and seasonal brews. There is also an array of specialty cocktails available…
1212 Marine St.

(920) 544-9682
1212 Café & Wine Bar offers a farm to table style restaurant that features a full menu with mouth-watering flavors of local meats, cheeses and amazingly fresh produce. Hand-selected wines, craft beer and specialty cocktails made with Studio 1212 infused vodkas. 1212 Café offers…
131 N. Broadway

(920) 391-5417
Amphora Wine Bar, located in the historic Broadway District of Green Bay, is an Art Deco inspired lounge offering it's patrons a globally diverse wine selection, unique cocktails, Wisconsin craft beers & shareable Plates. Our food menu has been curated in concert with our diverse…
2069 Central Ct.

(920) 432-7286
This chic, fine dining bistro decorated with a Moroccan flair sits in the heart of Bellevue on Green Bay's east side. a'Bravo offers a large variety of upscale plates featuring breakfast items, sandwiches, salads, pastas, seafood and daily specials. The dinner entrees change…
345 S. Adams St.

(920) 431-9255
Captain's Walk Winery, the sister winery of von Stiehl winery in Algoma, offers premium wine tastings daily, in a laid-back atmosphere in order to provide a unique and lighthearted wine education. These are big wines from small batches produced with fruit from some of the finest…
6381 Hwy 57

(920) 532-4384
The escape on the escarpment - come for the wine, stay for the views. Indoor and outdoor winery & vineyard with micro crafted wines from WI grapes. Serving wine, beer & food. In a vineyard at the foot of the Niagara Escarpment in Greenleaf, Wisconsin exists a place where friends…
325 N. Washington St.

(920) 884-9909
This large bar and eatery has a Green Bay Packers theme, but not just because they're located in the home of the winningest NFL team. The history runs deeper than that. Hagemeister Park was the first home of the Green Bay Packers. The Packers crushed their first opponent at City…