Whether you're into Green beer, Irish dancers, Shamrock art, or everything in between… you're in luck! Here's your round-up of events in Green Bay to celebrate - to get tickets, click the event headline:
Friday, March 17th: 
Green Bay Gamblers Jameson Night - The first 500 fans at the game will get one of these limited edition shirts for FREE! Tickets are still available.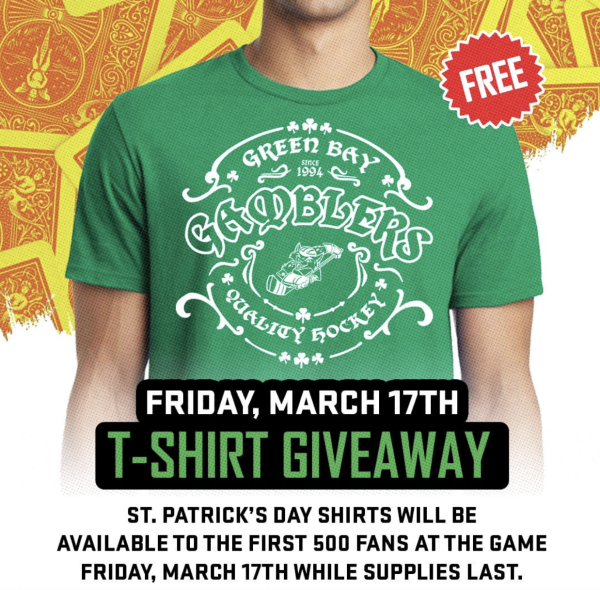 Shamrocks Workshop at The Art Garage - For children ages 5-8, use marbles to paint handmade shamrocks. 🎨
St. Paddy's Day at Stadium View - Green Beer, double bubble, corned beef & cabbage… and a chance to win a free trip to Nashville!
St. Patricks Day Crawl - Exclusive drink specials and bar promotions at the top-rated bars in Green Bay, live music, bands and DJ's.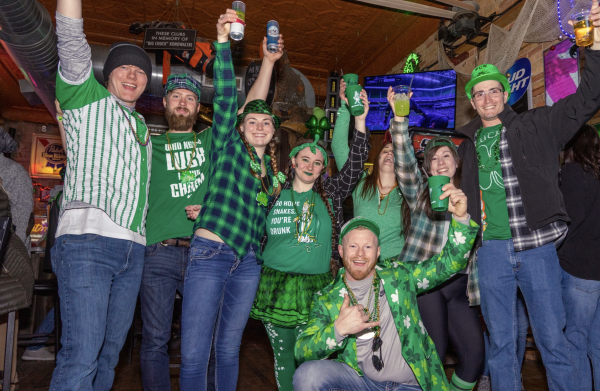 St. Patricks Day at 1st & Bowl (3/17-3/18) - Free welcome shots, free games, drink specials and live music from The Speako Chords 🍻
St. Patty's Day Workshop at Board and Brush - Make and take shamrock themed workshop; no appointment needed! 
Saturday, March 18th: 
St. Patricks Day Parade on CityDeck: The parade starts on CityDeck behind Hagemeister Park (325 N Washington St, Green Bay, WI 54301) at 10 am and then follows the Fox River Trail to St. Brendan's Inn (234 S Washington St, Green Bay, WI 54301). The parade run-time is approximately 30 minutes from Hagemeister Park to St. Brendan's Inn. There are post-parade activities at St Brendan's Inn including performances by Irish dance groups and bands, kid's activities, and food and drink. Before you go, get a $10 "I ☘️ GB" shirt from LoCo Wisco!
Annual St. Paddy's Bash - WINEaLOT Vineyards will be Saturday, March 18th, 2-5pm! Enjoy live music with Paddygrass, a 5-piece Irish band from Milwaukee. They will be bringing a world-class Irish Dancer with them for a little Irish Dancing. 4 Schmidt's and Giggles BBQ Food Truck will be here again with their Amazing BBQ!
Green Bay Shamrock Stroll - Annual Green Bay Shamrock Stroll St Patrick's Day Weekend Bar Crawl, grab your luckiest group of friends and search for the golden taps all throughout the city. Social Media costume contest to win cash prizes!