Go out to eat or go to a concert? At these Green Bay bars and restaurants, you don't have to choose. Enjoy live music while satisfying your inner foodie at these restaurants with live music.
While Green Bay is famous for football and outdoor adventures, what you may not realize is that it's also a treasure trove for live music. And what better way to listen to live music than by pairing it with delicious eats? Some venues allow you to sip a delicious cocktail or brew while taking in the tunes. A few establishments go even further, offering tasty appetizers, a slice of pizza or even gourmet cuisine.
No need to go Googling "live music Green Bay." Instead, we've narrowed down the venues for you so you can experience the best live music and noshes in town.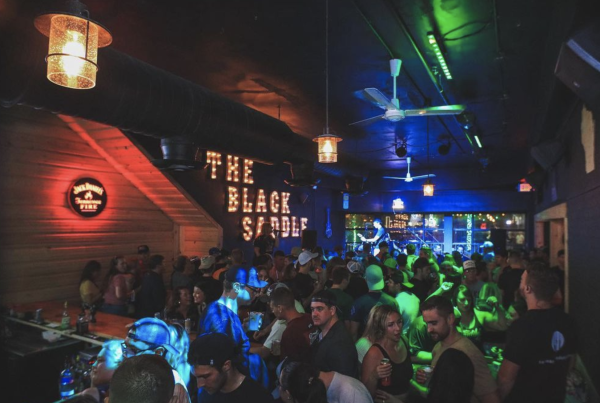 Taverns with Talent
There's no shortage of bars with live music in Green Bay. There's Keggers, found on Broadway Street. The beer garden has a lively atmosphere and serves up Green Bay's local Hydrant pizza — and it happens to be connected to The Lyric Room, where a wide variety of genres can be enjoyed. The Black Saddle Tavern & Oasis has a saloon-like feel. Savor delicious pub grub while listening to local outfits. And it doesn't get much more fun than a stop at The Sardine Can, with a tiki-bar vibe that would make Jimmy Buffett proud, along with an outdoor stage and free pizza during happy hour.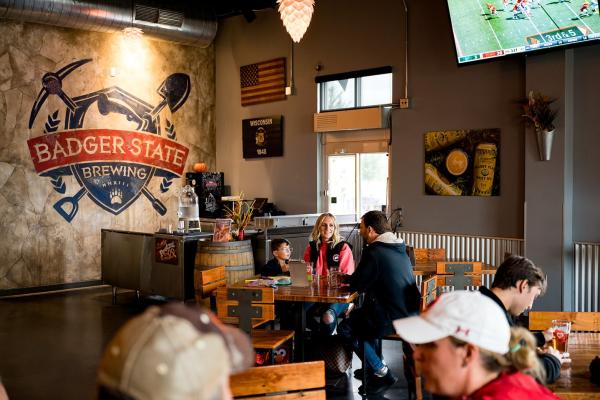 Homebrewed Harmonies
Area breweries also boast great eats and live music to boot. There are acoustic acts on rotation at Badger State Brewing Company, known for its homemade IPAs and "Chocolate Milk Stout," which happen to be extra-tasty with a hot giant pretzel or slice of 'za. Paradise North Distillery Co. has locally made spirits ranging from rum to vodka, and their snacks include charcuterie boards and gourmet popcorn. They also regularly present regional acts. Listen to tribute bands at Green Bay Distillery while relishing an extensive drink menu and several food options, like Green Bay's Largest Beer Pretzel and Tequila Lime Salmon.
Rockin' Restaurants
For a more sit-down experience, check out one of Green Bay's restaurants with live music. There's Fox Harbor Pub and Grill, situated on the water, where you can enjoy a delicious burger while watching local performers. Showcasing a Northwoods cabin look, Mackinaws Grill & Spirits has Wisconsin cheese curds that can't be missed alongside live performances on Fridays and Saturdays. Black Sheep Pub & Grill has its cold beers and delectable flatbreads accompanied by bands and DJs spinning tunes. For tasty Japanese eats paired with live entertainment, look no further than Koko Sushi Bar & Lounge.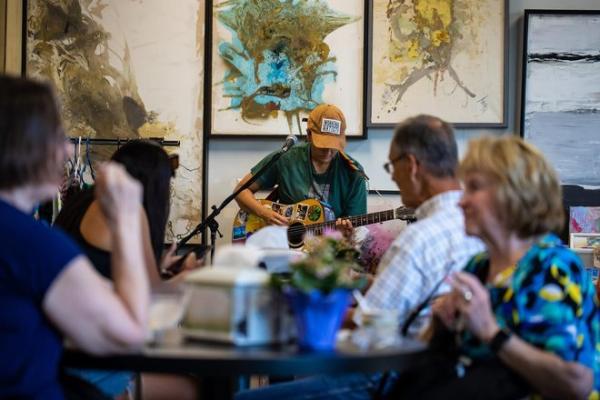 Vinos with Vocals
There's something about music that just makes wine taste better. If you're craving something from the vine, make a reservation at Studio 1212 Café and Wine Bar, where you can order a bottle, enjoy pasta primavera and listen to pro musicians. Come on an open mic night if you have a song to share! The Bottle Room Wine Bar spotlights guitarists and other performers along with their wine flights, shared plates and mouthwatering desserts.
Looking for a completely different live-music experience? Then look to Ashwaubenon's The Revolution Public Market, an indoor public market with a juicery, fromagerie and homemade soups that taste even better while grooving to local musicians.