9 Green Bay Activities to Find Your Zen
[dek]
Whether you're in town with friends or family, make sure you plan for some downtime, just you. Here are Green Bay activities to get away from it all.
By Carla Minsky
If you're looking for ways to "get away" from it all while on your summer family "getaway" to the Green Bay area, we offer you these nine Zen-inducing, relaxing activities. Consider this permission to sneak away from the rest of your group for some calming alone time. You're welcome!     
1. Relax in the Shade
For those looking for an eye-relaxing activity, the Green Bay Botanical Garden offers countless peaceful places. The King Shade Garden is a summer standout with its gorgeous hosta plants, bubbling stream and cool shade trees. The Johnson Woodland Garden is another refreshing spot, with mature shade trees providing a cathedral-like backdrop to show off the beauty of the native Wisconsin plants in this section of the garden.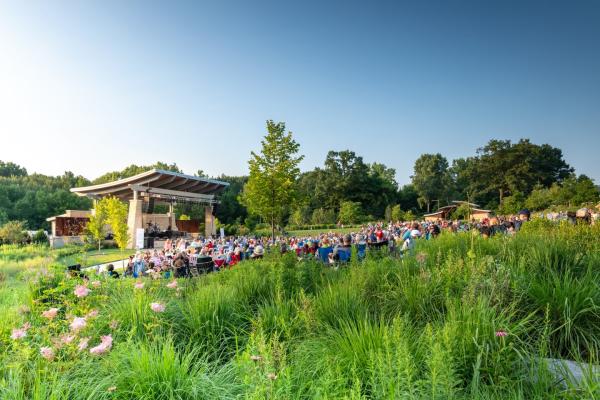 2. Direct your Eyes Skyward
Bay Beach Wildlife Sanctuary is a 535-acre urban wildlife refuge where you can take a self-guided birdwatching hike. Using their sanctuary bird checklist, broken out by season, see how many different kinds of birds you can identify. Some 265 species have been recorded here over the last 40 years. There are 1,000 acres to meander via nine miles of trails at Barkhausen Waterfowl Preserve, a natural area on the west shore of the Bay of Green Bay that's home to a wide variety of waterfowl. In the summer, there's every chance you'll see young birds in both the wetlands and the woodlands. Here's a tip: Two ADA-accessible viewing platforms with scopes allow you to see even further into the wetlands.
3. Recharge with a Spa Treatment
Kohler Waters Spa at Lodge Kohler has a new Glacier Springs body treatment that starts with a peppermint body scrub to release muscle tension followed by a relaxing Vichy shower rinse, aromatic ice massage, cool-stone eye treatment and cooling foot massage, which all sounds incredible on a warm summer day. Or try an energy-healing Reiki treatment at LUX Spa. At Weiler Academy Wellness and Spa, allow time after your spa service to relax in their posture-perfect chaise lounge where you'll take in the healing properties of Himalayan salt.
4. Be Inspired by the Creativity of Artists
Set aside time to visit The Art Garage, an always-free non-profit gallery that features the work of regional artists in both solo and group exhibitions. This gallery is located in a former cannery building built in the early 1900s, so the space is inspiring too. Be sure to stop in the gift shop where all items are the work of local artists. Other artsy stops in the area include New ARTSpace, One of One and Folio Gallery and Bookstore.
5. See Where the Trail Leads You
Hiking and biking are beautiful Green Bay activities to get off the grid and clear your mind. The 20-mile Fox River State Recreational Trail follows the river's path with the Allouez section of the trail in St. Francis Park providing a relaxing resting spot under the shade of a picturesque gazebo or on one of the park benches overlooking the river. For a more rural trail experience, try the smooth-going Mountain-Bay Recreation Trail, one of the longest rails-to-trails in the state at 83 miles.
6. Get in the Water
Experience the Zen of paddling with a kayaking excursion. Kayak Wisconsin offers self-serve kayak rentals at two locations: on Lily Lake, an inland lake with non-motorized traffic, and at Mueller Park on the Fox River in Wrightstown. At Green Bay Sail & Paddle, you can take an intro to kayaking or an intro to sailing class — you choose.
7. Chase Waterfalls
Be sure to pack your hiking shoes and your camera as you'll want both for waterfall chasing, best done in spring and early summer before conditions turn dry. At Fonferek's Glen County Park, a geological gem, you'll find a 30-foot waterfall with a designated overlook for easy viewing, plus dolomite cliffs and stone archway, all part of the larger Niagara Escarpment. At Wequiock Falls County Park, the flow from the namesake creek forms a picturesque waterfall which gradually slows through the summer season.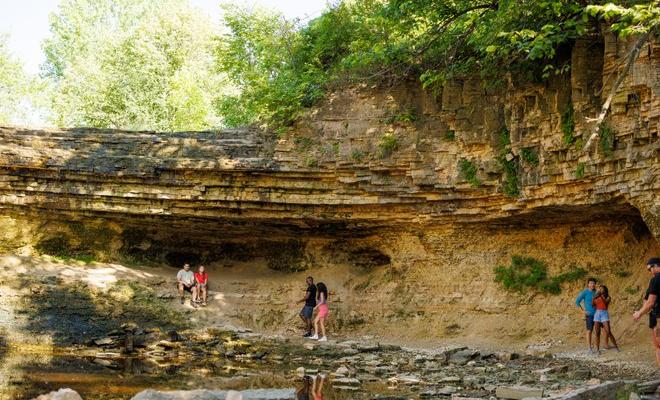 8. Reflect at a Shrine
All are welcome to experience The National Shrine of Our Lady of Good Help, an internationally recognized holy site and one of the must-visit soul relaxing activities in Green Bay. It is the only place in the United States approved by the Roman Catholic Church as an apparition site of the Blessed Virgin Mary. Leave the stresses of everyday life behind with quiet reflection in the shrine's outdoor grottos. The grounds are open 7 a.m.–7 p.m. every day.   
9. Try a Yoga Pop-Up
Yoga isn't about how bendy you are but rather about bringing strength to mind and body. The downtown district hosts yoga pop-ups throughout the summer, including yoga on the city deck and in pocket parks. Last year they even had yoga sessions with puppies. Awwww! Check the Downtown Green Bay calendar for yoga dates.