Greater Green Bay might be known as the home of brats and cheese curds (a title we wear with pride and honor), but that doesn't mean we can't appreciate a delicious plant-based meal just as much. In this blog post, we want to share some of our favorite go-to options at the Green Bay vegetarian restaurants, as well as some must-try dishes from our non-vegetarian restaurants. There really is something for everyone here in Titletown!
Fresh Ravioli @ Angelina Authentic Italian Cuisine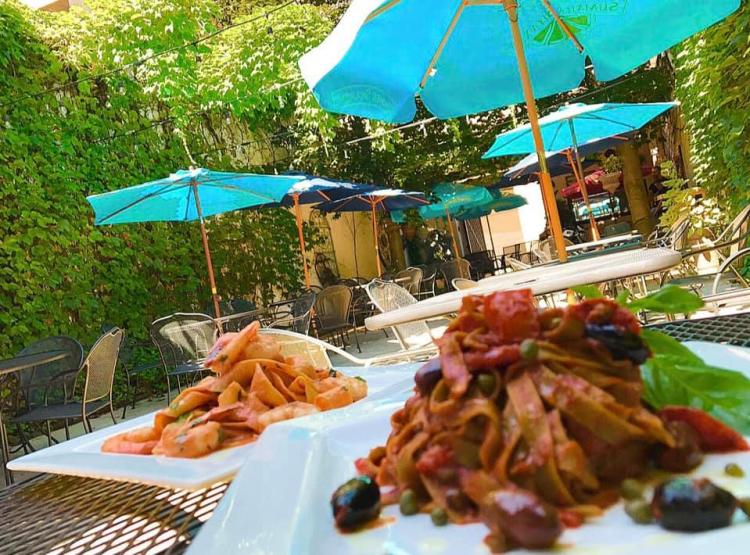 There's just nothing like fresh, authentic Italian pasta. The namesake of the restaurant, Angelina, was born and raised in Italy and came to America in the 90's. She opened this restaurant to share her love of Italian cuisine and she and her staff still proudly make everything on the menu from scratch, including their delicious ravioli. You can choose either wild mushroom or cheese filling and if you want to keep it meat-free, you can choose either alfredo, pesto, or tomato sauce to finish off the dish.
The Tommy Motts @ Cheese Cake Heaven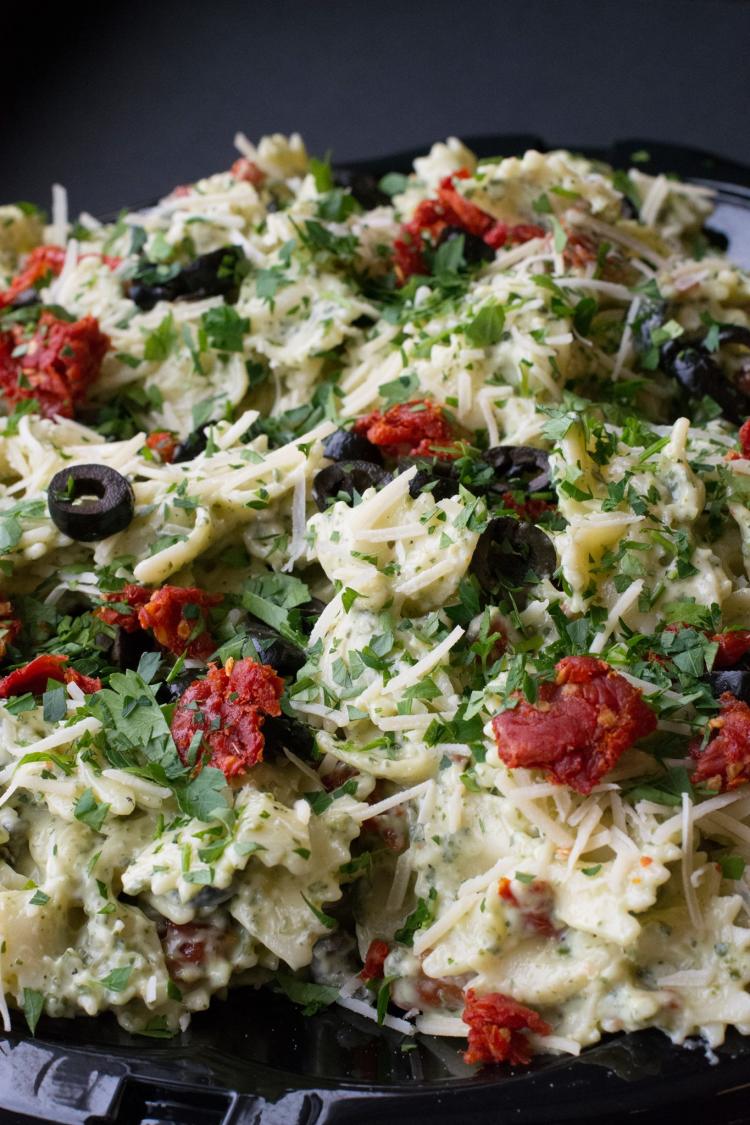 The deli case at Cheese Cake Heaven is *almost* as tempting as the dessert case (almost), with rows of gourmet sandwiches, pasta salads, and flatbreads. The Tommy Motts is a vegetarian sandwich that you can get either cold or grilled. It features a classic combination of sliced roma tomatoes, baby spinach, and fresh mozzarella and it's served on two slices of rich tomato basil focaccia bread with a little smear of their house mayo. Oh, and don't forget to snag a slice of cheesecake afterward! They have over 90 flavors that they rotate monthly.
Smothered Portabella Mushroom Burritos @ Los Banditos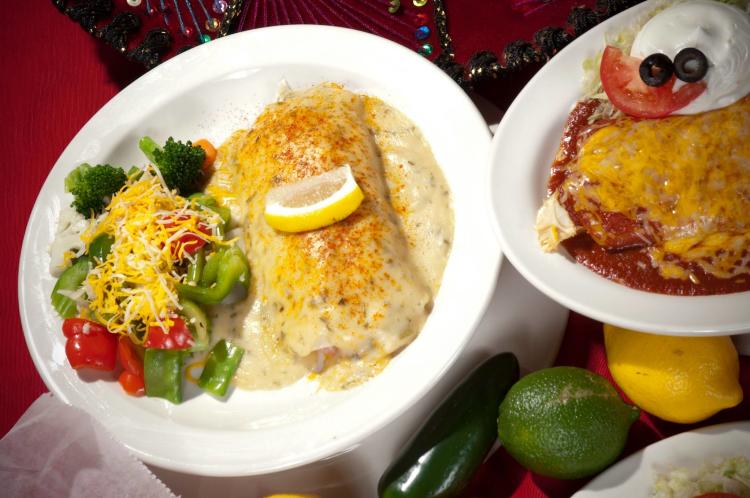 If you're looking for a vegetarian-friendly Mexican option, these smothered portabella mushroom burritos from Los Banditos are THE way to go. The premium platter includes two burritos, a side of spanish or mexican roasted poblano rice, and either pinto or black beans. The burritos are generously stuffed with seasoned sauteed mushrooms, then rolled up and smothered in a slightly spicy red burrito sauce and melted cheese. If you have room for dessert, try the sopapillas; a deep-fried tortilla topped with honey, cinnamon, and powdered sugar. Yum!
Shahi Paneer @ Taste of India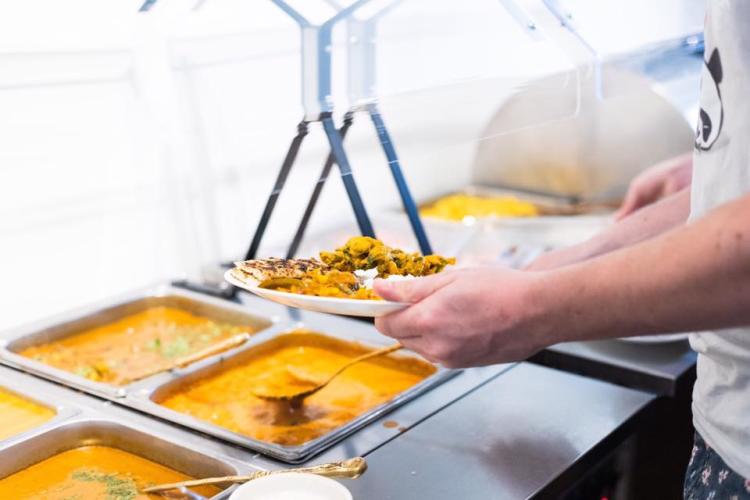 Shahi Paneer is a warm and comforting traditional Indian curry dish that's not only vegetarian, it's also gluten-free! It's not spicy, so it's a great option for pretty much anyone (although it does contain dairy). The dish centers around paneer, which is a type of Indian cheese similar to cottage cheese, which is sautéed with ginger, garlic, onions, and tomatoes. Then, it's garnished with cashews and raisins and cooked in a cream sauce. Be sure to order a side of garlic naan (Indian flatbread) for dipping! Get it at the Taste of India.
Ultimate Grill'd Cheese @ Great Harvest Bread Company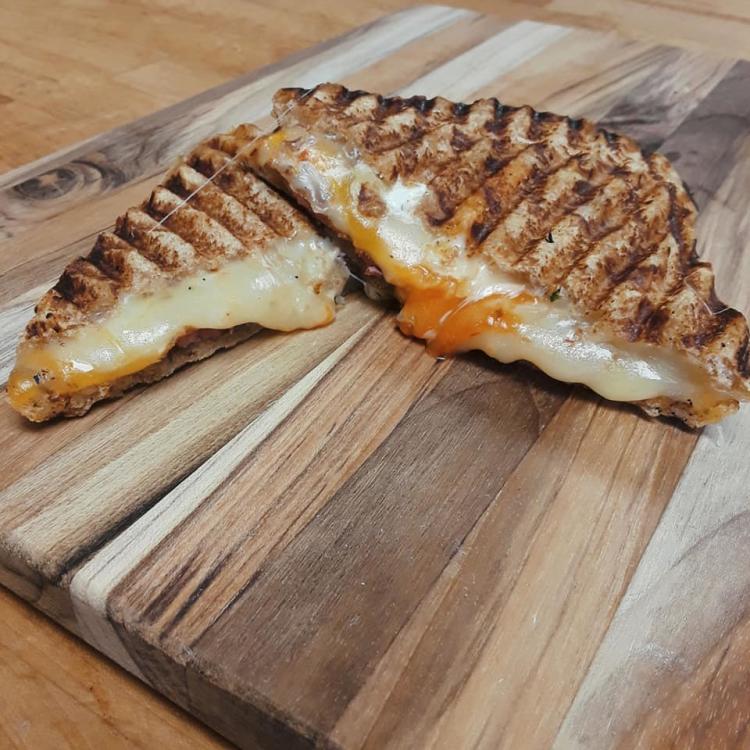 Grilled cheese is ALWAYS a good idea... but this is not that basic bread + butter + cheese lunch staple from your childhood. It all starts with Great Harvest's grilled Italian Herb Focaccia, a customer favorite. Then, they add provolone, cheddar, garlic n' herb, and seasoned parmesan cheeses (because four is the ideal number of cheeses for an Ultimate Grill'd Cheese of course) and some tomato slices. Bacon is optional, but we promise you won't even miss it when you taste the flavor explosion of this filing sandwich!
Raspberry Stuffed French Toast @ Grapevine Cafe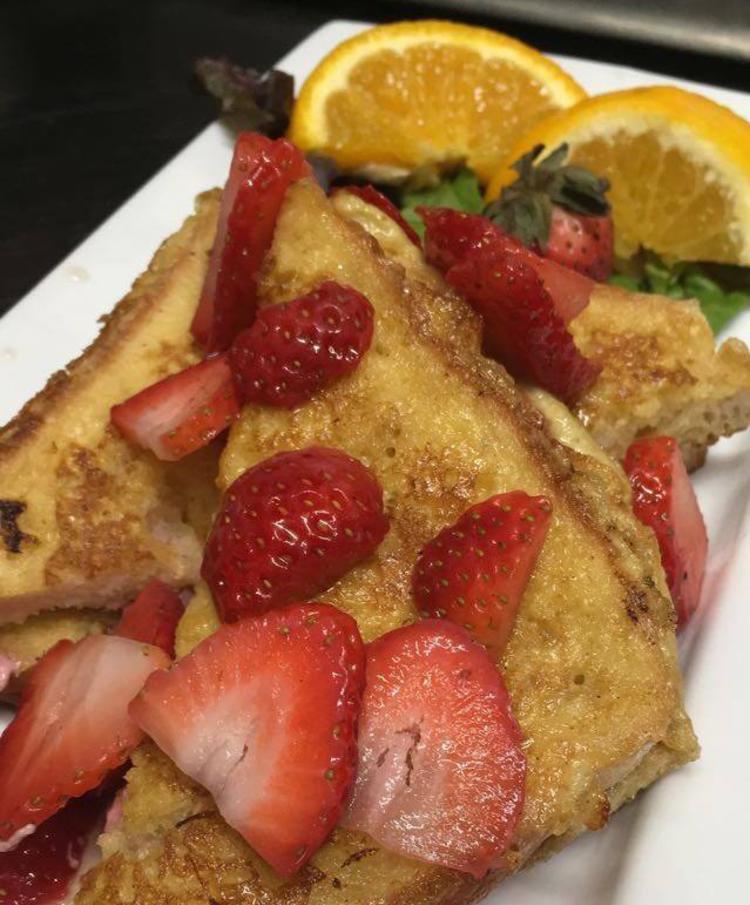 If breakfast is your favorite meal of the day, you'll want to make sure to visit Grapevine Cafe for their french toast specialties! We love the strawberry stuffed french toast, which is two slices of strawberry french toast stuffed with strawberry cream cheese and topped with strawberry melba and whipped cream. Our mouths are watering just typing that out! If strawberries aren't your thing, they also have an incredible apple pecan stuffed french toast, which is perfect for fall—or really, any time of year.
While there aren't many dedicated Green Bay vegetarian restaurants, there are still plenty of dining options for everyone in your group! Plan your trip out here to try one of the dishes we listed above, or discover your own new favorite menu item! Be sure to snap a photo of your meal and tag us @discovergreenbay or #LoveGB.