The winter months get a lot of glory in Green Bay, but don't sleep on summer! Let's just say we know how to heat things up – and cool things off – around here.
If you've ever visited Green Bay in June, July, or August, you know it can get a little steamy. The fact that we get to experience each of the four seasons in all their glory is just one of MANY things we love about living here… and we know our visitors love it, too!
So, when Mother Nature decides it's time to heat things up a bit, we like to cool things down by hitting one of the area pools, lakes, or splash pads. Here are a few of our faves!
Public Pools & Lakes
There are a bunch of great outdoor pools in and around Green Bay, including Colburn Pool in Green Bay and Legion Pool in De Pere. There are also a few parks that have free wading pools for little ones who want to cool off in an age-appropriate and safe environment. But if you want to cool off in a place that has waterslides, diving boards, climbing walls, and whirlpools, we have some fun, affordable options for you to check out!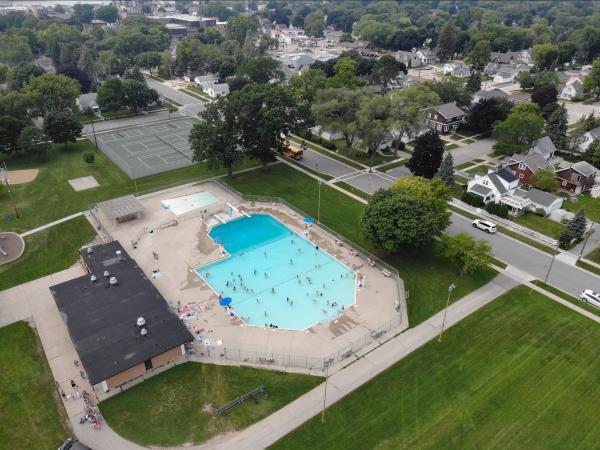 Joannes Aquatic Center is a must-visit for water lovers of all ages. This enormous heated pool has a zero-depth wading area, a tot sand play area, and not one but TWO gigantic water slides. They also have a drop slide and a one-meter-high diving board.
For the younger kids, you'll find a mini slide in the shallow pool, along with several water fountains and sprayers that are super fun for little ones to splash in.
Admission to Joannes Aquatic Center costs $5.00 per person, and children under two are free. A full-service concession stand is available, as well as lounge chairs and coin-operated lockers.
Resch Aquatic Center is another pool that should be on your list, especially if you have thrill-seeking water lovers or little ones who are just earning their water wings.
Just like Joannes, there's a zero-depth wading area with a mini slide that feeds into the larger heated swimming pool and a sand play area for toddlers. For the older kids, there's a diving board, two 30-foot waterslides, a drop slide, a whirl cove area, and a climbing wall. 
Admission to the Resch Aquatic Center costs $5.00 per person, and children under two are free. A concession stand is available, as well as lounge chairs and coin-operated lockers.
The newest addition to the local pool lineup is the VFW Aquatic Facility in West De Pere, which just opened in 2021. It's already a favorite… and it's easy to understand why!
Kids six and under can play safely in their own separate zero-depth swimming area, complete with a large play structure and geysers. In the "big kids" pool, there's a lily pad water walkway where swimmers of all ages can practice their Ninja Warrior skills, two diving boards, two body slides, a climbing wall, a drop slide, and a six-lane lap pool. This place is massive!
Admission to the VFW Aquatic Facility is $7.00 per person, and children under two are $3. A concession stand is available, as well as shade structures, lounge chairs, and locker rooms.

If you're looking for something with more of a beach vibe, you must pay a visit to Ashwaubomay Lake. This man-made lake has a zero-depth entry sand beach with playground equipment, a volleyball court, and sun arbors (very nice to have on a hot, sunny day).
Little swimmers can play on the toddler slide in the shallow zone, while the bigger kids practice their jumps off of the floating rafts or the 1- and 3-meter high diving boards. There's also a tube slide and two water basketball hoops, which will keep your kids busy for hours! 
Admission to Ashwaubomay Lake is $5.50 for adults and $4.50 for kids. Children under two are free. A full-service concession stand is available, as well as picnic areas and locker rooms.
Splash Pads
Are you looking for something a little more… chill? If you don't have time for a full day at the pool or lake, splash pads are a great way to cool down while you're out and about. And because they have little or no standing water, you don't need to bring your floaties or goggles. Here are some of our favorite splash pads we think you should visit while you're here:
Red Smith Park, located on Green Bay's northeast side, is home to a pretty large splash pad that's ideal for beating the heat. Splash pads, like the one at Red Smith, are amazing for igniting children's imaginations. They provide endless opportunities for sensory and creative play and they help little ones foster their social skills!
If you've never been to the CityDeck, you owe it to yourself to head over there and check it out. Not only is it home to the new "I 💛 GB" photo op, but it's also where you can find one of the coolest (pun intended) splash pads in the city. Kids will enjoy an exhilarating escape from the heat by running through the refreshing water sprays and playful fountains!

The Bell Children's Garden (located inside the Green Bay Botanical Garden) has a brand new splash pad that is already winning over the hearts of little water lovers. The Gail R. Fischer Family Lily Pad Splash Play area teaches children about the interconnectedness of Wisconsin's wetland plants and creatures with interactive sculptures by artist Brian Wignall.
Map out your visit!
We have about one more month of summer so there's still plenty of time to visit some of these places! Before school starts back up, why not pack up your swimsuits and come have a fun – and chill – time with us here in Green Bay?