Green Bay is a wonderful area for freshwater anglers. The fishing is good year-round, and there are many bodies of water to choose from for an exciting day out.
If you're planning on visiting Green Bay and spending a day on the water, your first step should be to get your fishing license (if you don't already have one). Once you're legal to fish the waters in the area, you can pick your spot! The first Saturday of May marks the opening day of fishing season.
We've covered three of the best fishing spots in the area; what you can expect to catch and where to stay so you can get out on the water at first light. We also have recommendations for the best food close by, so you have the energy to reel in the big ones!
Bay of Green Bay
If you're looking for a fishing spot that has activities for the whole family to partake in, Bay Shore Park would be a great place to go. Choose to stay at the camping grounds, where you can fish from the shore or from your boat as there is a boat launch. The road to the launch is steep so take your time heading down. There are four launch lanes into the bay. Anglers can target fish species like walleye, perch and trout.
There's a nautical-themed kids' playground to keep the little ones busy, and a hiking or biking trail of approximately 4 miles which has some spectacular views over the Bay. The family can also spend some time together on the beach, but it's advisable to wear shoes as the beach is rocky.
Pop into The English Inn for lunch or dinner, where you can try their Beef Wellington or their pistachio-encrusted whitefish and finish it off with their homemade cherry pie.
If you would prefer not to camp, you can settle down for the night at Country Inn & Suites® by Radisson, which is a 20-minute drive from the park.
Fox River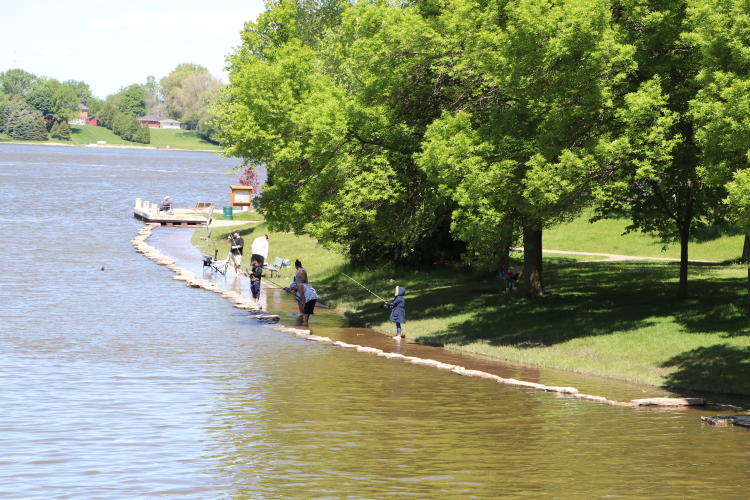 The Fox River is the biggest tributary in Green Bay and it's one of very few rivers in the world to run in a northerly direction. If you're after Walleye, you can catch trophy fish in the spring when they're spawning. You can only bag one Walleye of 28 inches or more during spawning season, due to regulations put in place to protect the fish population. The rest of the year you can bag 3 Walleye per day with no size limit.
The Fox River is also known for Musky fishing. The season starts on the closest Saturday to Memorial Day and runs until the end of November. Stock your tackle box with soft plastic lures, topwater baits like the Whopper Plopper and bucktails. Voyageur Park is a great spot for shore fishing or you can find various boat launches along the Fox River. Fox Point is a popular spot with ample parking.
If you're looking for somewhere to grab a bite or get some rest, the Ennis Inn and Pub offers a uniquely Irish experience. You may be tempted to cast a line from your room window, but it would be best to head down to the shoreline and come back for lunch, where you can try their seared salmon filet in beurre blanc sauce with roasted baby reds and a zesty salad.
Lake Michigan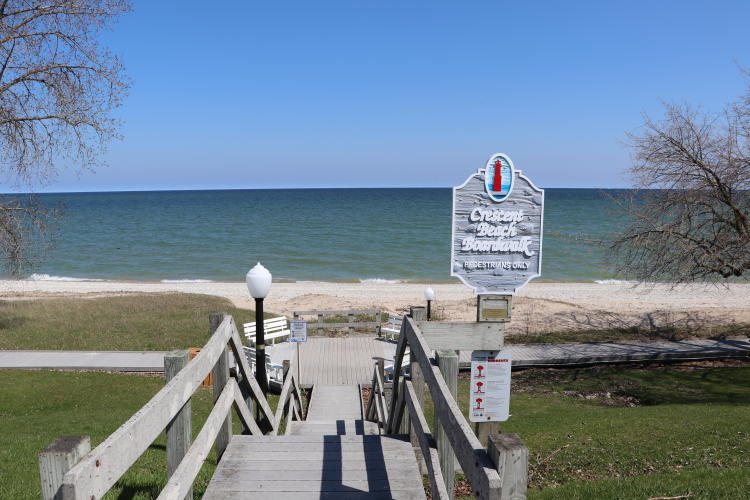 A hidden gem just a short drive from Green Bay. Algoma is an angler's paradise for trout and salmon, providing some of Wisconsin's record-breaking fish. Bring along your fly-fishing rod and reel, and you'll be casting into the fresh waters of Lake Michigan, one of the Great Lakes.
July to September is the best time to catch salmon. Although the trout season begins in March, the best time to catch them is during the month of May.
Stay a night or two at the appropriately named at the Water's Edge, which offers uniquely themed rooms and free breakfast, as well as being a Certified Wildlife Habitat where you may get the chance to spot some interesting local animals.
Just a 2-minute drive away on State Rd. 42 is Red's Pub & Grill, where you can have a sumptuous tuna steak or perfectly grilled tuna sandwich, paired with a craft beer from their impressive selection. Red's has easy pull-in parking with a boat and Lake Michigan views.
Right in downtown Algoma, you'll find Hooked Up Tackle Shop, where you can stock up on spinners, minnow lures or trolling flies to catch the fish's attention.
If you can't get to Algoma in the spring or summer, all is not lost. Trophy ice fishing is just as big a sport so if you can only visit in winter you'll still have a fantastic fishing experience.
Green Bay, Wisconsin is a versatile angler's paradise! Whatever fish you're in the mood to catch, there'll be a spot for you to cast your line and a high chance of success.
If you're heading to Green Bay with family, fishing isn't all they've got to offer. There are more than enough exciting activities to keep every member of the family happy!