It's football season… for the Indoor Football League, that is! If you are unfamiliar, the Green Bay Blizzard is a professional indoor football team that plays their home games at the Resch Center, just across the street from Lambeau Field! As of the 2023 season, the Indoor Football League consists of 14 teams in two conferences, each playing 16 games over 19 weeks. 
WHY WE LOVE THEM 💙
Blizzard games are a family-friendly sporting experience. Taughting halftime and timeout entertainment on the field and in the stands, these games will keep you and your kiddos on the edge of your seats! The 50-yard field makes for fast gameplay, and echos within the Resch Center amplify the music and onfield banter so you feel like you're out there with the team!
Locally, we adore the Green Bay Blizzard franchise because they are a game-changing force in the community. In fact, giving back has been a significant portion of the organization's philosophy since the beginning. You can find players making local school visits, YMCA youth sports camps, attending farmers markets or Juneteenth celebrations, and so much more!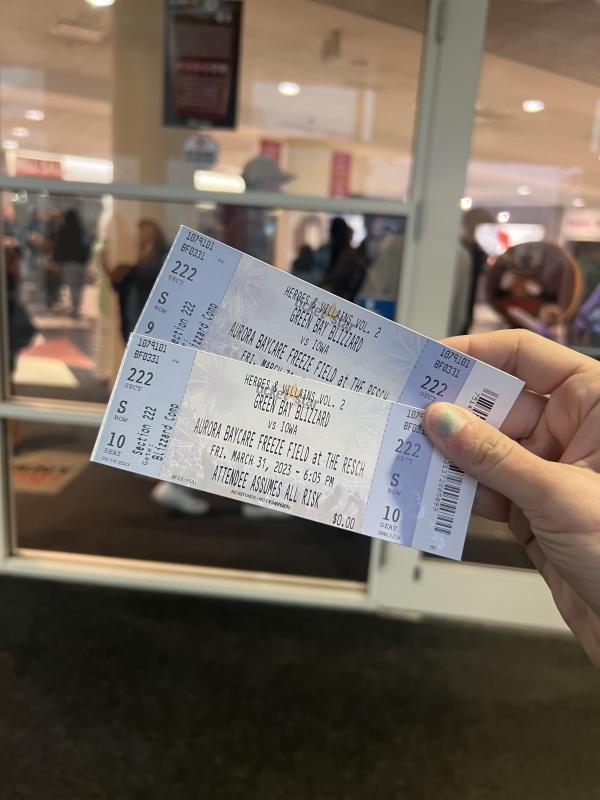 IT'S GAMETIME 🏈
The Blizzard season runs from March - July. We attended a game in late March, so the temperatures were still a bit chilly! Thankfully, there was parking for us directly across from the Resch Center. On our way in, we were greeted by Dunkin' Donuts. Literally, little donut mascots welcomed us!
We made our way to the stadium entrance and the crowd was already excited and roaring. The Resch filled quickly with Blizzard fans and we even saw fans for the opposing team who traveled all the way from Iowa! 
To kick off the game, kids from area schools formed a fan tunnel for players to run through! Once gameplay commenced, we quickly learned that the team takes every chance to involve their fans - both children AND adults! This week's game was heroes vs villains; they had a costume competition and some people really went all out! They welcomed the characters to the field, and the winner received a Blizzard swag bag! 
Each time-out they had some type of on-field scramble/gameplay where they chose kids from the audience or local school groups to participate. They did massive beach ball touchdowns, they slingshotted chickens into Festival Foods grocery carts, and they did a snowball toss ("blizzard") into the center of the field!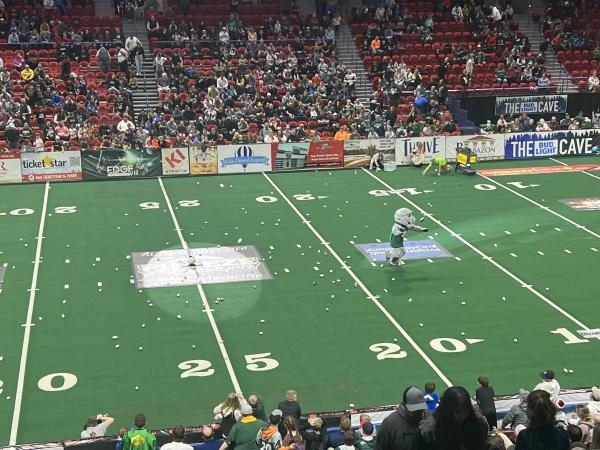 SNACKS 🍟
At any sports games, snacks are important. Blizzard games are no different! I was pleasantly surprised to find that the concession areas were stocked with lots of different food options. For games that are taking place around dinner time, you will find more than enough options for both adults and kids. I chose crispy french fries as my snack of choice, and followed it up with a cookie dough Dippin' Dots!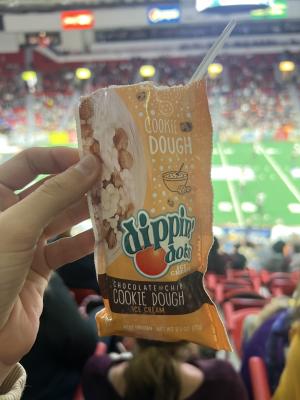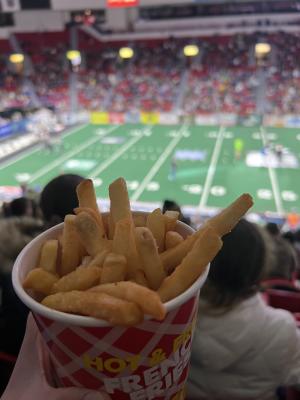 TICKET GIVEAWAY ⬇️
Here's your chance to test out the party pit during the April 21st game against Souix Falls Storm in Green Bay! 
How to enter: 
✅ Reshare our Facebook post 
✅ Tag who you're bringing in the comments
✅ Follow Green Bay Blizzards + Discover Green Bay