Nestled in the southern end of Green Bay, or "The Bay" as we locals like to call it, and also referred to as an arm of Lake Michigan, the city of Green Bay begins where the Fox River enters the Bay. The Leo Frigo Memorial Bridge (or Tower Drive Bridge) is a known landmark that spans the point where the bay begins and the Fox River Ends. And the water doesn't stop there. On the east side of Green Bay, you'll find the East River situated along trails and parks in Bellevue and Allouez, and on the west side in the Village of Howard and Suamico, you'll find Duck Creek. All of these waterways see their fair share of outdoor recreation.
Here are some recommended activities to partake in to experience the scenic beauty of Green Bay's waterways.
Boating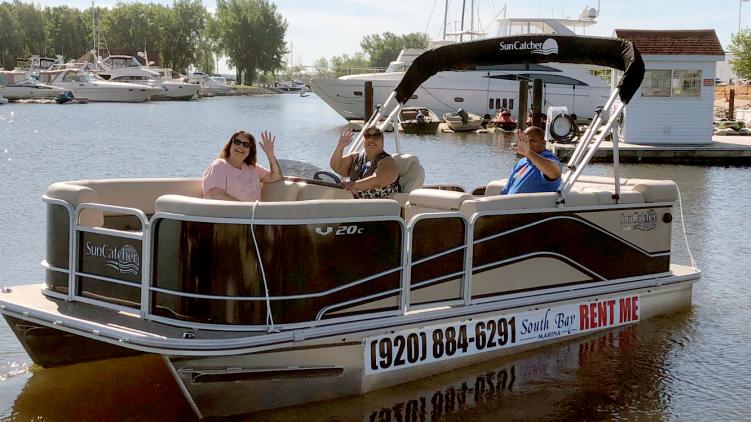 Whether you prefer to cruise the water by pontoon boat, jet ski, speed boat, sailboat or yacht, you will find a little bit of everything whether you are cruising the Fox River or the Bay. Need a rental? Hit up South Bay Marina. With their unique location, you can head any direction you choose with access to the Bay towards Bay Shore Park or in the opposite direction to Longtail Island. You can also head down the Fox River and explore the CityDeck in Downtown Green Bay or further south to De Pere to experience Voyageur Park, the Locks, St. Norbert College's campus and some beautiful private properties. 
Looking for a full-day rental? South Bay Marina offers rentals for an eight-hour time slot from 10 am to 6 pm daily. If shorter rentals are more your taste? No problem, they also have half-day rentals from 9 am to 1 pm and 2 pm to 6 pm daily.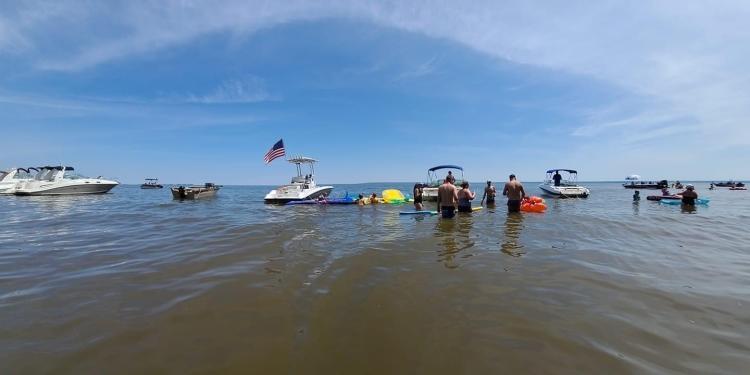 Longtail Island (pictured above) is a popular spot for boaters to anchor in the summer months. It is known for its long sandy beaches assessable only by boat and is the location of a very old lighthouse. The island's point is near the bend in the shipping channel's turn towards the Fox River. It is normal to see hundreds of boats on a summer weekend enjoying this island's beaches. The easiest way to access the island is from the Suamico boat landing.
A shipping channel
The Port of Green Bay is the westernmost port of Lake Michigan offering a direct route for shipping raw goods and materials using the most cost-effective and sustainable method of transportation available. An extensive network of highways and railroads provide a direct connection from the Port to regional markets and America's Heartland.
There are 14 port businesses located along three miles of the Fox River. These businesses move more than two million tons of cargo on more than 200 ships each year. Port businesses handle dry bulk commodities such as coal, limestone and salt, bulk liquids like petroleum products, liquid asphalt and tallow, and break-bulk commodities including wood pulp and forest products in addition to oversized cargo like machinery and wind components.
The Port of Green Bay is a vital part of our local economy, our history and our lives. It plays an important role in the transportation of goods and commodities that are critical to the economic health of the region. Opportunities for growth, whether using an existing port facility or developing a new property, make the port an attractive option for businesses. Be sure to have your camera ready when walking along the CityDeck in downtown Green Bay as there is a chance you'll see one of these ships floating by.
De Pere Locks
If you plan to cruise the Fox River, be sure to check out the Fox Locks. This is the northern-most lock on the Fox River System and the gateway to charming Downtown De Pere—a city bisected east and west by the river. Public docks are available just prior to entering the lock and adjacent to the lock. There is also a kayak/canoe portage.
Upon approaching the lock, visitors can see the grounds of St. Norbert College. Located at the lock visitors will find the historic lock tender house which was built in 1912. The house is operated by the Fox River Navigational System Authority. From here, pedestrians can access the Fox River State Trail which runs along the river through Voyager Park, through De Pere, and into Green Bay. The park is host to many events and festivals; the waters near the lock are home to some of the best walleye fishing in the state!
Downtown De Pere is a short walk from the lock and Riverwalk with restaurants, shops, taverns and much more. In just a few blocks, visitors can sample Italian, Greek, Asian and American Cuisine. One of the region's most famous chocolatiers, Seroogy's Chocolates, is a short walk from the lock and interesting shops dot the main street.
Paddle by Kayak, Canoe or Stand Up Paddle (SUP)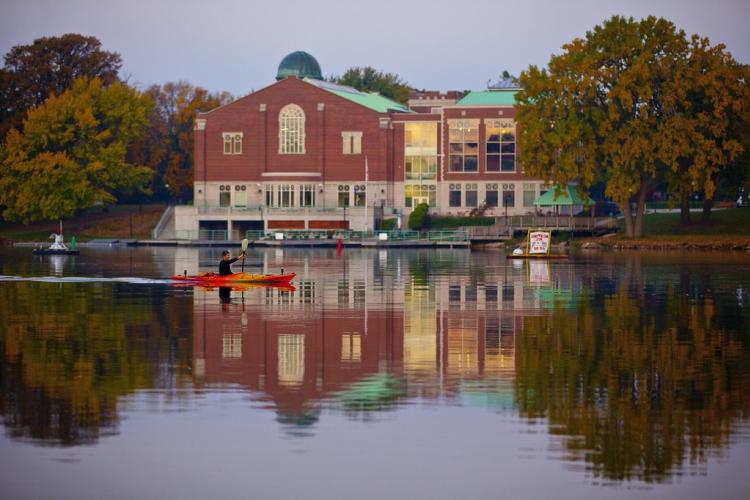 Explore the rivers and creeks by kayak, canoe or SUP. There are boat launches for non-motorized watercrafts found throughout the city. You can launch into the Fox River from the CityDeck in Downtown Green Bay (pending on water levels) or from various spots in Downtown De Pere right off of the Fox River Trail. You can also launch into the East River from Green Isle Park in Allouez or into Duck Creek in Howard from Deerfield Docks. If you want to surround yourself with nature, some Brown County Parks like Lily Lake and the pond at Barkhausen Waterfowl Preserve are also great kayaking or canoeing spots. Both parks will offer guided and self-guided paddle events and at times kayak rentals are available on site. Need supplies for your outdoor adventure on the water? Stop by Pete's Garage in the Broadway district in Downtown Green Bay to stock up on supplies and accessories. 
Boat Tours & Cruises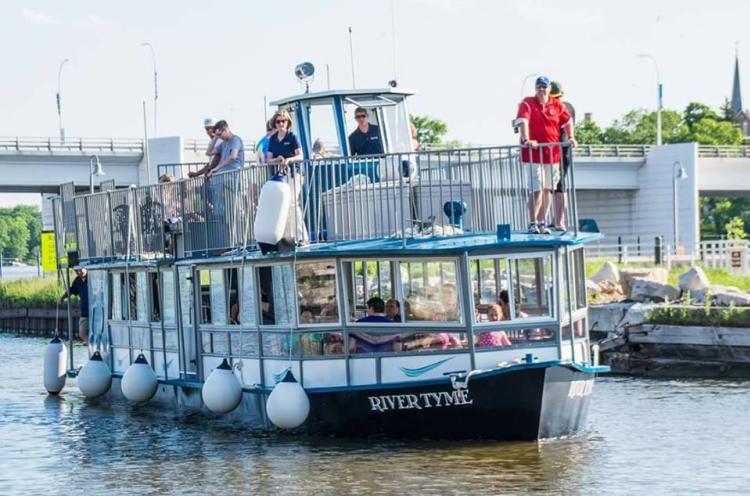 If a guided tour is more your jam, we've got that too. For a relaxing river cruise, jump on board the River Tyme with Fox River Tours. The River Tyme is a wonderfully built, one-of-a-kind riverboat created in 1953 in Indiana. She has served many states in her day and now calls De Pere her home port. She is docked just upstream from the De Pere Lock, right next to the Ennis Inn Hotel. Fox River Cruises offers many different tours and themes for the perfect summertime outing whether you have a party of one, two or are planning a group outing. Visit www.foxrivertours.com for booking information.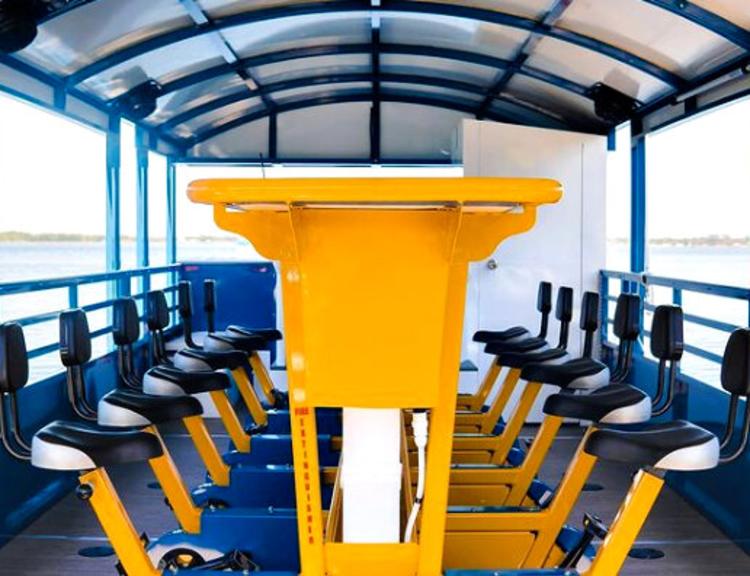 If you are looking to party, then check out the Foxy Paddler, Green Bay's new party boat. The Foxy Paddler, is a 22 person, pedal and gas-powered, pontoon bar boat. Riders can sit at the 12 bikes in the pedal station and power the boat's paddle wheel, relax in the lounge area, or mill around the boat. For pricing and more information, visit www.foxypaddler.com.
Waterfront Dining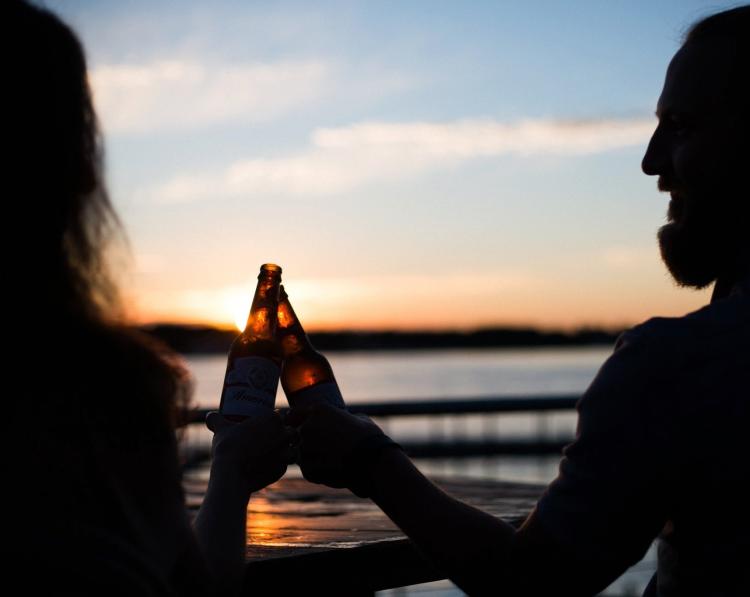 If you enjoy dining with a sunset view of the water, Green Bay's got you covered. Some of the best spots to enjoy patio dining with a place to dock (pending on water levels) include Hagemeister Park, Fox Harbor Pub & Grill and Studio 1212. If you are looking for an intimate evening out with a table that offers spectacular water views, you'll want to try River's Bend overlooking Duck Creek in Howard or The English Inn with an elevated view of the Bay.
Related Content: Green Bay Patio Life
Where's the Beach?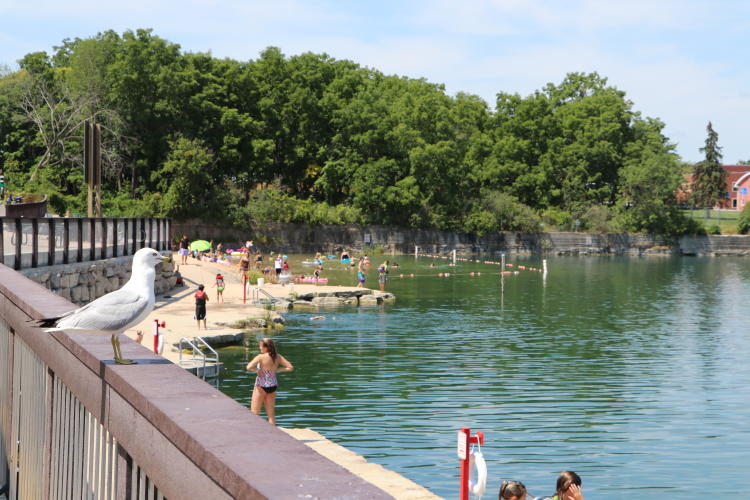 Although Green Bay doesn't have a lot of sandy shorelines, there are a couple of spots you can go to for a swim or soak up the sun. The Village of Ashwaubenon and the Village of Howard both offer swimming areas for families to enjoy during the hot summer days. Ashwaubomay Lake in Ashwaubenon is a 53-acre facility that overlooks the Fox River, offering a picnic area, playground equipment, a 3-million gallon man-made lake with beachfront, slides, floating rafts and a diving platform. Duck Creek Quarry Park in Howard is a 38-acre park with two beaches and a natural, fresh-water swimming area that reaches 130 feet deep. Both are great alternatives to a day at the beach. (Note: Duck Creek Quarry Park is open to the general public, but the beach is still currently only available to residents of Howard until safety guidelines change).
Just a short 30 minute drive away you can soak in the sun at Crescent Beach in Algoma. Enjoy the Lake Michigan Shoreline with a walk along Algoma's award-winning boardwalk. From stunning sunrises to hot sand between your toes, the lakeshore is the perfect place to spend the day.
A Fishing Destination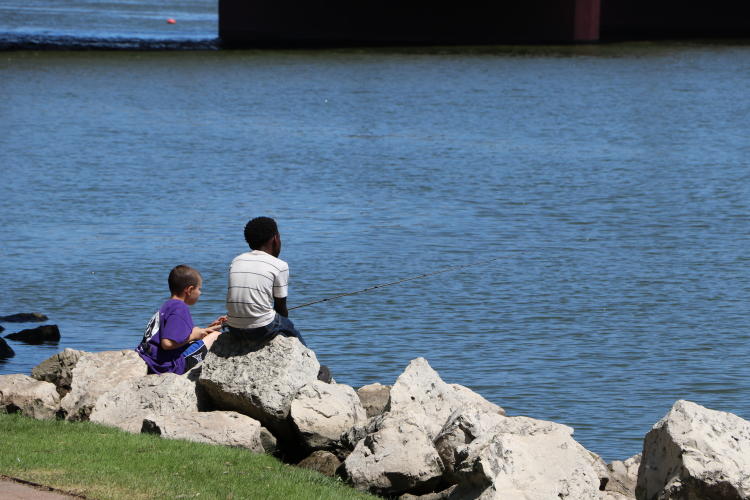 Both the Bay and Fox River are also home to some of the best Walleye fishing spots in our region.
The abundant walleye population in the Bay attracts anglers year-round, but for several months the waters also draw fishermen searching for perch, bass and musky. In the summer months, anglers troll the Bay's deeper waters for walleye. Smallmouth bass also fill the Bay with prime catching time in May and June. Musky fishing is a tremendous thrill. Found in the Bay just over 20 years ago, regulations established a 50-inch minimum length limit to allow the musky population to thrive while tempting anglers in search of a trophy-size fish. Head with Fish Anytime Charters to see what you might catch.
Walleye are also among the biggest draw on the Fox River. Northern Pike, Smallmouth Bass and Musky fishing is also popular on the river and it is a little-known secret that crappies also run strong on the Fox River each fall.
Related Content: Fishing Greater Green Bay
Where to Find a Boat Launch in Brown County
There truly is an endless supply of fun to be had on the water in Green Bay. Be sure to order or download the Green Bay Destination Guide to start planning or visit our trip ideas section for more summer vacation ideas. Subscribe to our monthly e-newsletter for insider's tips on the best things to do and see in Green Bay no matter what time of year you plan to visit.