Craving seafood? Luckily for you, our talented chefs are leading the forefront when it comes to innovative seafood dishes! We've rounded up a few of our favorites – we hope you'll give these a try next time you visit Green Bay!
Walleye Tacos @ 1919 Kitchen & Tap
1919 Kitchen & Tap is the perfect place to enjoy a meal when you're visiting Green Bay. It's located in the atrium of Lambeau Field, which really is a year-round destination around here! While you're there, we highly recommend that you try the Walleye Tacos from the "Shareables" section of the menu! In addition to perfectly prepared walleye, these tacos contain a specialty sweet pickle relish, shredded cheddar cheese, lettuce, and a lemon caper aioli.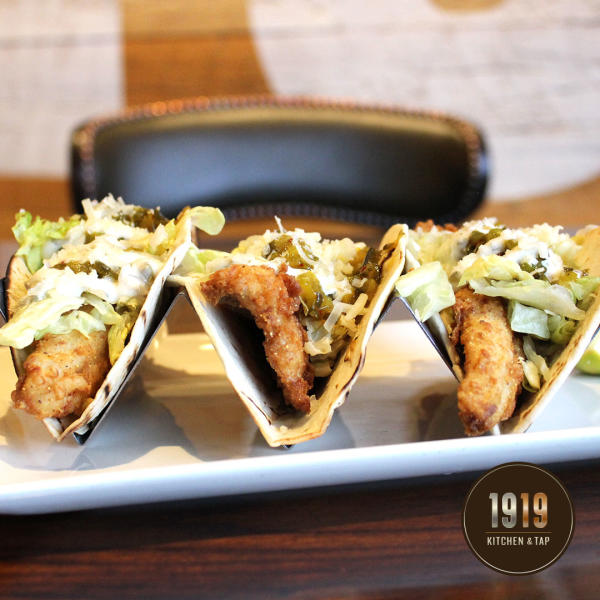 Seafood Nachos @ Plae Bistro
Who doesn't love nachos? This shareable plate starts with a layer of blue corn chips. Pretty normal, right? But just wait… these nachos are anything but normal. Instead of ground beef, tomatoes, lettuce, and sour cream, the Seafood Nachos at Plae Bistro come loaded with lobster, shrimp, creamy chipotle cheese sauce, avocado, pico de gallo, and cilantro lime baja sauce. We think once you try these, you'll never go back to regular nachos again!
Macadamia Nut Crusted Mahi Mahi @ Black & Tan Grille
Chef Andy and Chef Kendra just debuted the new summer menu at Black & Tan Grille, and if you're as seafood-obsessed as we are, you've already been drooling over it. The Macadamia Nut Crusted Mahi Mahi is at the top of our list. It's pan-seared and served with fire-glazed pineapple, charred shishito peppers, and mango salsa on a bed of forbidden black rice. It's all of the best summer flavors in one dish! You definitely don't want to miss out on this seasonal dish!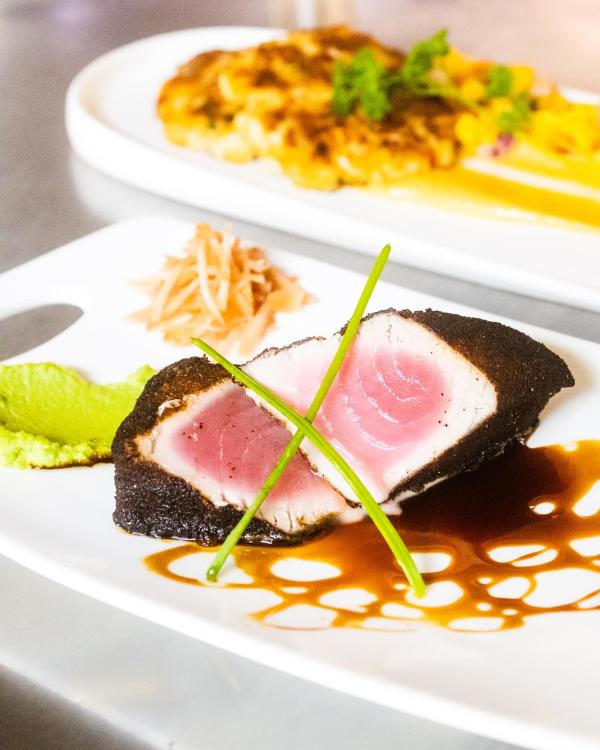 Josper Grilled Prawns @ Cedar & Sage Grill House
Cedar & Sage Grill House is located inside the Radisson Hotel & Conference Center and their unique menu features local meats, freshwater fish, and indigenous ingredients from local Oneida Nation farms and orchards. We recommend the Grilled Prawns, which are cooked in a Josper Oven, giving them a balanced, smokey flavor. The prawns are topped with garlic chili butter, herb oil, and a touch of smoked gouda and served on Oneida white corn polenta.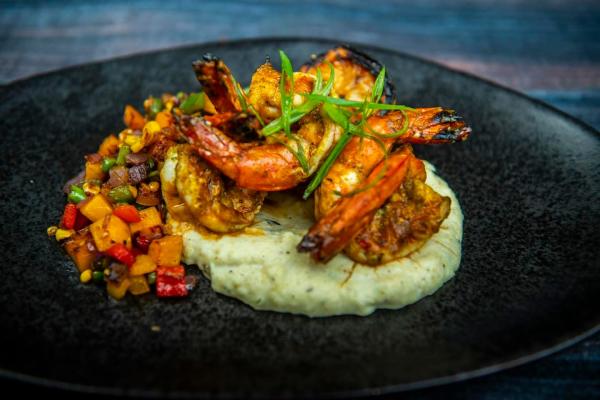 Octopus & Seafood Capellini @ Taverne in the Sky
Want something different for brunch? Of course you do! Taverne in the Sky has you covered with their Octopus & Seafood Capellini. This dish features pan-seared octopus served on a bed of capellini alongside fresh mussels, tobiko caviar, and a roasted tomato and asparagus medley. The capellini is then topped with a lemon beurre blanc and sprinkled with basil and shaved pecorino. We might be biased, but we think this beats a ham and cheese omelet any day!
Pacific XL Maki Roll @ KOKO Sushi
There are so many great Maki rolls on the menu at KOKO Sushi, but the Pacific XL stands out from the crowd, especially if you're a certified seafood lover. This sushi roll features kani-kama (imitation crab meat), avocado, and cucumber and then is topped with FOUR different types of fresh fish, green onions, sesame seeds, and ponzu. If you have a big appetite and you can't get enough seafood, you have to try this the next time you visit Green Bay.
Grilled Wester Ross Salmon @ Bleu Restaurant & Lounge
Finding a grilled salmon entree on a dinner menu isn't all that uncommon. But finding Wester Ross Salmon on a menu is a very special treat. In case you're not familiar, Wester Ross Salmon are hand raised, fed, and harvested at the oldest salmon farm in Scotland and yes, you really can taste the difference. At Bleu, they serve their Wester Ross Salmon with toasted coriander and citrus yogurt on a bed of roasted tomato and scallion pearl couscous.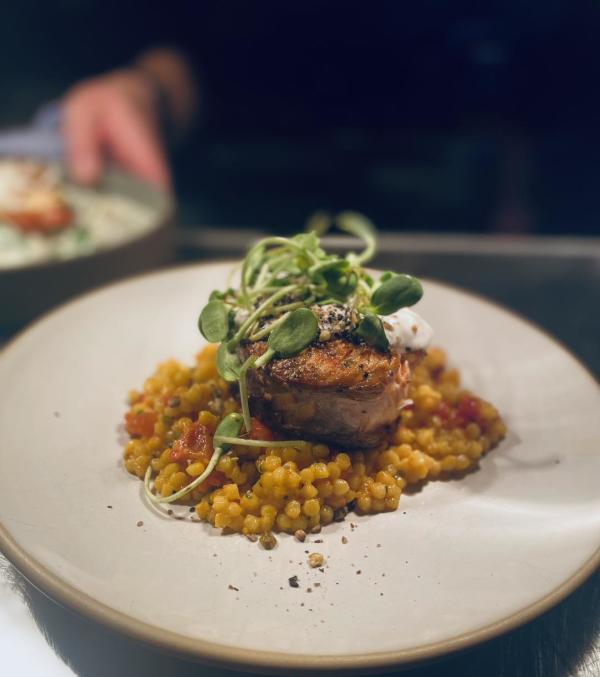 Shrimp & Asparagus Pizza @ Rustique Pizzeria & Lounge
Seafood on a pizza? You betcha! If you've never been to Rustique Pizzeria, you're in for a treat. This rustic restaurant is located in a 122-year-old chapel in downtown Suamico and it is THE place to go for a crispy brick oven pizza. Everything on the menu is amazing but the Shrimp & Asparagus Pizza is next level. This pizza starts with a thin, New York-style crust covered in beurre blanc sauce, then it's topped with sautéed shrimp and roasted asparagus. Yum!
So, have we convinced you to come to Green Bay for some seafood? We hope so… because we're saving you a seat for dinner!