Discover Green Bay has teamed up with Molly Crosby, a former Green Bay resident, aspiring author, cancer survivor, mom to 5 kids, and wife of Packers all-time leading scorer, Mason Crosby. After the announcement the 2025 NFL Draft will be held in Green Bay, Molly was inspired to share her knowledge of the region and showcase what a wonderful destination it is. And after 16 years of calling the Green Bay area home - she's got a lot to share. So join us as we go region by region to help you plan the perfect trip to Green Bay, or at least Molly's perfect trip to Green Bay. Take it away Molly!
--------------------
This first post is just in and around the stadium and yes there is that much to do! Right off the bat go to the pro shop and make sure you get the right gear. Take it over to the custom jersey counter and get it personalized. I am partial to Crosby or putting 2's all over everything but to each his own. Maybe DRFTDY and a #25? Just a thought lol. Anyways you want to get this rolling whilst doing other things 😉.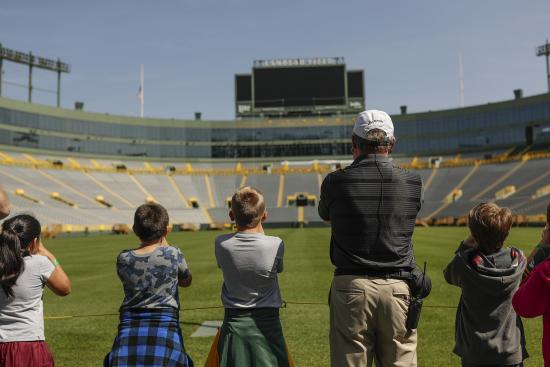 The next thing on the docket is to go on a stadium tour. Not just any stadium tour but the Champions Tour. You will have made reservations for this waaaay waaaaay in advance because your WI BFF (that would be me) gave you an insider tip to do so haha. Champions Tours will take you up to the newest area of the stadium that will WOW you with the best view in the house.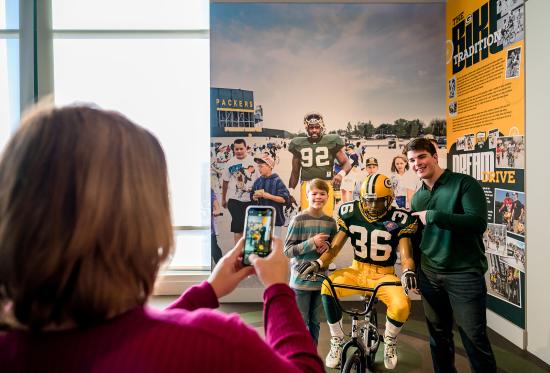 After your tour go and check out the Hall of Fame. The perfect activity for kids. If you have extra time let them run around the atrium which is an exact replica of the football field it leads you to. Mozy on up to the Club section on the 4th floor and take in all the unique art that Laurie Murphy has curated over the years that pays homage to the team, its players and of course, the history of the franchise. There is a quilt right off the main concourse after you come up the escalators, which is my favorite.  
**Oops, quick backtrack.**
Start your day at Lodge Kohler at Leaps and Bounds for a house-made croissant and fancy coffee concoction…OR you could go to Cheesecake Heaven and get the epic breakfast quesadilla (@crosbykicks2's favorite) OR the stuffed French toast (YOLO).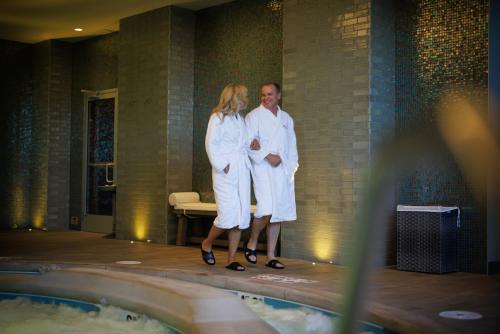 Anyways, back to post-tour activities at the stadium…you have seen the HOF, admired some art, and headed down to the Pro Shop to grab your custom creation. Now you are headed over to Titletown for a quick bite. Tavern in the Sky is just the ticket and I would recommend getting the wings with no sauce, dry rub only, but every sauce they offer on the side. Pair that with a glass of Schaumsberg and then order some carrot cake (A Cherry Starr favorite!!!!). Hopefully you have a spa appointment at Lodge Kohler on the books…guys, no joke, @crosbykicks2 likes to go and get pedicures. For me it was a monthly appointment with Sarah for a dermaplane plus mini facial (yes I just admitted I basically shave my face but you can thank me later it's amazing). Don't leave here without stocking up on all things Hollyhock. Hope you left room in your suitcase. After getting all freshened up time to get outside! Walk up Airens Hill, hit up 46 Below and get some of Sara's Artisan Gelato, watch your little ones play on the playground, goof off at The Turn or play any of the yard games lining the walk for all to enjoy.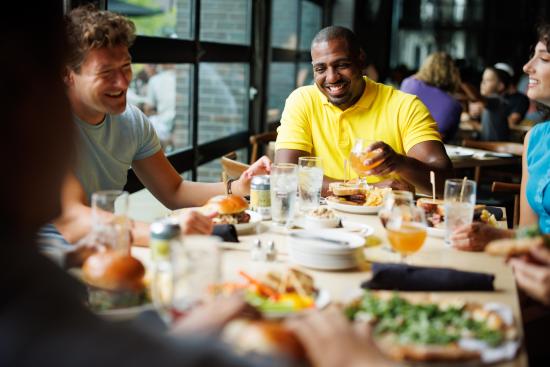 Your day will wrap up with dinner at Hinterland where you will have cheese curds (which you should compare to Kroll's cheese curds the next day 'cause you aren't a quitter), a pizza and definitely the Barramundi. Mason likes the meatloaf too.
This was just one part of the area…more to come…but a couple more tidbits for you…
You are on your own because my favorite supper club Wally's, closed, but you need to find you one. Asap. (Here's a list from my friends at Discover Green Bay) 
Hit up twelvecutsapparel.com to get custom duds made in advance of your trip. You can rep your own team, town, etc. as most visiting fans often do but don't miss out on this former Packer player's wife's business. If you visit her website, you will see her handiwork from across several sports teams and cities. There are also current players gf's in Green Bay who do this! Contact me for more.
Just know that the stadium tour could get a little emotional. I have been to many stadium tours, but my favorite was a tour guide who was a boy for the legendary "Ice Bowl". He was standing outside the stadium when a journalist left early and gave him his field pass. He just happened to be standing in the right endzone to witness Bart Starr sneak in the winning touchdown. He gets tears in his eyes telling the story. I get goosebumps just typing it.
So. A lot of words. More to follow.