Updated: 3/17/21
I don't know about you, but one of my favorite things to do while visiting a new city is hitting up the local Sunday Brunch scene before heading out. The unique dishes that are served alongside an array of beverage options from Bloody Mary bars to bottomless mimosas, and of course delicious coffee and espresso drinks to get your Sunday started, make it a delightful excursion.
I have found the locals to be one of the best resources when seeking out restaurants that have crafted their own spin on Sunday Brunch, and Green Bay is no stranger to that. If you enjoy the late-morning Sunday tradition, you'll want to add one of these Greater Green Bay restaurants to your Sunday plans.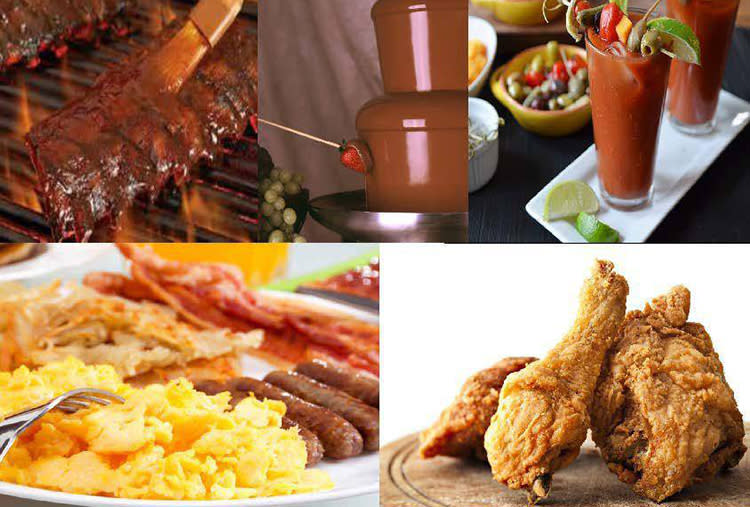 1951 West
Some say 1951 West is Green Bay's best Sunday brunch, and I wouldn't disagree. The restaurant is attached to the Comfort Suites and offers some of the best food in town at an affordable price. After you are seated and greeted by your server, you are free to get up to find your favorite dish. I would suggest peeking at everything you have to choose from first, so you don't miss out on any of your favorites, because trust me, they have it. Now this may be hard but try to bypass the elegant dessert display that features a giant chocolate fountain and save that adventure for later. Main dishes include a huge variety of breakfast and lunch specialties, from BBQ ribs and broasted chicken, to eggs benedict and even seafood, that spans across two separate dining rooms. If you come with a breakfast appetite, the made-to-order omelet and French toast station has plenty of fixings to choose from.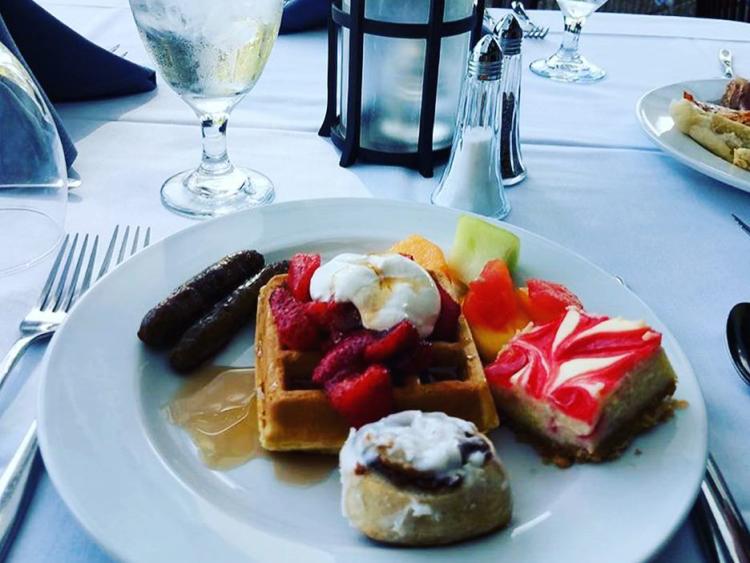 River's Bend
Don't miss Sunday "Brunch at the Bend" which comes with a view of Duck Creek. Their expansive window-lined dining room showcases views of the river while enjoying your meal. For a real kickstart to your Sunday, partake in the bottomless mimosas or build-your-own Bloody Mary bar, yum! River's Bend is a traditional Wisconsin Supper Club, so you will find a full meal at the salad bar alone, but don't miss out on the omelet station, carving station and dessert station. Call 920.544.9860 to make a reservation to get a waterfront table.
a'Bravo
If it is atmosphere you are looking for, enjoy the ambiance and décor of a'Bravo. Their savory Sunday Brunch is a line up of healthy goodness. You can find several gluten free items on their menu and wholesome dishes such as wild salmon and eggs, chicken spinach crepes, roasted beet salad and sweet potato cakes. For those who enjoy more comfort foods, fear not, the menu is also stacked with items from steak and eggs and cornbread andouille hash, to a variety of French toast options such as pumpkin chocolate chip, yum! If you are looking for a brunch to fit the traditional and the adventurous eater, a'Bravo is your brunch place.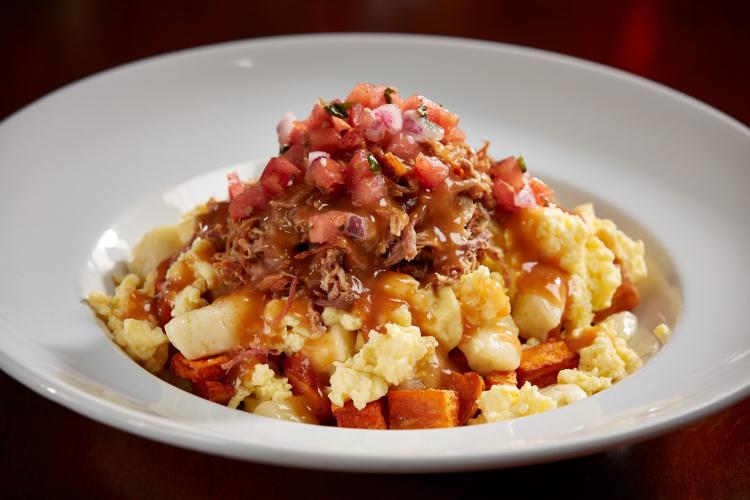 Anduzzi's Sports Club
If brunch cocktails are your thing, then be sure to check out Anduzzi's new brunch. They have an ultimate bloody mary, an ultimate mimosa and an ultimate fishbowl to choose from among many other tasty choices that are more "regular" in size. If you haven't tried one of Anduzzi's ultimate drinks before, expect a meal garnished on top of your drink. The ultimate mimosa for example, comes with orange juice and champagne, garnished with fruit, a chicken and waffle slider, cinnamon sugar pretzels, Uncle Mike's Sea Salt Caramel Pecan Kringle and an Uncle Mike's mini-doughnut. In addition to their mouth-watering drink selection, they also have some tasty food options like the pictured Breakfast Poutine.
The dining scene in Greater Green Bay has evolved over the years by serving up diverse flavors to give you both the big city feel with the small-town charm. So, whether you are a traditional breakfast lover or a modern-day bruncher, Greater Green Bay has you covered! And don't forget to pair your meal with your favorite bloody or mimosa!
More brunch options:
Grapevine Café - Serving Sunday brunch from 8 am - 3 pm. The menu includes select breakfast & lunch options. I recommend trying the asparagus & spinach scrambler.
Stadium View Sports Bar - Serving bottomless mimosas, bloody flights, breakfast and drink features! Every Sunday from 9:30 am to 1 pm!
Mackinaw's - Currently serving plated breakfast, mimosas and bloody marys on Saturdays and Sundays in place of their traditional Sunday brunch buffet due to COVID-19.
The Walnut Room - Currently serving breakfast on Saturdays and Sundays worthy of indulging in for your Sunday brunch plans.