If you've never been to a Green Bay Gamblers hockey game, you have to put it at the top of your "things to do" list next time you visit Green Bay! Even if you don't consider yourself a hockey fan, we guarantee you'll have an absolute blast cheering on the Gamblers at one of their home games… and there are a few upcoming ones we highly recommend:
Ladies Night - Gamblers vs Madison - Saturday, November 18, 2023 at 6:05pm
Retro Night - Gamblers vs Cedar Rapids - Wednesday, November 22, 2023 at 7:05pm
Who Are the Green Bay Gamblers
The Green Bay Gamblers are a Tier I junior ice hockey team in the Eastern Conference of the United States Hockey League. They were founded in 1994 and they play their home games at the Resch Center, which is located across the street from Lambeau Field.
The Gamblers are considered one of the "premiere" junior hockey teams, having won several national championships over the years. Many former players have gone on to play in the NHL and several team members even played in the 2006, 2014, and 2022 Olympic Games!

Theme Nights
Cheering on the Green Bay Gamblers is a fun experience in and of itself, but what makes the games extra fun are the theme nights! You can always check the website to see the themes of the upcoming home games – some nights even have multiple themes!
As we mentioned at the top of this article, two super fun games are coming up. First, the Gamblers vs Madison game on Saturday, November 18 has a "Ladies Night" theme. Gather your girlfriends for a fun night out! In addition to drink specials during the game, there will be a pre-game market starting at 4:30pm with all kinds of fun vendors to browse and shop!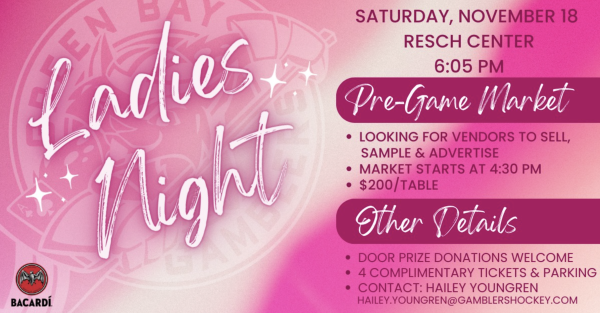 Then, a few days later on November 22 is Retro Night as the Gamblers face off against Cedar Rapids. Retro Night is all about celebrating the past with throwback jerseys and throwback tunes. Of course, there are also beer specials and all kinds of other in-game surprises.
Make Your Experience Extra Special!
In addition to the theme nights, the Green Bay Gamblers offer other opportunities to make the experience a little extra special. We highly recommend adding one of these experiences to your ticket, especially if you have a hockey lover in your family!
Starter of the Game - Youth hockey players can skate onto the ice and have their name announced as a member of the starting line-up! Players must be nominated for this opportunity, and they must have at least two years of skating experience. Click here for more info!
Sing the National Anthem - Even if you're not a hockey player, you can steal the spotlight as the singer of the National Anthem before the game! If you would like to be considered, just fill out the form on this page and submit a video or audio file of yourself singing the anthem!
Ride the Zamboni - Have you always wanted to ride the Zamboni at a hockey game? Well, here's your chance! Just fill out this form for your chance to ride the Zamboni during intermission or pregame at a Green Bay Gamblers home game! Must be at least 8 years old to ride.
Let's Go to a Green Bay Gamblers Game
We hope we've inspired you to check out a Green Bay Gamblers game the next time you visit Green Bay! You can get tickets on the Green Bay Gamblers website, or check out their Facebook Page! They often have deals and promos on tickets that you can take advantage of. 
And, if you decide to go to a game, be sure to take plenty of pictures and tag us using the hashtag #LoveGB so we can see!