When you hear the words "spring break" you might first think of tropical beaches and tropical drinks. But we're here to show you that a trip to Green Bay is also a great way to spend your break, especially if you want to plan something that's fun for the whole family!
Finding somewhere to go over spring break can be tricky. There are so many options out there and you want to make sure that everyone has a fun time! If you're looking for something that isn't going to be overly crowded or out of budget, Green Bay should be at the top of your list.
There's so much to do here (yes, even in the off-season) and in this post, we'll share some of our favorite family-friendly picks with you! Don't worry, we have plenty of articles with ideas for grown-ups if you're traveling without children, so be sure to check those out, too. 
Children's Museum of Green Bay
First off, you can't go wrong with a visit to the Children's Museum of Green Bay, especially if you have younger kids in the family. Their "Digestive System" exhibit is everyone's favorite, because let's be honest, what kid doesn't want to slide down a giant tongue? There are plenty of other exhibits and a massive "Our Town" section where kids can try out different professions and let their imaginations run wild!
Ashwaubenon Bowling Alley & Family Fun Center
Kids of all ages love bowling, and there's no better place to grab a lane (or two) than at Ashwaubenon Bowling Alley & Family Fun Center. Challenge your loved ones to a few rounds, then grab a snack in their newly remodeled on-site bar. They even have an arcade area that your kids will love playing in while you enjoy a drink. Don't forget to visit their website and sign up for their newsletter to receive $10 off your open bowling session!

(photo: Julie M Gile Photography)
Check Out the Neville Public Museum
The Neville Public Museum is always a great choice for kids of all ages. The permanent "Generations Gallery" recently got a pretty extensive overhaul and it's definitely worth checking out. The Neville also has a really incredible "Above and Beyond" exhibit on display now through May 7th where kids can experience all things aerospace! The immersive simulations are so much fun, especially if your little ones are interested in aviation, technology, and space.
All-You-Can-Eat Pizza at Pizza Ranch
There's literally nothing better than all-you-can-eat pizza. That's indisputable. But somehow, Pizza Ranch manages to take it up another notch by adding broasted chicken, salads, and desserts to the lineup. And here's an insider tip from a local: the location in Ashwaubenon also features a FunZone Arcade! Sure, you might lose your kids for a while in there, but that's what spring break is all about, isn't it?
Green Bay Packers Hall of Fame
Chances are, there are a few Packers fans in your family. If you haven't seen the new Green Bay Packers Hall of Fame yet, now's your chance! It's located inside of the Lambeau Field atrium and it spans over 15,000 square feet. There's a temporary exhibit celebrating the career of LeRoy Butler, so make sure you get in and see that before it's gone! Before you leave, stop into the Packer Pro Shop – even if you're not in the mood to buy anything, it's fun to browse!
Take in a Live Game
Live sports don't end when the NFL season wraps up. Green Bay is also home to Tier I junior ice hockey team the Green Bay Gamblers and the professional indoor football team the Green Bay Blizzard. Both teams play at the Resch Center, which is located right across the street from Lambeau Field. Take a look at their schedules and if there's a game happening while you're here, be sure to head on over and check it out. It's seriously such a great time!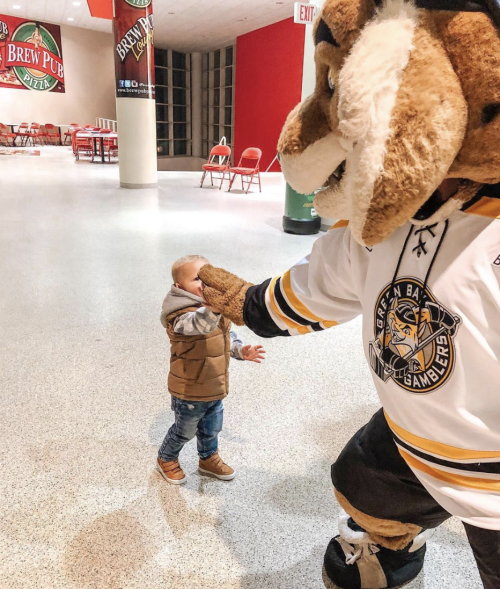 Hit Up Smart Cow Yogurt Bar
At the end of the day, you deserve a little sweet treat. Smart Cow is a yogurt bar that caters to everyone's unique tastes. They offer a rotating selection of frozen yogurt, sorbet, gelato, and custard… and that's just the first choice you'll make. After that, you can head to the toppings bar to add all of the cereal, candy, fruit, sauces, and nuts that you could possibly want. There's a good chance you'll stop multiple times during your trip, so don't say we didn't warn you.
Hotels With Waterparks
Finally, you're going to need a place to stay and if that place also has a waterpark in it… well, that's even better. What's spring break without some serious swimming? In the Greater Green Bay area, we recommend Tundra Lodge Resort, Delta Hotels by Marriott, and Comfort Suites Green Bay for families who are always asking, "what are the hours of the pool?" when they check into a hotel. We see you and we appreciate your fun-loving, adventurous spirit!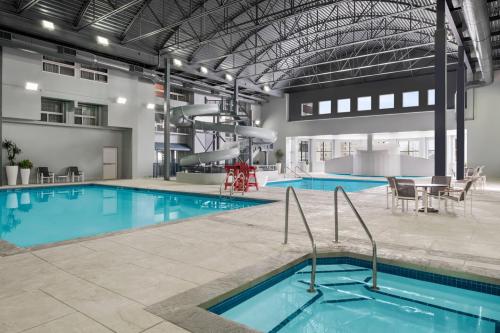 So, what do you think of these ideas?
If you think your family would love spending a day in Green Bay, we encourage you to download a digital copy of our latest Destination Guide! It has all kinds of helpful information to help you plan your trip!