Embark on a journey with nature and discover hidden natural areas with pockets of treasures like waterfalls, the Niagara Escarpment, wetlands and wildlife.
Whether you prefer to hit the path by foot or pedal, this guide will help you discover miles and miles of trails to map out your next outdoor adventure.
Many trails allow cycling, rollerblading, horseback riding and even skateboarding in addition to walking and running. In the wintertime, enjoy a snowy adventure by snowshoe, ski or fat bike.
State and Regional Recreational Trails
Fox River State Trail
Named after the river that ignited the city's industrial heritage, the Fox River Trail veers from the Fox River after about 5 miles and heads across Northeast Wisconsin. Early settlers used the Fox River for trade, but entrepreneurs in the mid-1800s harnessed the river to power flour and paper mills. The Fox River State Trail starts at the corner of South Adams and Porlier Streets. It joins a busy riverfront trail that runs northward for 1.7 miles, where you'll pass restaurants, pubs, and a bicycle shop. One block north of the Mason Street Bridge is the old railroad passenger depot built of brick and stone in 1898, now home to The Depot Gastropub.
Location: You can jump on the trail from downtown Green Bay's CityDeck, at the end of Porlier Street, in Voyageur Park in De Pere among many other spots along the 25-mile stretch.
Mountain Bay State Trail
The Mountain-Bay State Trail, one of the longest trails in the state, stretching 83 miles. It travels a mostly scenic, wooded route through Marathon, Shawano, and Brown Counties—as it makes its way from Weston in central Wisconsin to Howard in the east. You can find the Mountain-Bay trailhead on Lakeview Drive in Howard.
Location: You can get on the trail from Lakeview Drive in Howard or even catch it in Pulaski.
Ahnapee State Trail
The Ahnapee State Trail in Northeast Wisconsin provides a scenic 45-mile journey with paths in Luxemburg, Algoma and Kewaunee in Brown County. The trail follows the former corridor of the Ahnapee and Western Railway, which once served as an industrial link between Door, Brown, and Kewaunee Counties. The steam- and diesel-powered locomotives hauled dairy goods, cherry crops and lumber until the early 1970s.
Location: You can start your journey in Luxemburg, Algoma or Kewaunee.
Devil's River State Trail
Devil's River Trail is a 16-mile trail that stretches from the Village of Denmark to Rockwood Road in Manitowoc County and features a 150-foot long steel trestle bridge where it crosses high above the Devils River. Two miles of this beautiful State Recreational Trail runs through Brown County atop an abandoned railroad grade with a compacted crusher dust surface for pedestrians and bicyclists. The trail can be accessed year-round for walking, running, bicycling, cross-country skiing (not groomed) and snowmobiling. Dogs are allowed on the trail but are required to be leashed at all times. Parking is available in the Village of Denmark at the trailhead along Railroad Avenue. This Village trailhead features restrooms and picnic tables for trail users in a beautifully landscaped setting.
Location: Catch the trail head in Denmark.
East River Trail
The East River Trail winds for just over six miles along its namesake waterway through the communities of Green Bay, Bellevue, Allouez, De Pere, and Ledgeview. The trail is truly a gem in Green Bay, passing through wooded areas, marshes, open fields, and several parks. Keep a lookout for deer, turkeys, herons, red-tailed hawks and the many other animals that call the area home. A few wooden bridges connect the way, offering nice water breaks to take in the views.
Location: You can get on the trail off of Allouez Avenue or catch it in Green Isle Park.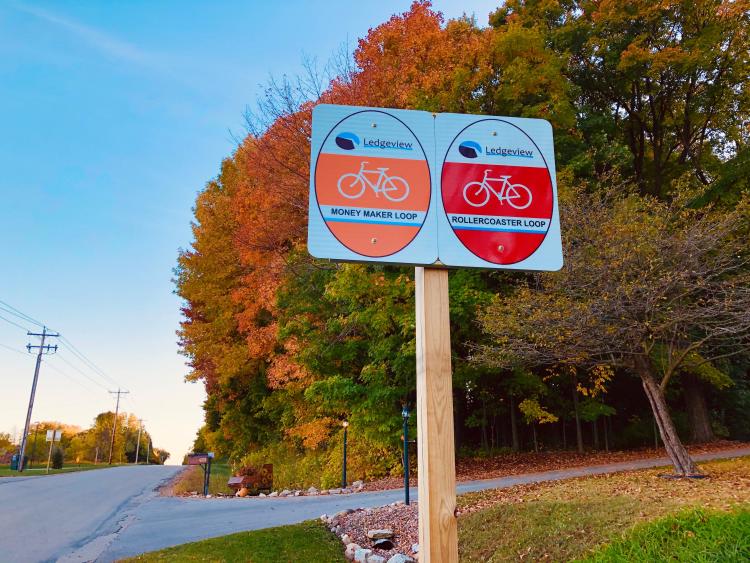 Ledgeview Loop
"Ledgeview Loops", or demarcated and measured bicycle routes can be found throughout the town of Ledgeview to provide you biking connections between neighborhoods and regional trails like the East River Trail and Fox River State Trail. The loops were mapped out with four different routes. Signage and markers can be found along the way on each loop to help to keep you on course.
Location/Routes:
Each loop varies on difficulty and challenge depending on fitness levels from the casual rider to the in-training rider, there's a level for everyone. Try them out!
Featured County and City Parks with Trails
Brown County Parks has approximately 57 miles of marked hiking trails which include 9 miles at L.H. Barkhausen Waterfowl Preserve, 1.5 miles at Bay Shore Park, 1.2 miles of the Devils River Trail, 20 miles of the Fox River Trail, 13 miles of the Mountain-Bay Trail, 6 miles at Neshota Park and 6.5 miles at the Reforestation Camp.
Bayshore County Park
If you are seeking a short hike in nature, Cecil Depeau Bay Shore Park, situated atop the Niagara Escarpment, offers a breathtaking view of the Bay of Green Bay. Scenic hiking trails follow the ledge of the escarpment - a geologic formation created 400 million years ago by an ancient sea. A breakwater and boat launch facility with protected harbor is also located within Bay Shore Park.
Location: 5138 Sturgeon Bay Rd, New Franken, WI
Pamperin Park
Located within the city limits of Green Bay, Pamperin Park is the largest park in Brown County. The park features quiet serenity with gently rolling hills and wooded areas that are enhanced by the slowly flowing Duck Creek. Park visitors enjoy taking strolls along the scenic creek and over its picturesque suspension bridge.
Location: 2801 County Road RK, Green Bay, WI
Neshota Park
A.D. Neshota Park, located where the Neshota River is joined by King Creek, has 260-acres of riverbed, steeply sloped valleys, and wooded hills. Neshota is a pleasurable spot for the naturalist and sightseer. Several miles of trails through the woods provide a scenic walk for hikers, and bridle paths for horseback riders. In the winter months, cross-country skiing, sledding, and snowmobiling are popular activities in the park.
Location: 5757 Park Rd, Denmark, WI 

The Preserve Trail
The Preserve Trail runs through parts of De Pere on the west side. The trail begins in the West Side industrial park on the corner of East Matthews Drive and Venture Avenue. The trail then navigates through parts of the West Side Industrial Park until it begins a scenic transition into the large, wooded park known as The Preserve. The trail winds through pristine wooded areas along Ashwaubenon Creek until it ends at the corner of Innovation Court and Southbridge Road.
Location: 1780 Lawrence Dr, De Pere, WI
He-Nis-Ra Park
He-Nis-Ra Park offers hikers an adventurous experience traversing it's well-established hardwood forests. Starting and ending from a large parking area, there are possibilities for a variety of ways to link together the park's blue, red and green trails.
Location:1732-1802 S Point Rd, Green Bay, WI
More City of Green Bay Parks with Nature Trails to Explore
Colburn Park | Location: 1158 Highview Lane
Fritsch Park | Location: 700 LaCount Road
McAuliffe Park | Location: 3100 Sitka Street
Perkins Park | Location: 600 N Fisk Street
Preble Park | Location: 471 Skyline Boulevard
Ashwaubomay Park
Ashwaubomay Park is an 84-acre park that is located at 2881 South Broadway. The land was purchased in 1972 and the park was developed in 1973-74.  Ashwaubomay Park is named after "Chief Ashwaubomay" of the Menomonie and Ottawa Nations. The Village of Ashwaubenon's name is taken from Ashwaubomay who lived along the river and who is buried along the stream. The park is great for a leisurely stroll along the river, organized sporting activities, and in the summer, the park's lake is a popular swimming destination.
Location: 2881 S Broadway, Green Bay, WI
Meadowbrook Trail
Meadowbrook Park is a 92.25-acre major recreation area located in Howard. Lancaster Brook runs through the park in a natural wooded area with an extensive trail system. The main trail is 1.25-mile paved trail from Hillcrest Heights to Cardinal Lane.
Location: 670 Hillcrest Heights, Howard, WI
Voyageur Park
Voyageur Park is a 21-acre park located in the center of De Pere, featuring park shelters, a playground, green space and access to the Fox River Trail. From the park you will also find the foot-path entrance to the De Pere Riverwalk and Wildlife Viewing Area.
Location: 100 William St, De Pere, WI
Featured Mountain Biking Routes
Baird Creek
The Baird Creek trail begins on the east side of the East River in the heart of Green Bay. The paved pathway follows the river a short distance north until you reach the East River Bridge, which you can use to cross the river and reach the East River Trail. From the bridge, the trail meanders eastward along Baird Creek to end at Baird Creek Road near I-43. Much of the pathway is beautifully tree-lined and is never far from homes, businesses and schools. Bike enthusiasts frequent Baird Creek for an adventure along the 8.4-mile single track loop.
Location: 500 Beverly Rd, Green Bay, WI
Brown County Reforestation Camp
With almost 1,500 acres of wooded area, trails and bodies of water, the Reforestation Camp offers a variety of off-road riding. Venture on the single track for a 10-mile loop. You can hike at these parks as well. In the winter they turn into the perfect spots for snowshoeing and cross-country skiing.
Location: 4418 Reforestation Rd, Suamico, WI
Wildlife Areas with Hiking Trails
L.H. Barkhausen Waterfowl Preserve
Located along the west shore of the Bay of Green Bay, L. H. Barkhausen Waterfowl Preserve has 920-acres of forest, meadows and wetlands where prehistoric Indian tribes once hunted, fished, and camped. Today this natural area is home and refuge for a wide variety of waterfowl, wildlife, and plant species. More than 9 miles of scenic hiking trails run through the marshes and forests of the preserve. These trails are also groomed for cross country skiing in the winter months. All trails begin and end at the Interpretive Center.
Location: 2024 Lakeview Dr, Suamico, WI
Ken Euers Nature Area
Ken Euers is a wetland preserve with hiking trails all around and gives you great views of the Bay. It is a great spot for bird watching, fishing, and frog hunting as well as hiking. Strollers with bigger wheels should do well on the trail. The area is closed in April and May to protect nesting birds.
Location: N. Military Avenue, Green Bay, WI
Osprey Point
Osprey Point is an 80-acre conservancy area maintained by the Brown County Chapter of the Izaak Walton League including two ponds used for fishing by children, seniors and people with disabilities, walking and hiking trails, a heron rookery, wild turkeys, an osprey nesting area, sandhill cranes, deer, pheasants and other wildlife.
Location: 3346 Monroe Rd, De Pere, WI
Sensiba Wildlife Area
Sensiba is a 570-acre property in Brown County with coastal marshes along the shore of Green Bay. Inland areas are wooded with a mixture of bottomland hardwoods, oak, aspen and cottonwood. Some former agricultural fields are a mix of shrubs and grasses. Find it between Sunset Beach Road and Resort Road on the north side of the Suamico River. There are parking areas on both roads. From Green Bay, take Highway 41/141 north to the County B exit. Take County B to County J. Go south on County J to Sunset Beach Road or north on County J to Resort Road.
Location: 3358 Sunset Beach Ln, Suamico, WI
UW-Green Bay Arboretum Trail
The Cofrin Memorial Arboretum forms a natural boundary of 290 acres encircling the UW-Green Bay campus. Forests, prairies, ponds, and creeks represent some of the major communities thriving in the Arboretum. More than 6 miles of trails are open to the public for passive recreation such as hiking, biking, bird-watching, cross-country skiing, and simply meandering.
Location: S Circle Drive on the UW-Green Bay Campus
Paths that Lead to Waterfalls
Fonferek's Glen
Fonferek's Glen is a 74-acre geological gem featuring a 30-foot waterfall, dolomite cliffs and stone archway. The waterfall can be viewed from the designated use area, an easy 100-yard walk from the parking lot. If you are up for a trek down the rugged terrain, you can experience some beautiful views of the Niagara Escarpment and flowing creeks from down below. Just use caution when outside the designated use area.
Location: 2825 Dutchman Rd, Green Bay, WI
Wequiock Falls
Wequiock Falls is one of Brown County's smaller parks and although it doesn't have traditional hiking trails, it does contain a large ravine featuring a close-up inspection of the Niagara Escarpment rock formation for you to walk down to explore.
Location: 3426 Bay Settlement Rd, Green Bay, WI
Attractions with Walking Trails
Bay Beach Wildlife Sanctuary
Bay Beach Wildlife Sanctuary is a beautiful 600-acre urban wildlife refuge featuring live animal exhibits, educational displays, miles of hiking/skiing trails and various wildlife viewing opportunities.
Location: 1660 E Shore Dr, Green Bay, WI
Green Bay Botanical Garden
Surround yourself with the unparalleled beauty that blossoms and changes with each season with 47-acres to explore at the Green Bay Botanical Garden.
Location: 2600 Larsen Rd, Green Bay, WI
Heritage Hill State Park
At Heritage Hill State Park you can immerse yourself in the beauty of the 54-acre park and 26 historical and reproduction buildings while walking the grounds.
Bike Rentals
Whether you're looking to use a bike for a couple of hours or want to spend an entire week on the trails, these businesses will get you ready to ride.
Organized Bike Rides
Looking to meet up with locals who are familiar with the biking trail system in the area? Baird Creek MTB organizes and host group rides throughout the region for riders of various skill levels.
You can also take advantage of the guided rides offered through Broken Spoke Bike Studio and Pete's Garage, two of our exceptional outdoor outfitters.
Greater Green Bay Trail Map
Planning Tips
Check trail conditions before you head out. Some trails can experience flooding during certain times of the year.
Don't forget to bring along your bug spray! Mosquitos love the water.
Consider packing a tick kit and take general precautions like wearing long pants, avoiding walking through brush, and checking for ticks at the end of your hike.
Many trails do not have bathrooms or trash cans available, so be sure to take a bathroom break before hitting the trails and consider bringing a bag to pack snacks and keep your empties secure until you can toss them.
What are you waiting for? Start planning your next adventure in Greater Green Bay.