Patio, Please: Our Favorite Outdoor Dining Spots
Your guide to Green Bay waterfront restaurants includes popular bayside spots and hidden gems along the Fox River
By Liz Van Pay
There's something about enjoying a great meal on an outdoor patio, an experience heightened if that outdoor venue overlooks the water. Whether it's the way a breeze comes into play or the bright sun feels against your skin, summertime in Wisconsin is best enjoyed on, or near, the water. Luckily, the Green Bay area offers many spots that offer up just this experience, whether you're a casual diner or out for a romantic evening with your special someone. 
Those of us who call Green Bay home know a few truths: a cold drink and a great meal are just a stone's throw away whether you find yourself on the west side, the east side, the suburbs or anywhere in between. With beautiful waterfront views at so many locations, you will be tempted to take it outside at these Green Bay waterfront restaurants.
Café Culture
Patio tables at Studio 1212 Café & Wine Bar offer a waterfront view, excellent photo opportunities and a secluded feel with sparse traffic. Weekly specials include Taco & Margarita Tuesday, Wine Down Wednesday, Taps Apps & Happy Hour Thursday and, "while in Green Bay," a Friday Fish Fry. Their expansive wine and beer list invite guests to stay awhile. 
Down the road from Studio 1212, you'll find Nuk's Thai Cuisine. Nuk's is where to go if you're looking for authentic Thai food and a waterfront experience. Offerings include crab cakes, pho, pad thai and other authentic dishes. The waterfront views are breathtaking and will elevate any dining experience.
College Scene
Washington Street is home to many a weekend party and offers a variety of venues for anyone looking for a great night out. One of the more popular patio spots in Green Bay, Hagemeister Park on Green Bay's CityDeck overlooks the Fox River. This Fox River restaurant on the water offers one of the only year-round outdoor dining experiences in town, with three riverside igloos that include pillows, blankets, candles and fire pits that can seat up to eight. Enjoy steaks and burgers with some local brews. There is always a bustle of activity on the CityDeck. This area is an excellent jumping-off point for an evening adventure, with Washington Street and Broadway a short walk away in either direction. 
Fine Dining
Since 1974, River's Bend has been a classic waterfront destination in the Green Bay area, the go-to place for picturesque riverside views and a beautiful, romantic ambiance. Their menu includes steaks, seafood, appetizers, and, yes, a Friday Fish Fry and Sunday Brunch. Their Prime Rib is the stuff of legend, and their drink menu is enough to get you through even the warmest summer day.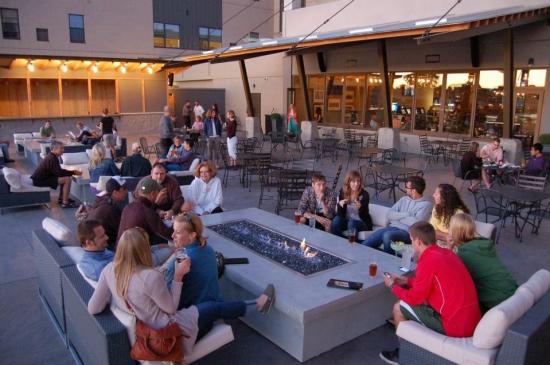 Neighborhood Gems
Located on the riverfront and just off the Fox River Trail, Fox Harbor Pub & Grill is a Fox River restaurant on the water that is easy to get to whether on foot, bike or boat. Fox Harbor offers 10 free-transit boat slips to accommodate boats of all sizes. Standard bar fare is elevated here with fantastic seafood options. This is one of the most classic and long-standing patios right off of the Fox River, and for a good reason. 
Located in the former Chicago & Northwestern Depot building, opened in 1899, The Depot Green Bay is a fantastic dining spot. Overlooking the Fox River, The Depot finds its home in one of the most recognizable and historical spaces along the Fox River. Their menu includes sandwiches and burgers alongside a weekend brunch menu boasting arguably the best mimosas and Bloody Marys in town. Their take on Swedish Meatballs with Elk is fantastic!
Let's Eat!
Take a closer look at Green Bay's diverse dining scene as you plan your getaway.