Anyone who's ever had a Bloody Mary knows it's one of those "to each their own" kind of drinks. Everyone's got a hot take on what makes this classic cocktail truly epic. Do you like it so thick you can almost chew it or just the slightest essence of tomato? Fixings stacked sky high or more restrained? Spicy enough to burn your tongue off, or just a dash of hot sauce? 
However you like your Bloody Mary, Green Bay has you covered with a wide variety of options to satisfy even the most seasoned connoisseur. Keep reading to check out our list of some of the best Bloody Marys in the Green Bay area!
Starting off with a bang, we put Anduzzi's Ultimate Bloody Mary at the top of our list for its sheer audacity! You won't find a more packed Bloody in Green Bay, and ordering this drink will probably draw some attention to your table. That's because this drink is filled to the brim with every garnish you can imagine — hamburger sliders, buffalo chicken sliders, mini corndogs, shrimp, wings, peppers, onions, mushrooms, and even cheese, meatballs, and olives arranged to look like a goalpost. Definitely come hungry if you plan on ordering this stacked drink! Check out Anduzzi's at three different locations around Green Bay on the East Side, in Ashwaubenon, and in Howard.
Look at the size of this!!!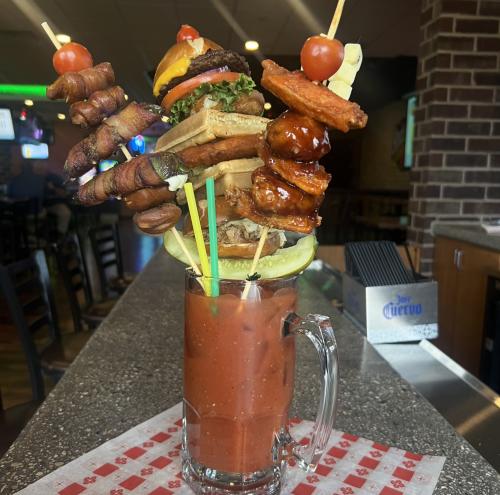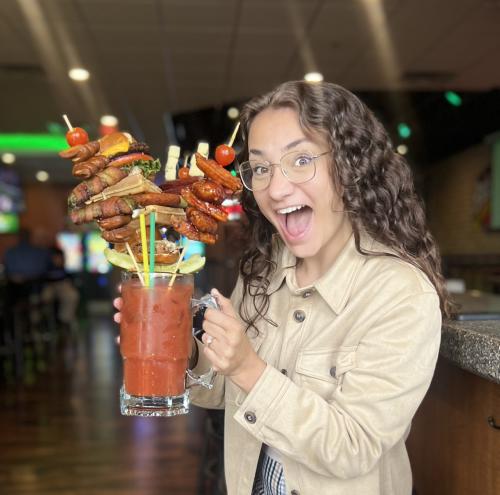 If you're looking for something a little less filling to enjoy before a Packer game, head over to Stadium View in Ashwaubenon and enjoy a classic Bloody Mary. This variation is all about simplicity and balance, offering a smooth, light texture and just a few carefully selected fixings, including a pickle spear, olives, and a lemon wedge for a little extra tanginess – the perfect sipper for tailgating or while cheering on the Pack during an away game.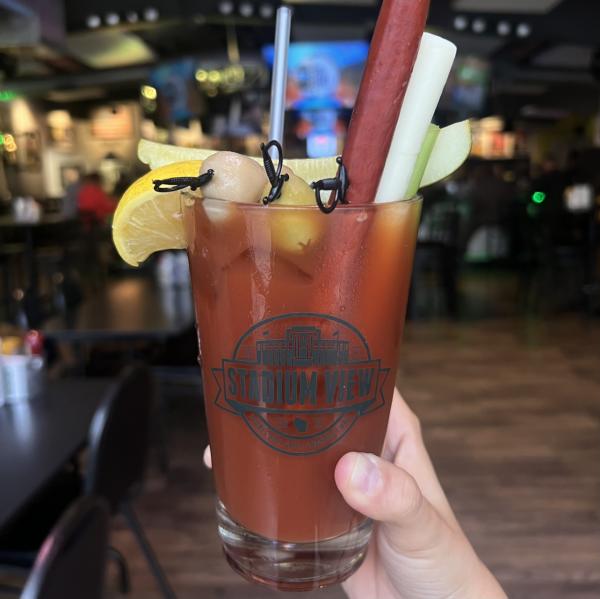 Come thirsty if you're thinking about grabbing a Bloody at Hagemeister Park (located in downtown Green Bay). This delicious Bloody comes served in an oversized hurricane glass with a pickle, olives, and a beer chaser of your choice, which is a uniquely Wisconsin tradition. We recommend going with a good light lager or even a pumpkin barrel ale if you're feeling the fall vibes!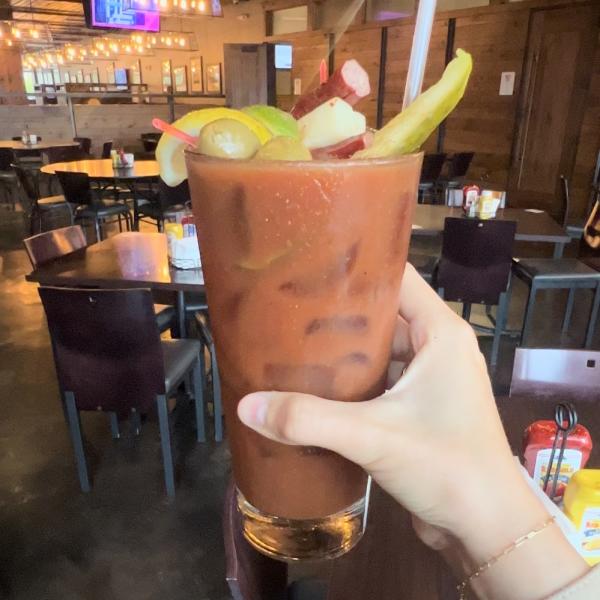 Titletown Brewery's All Wisconsin Bloody Mary is the perfect drink to show off your Wisconsin pride because all of the ingredients are locally sourced. Enjoy a well-balanced Bloody with plenty of spice, topped off with the perfect amount of cheese, sausage, pickles, and olives as a garnish. Plus, you'll be able to take in some of the best views of the city while you sip on the Roof Tap patio.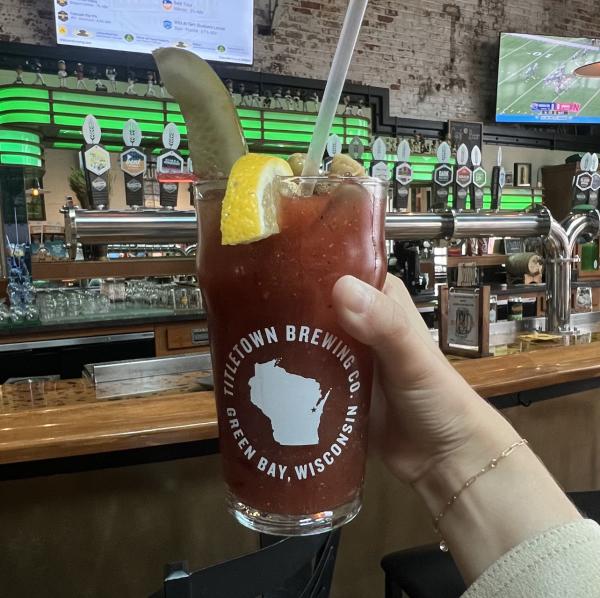 If you search "best Bloody Mary", White Dog is likely one of the results. Nestled in the On Broadway  District you'll find this Green Bay Staple. This spicy mix is a local fav during farmer's markets or for brunch! Toppings include *all the things*... beans, hot peppers, pickle, mushrooms, lemon, and olives. On top of a good bloody, you get to take in the eclectic, art-covered walls.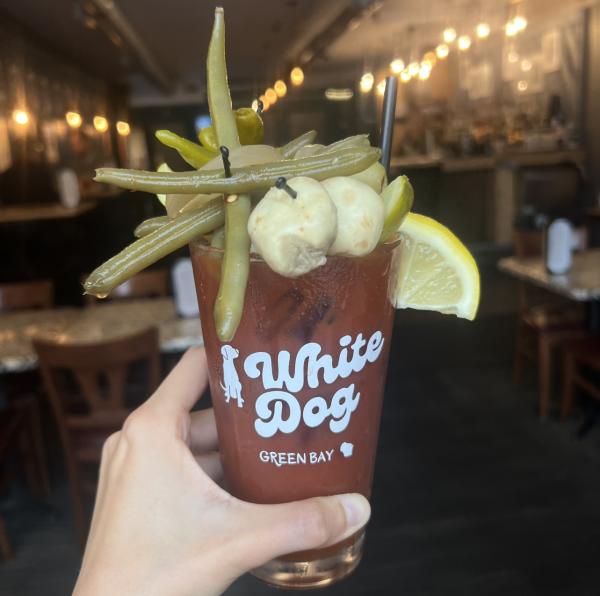 Need a little hair of the dog after a night out? Head over to The Creamery in downtown Green Bay for the perfect brunch Bloody Mary. This Bloody is concocted with The Creamery's "secret recipe" and is thick enough to fill you up and packed with all the right nutrients to help rebuild your strength and take on the day, including string cheese, bacon, olives, pickles, carrots, and lettuce. Sip on this revitalizing Bloody Mary and let its savory goodness kickstart your day… even if that day starts at noon! 😄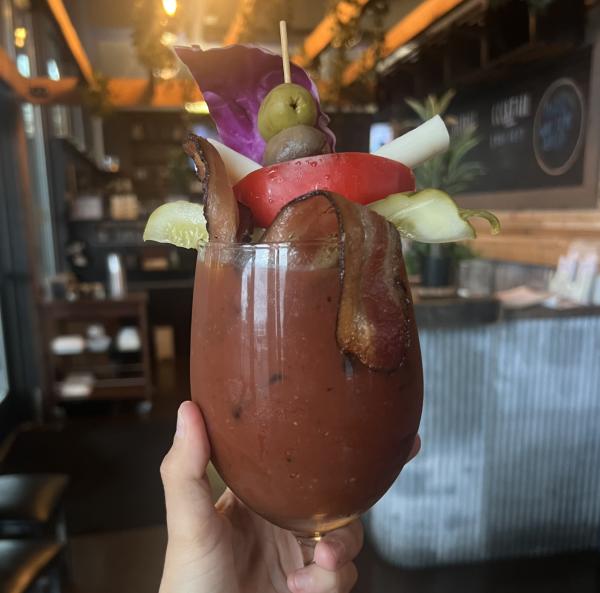 Experience a taste of Green Bay history with this sipper! In the historic building of one of Green Bay's original train stations The Depot serves up a mean Bloody Mary. The "secret mix" is made fresh daily in-house by the owner, and packs a perfect punch for game days or relaxing with views of the Fox River from the patio.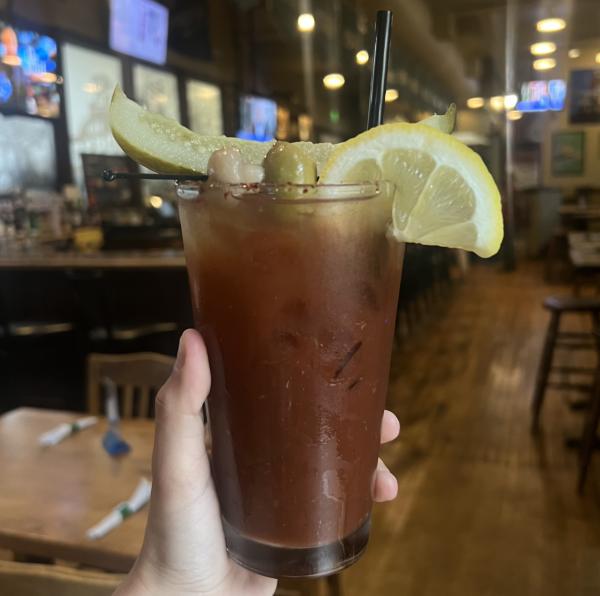 This cash-only bar is located 1 block over from Broadway Avenue and if you really want to "live like a local" then you'll want to add this stop to your itinerary.  The outdoor patio is always a vibe, and you can find the parking lot full from open to close.  There's something about the mix that is absolutely unmatched, and staple bloody mary garnishes make this the perfect traditional Bloody Mary. Pro-Tip: Order beef jerky while you're there. You're welcome.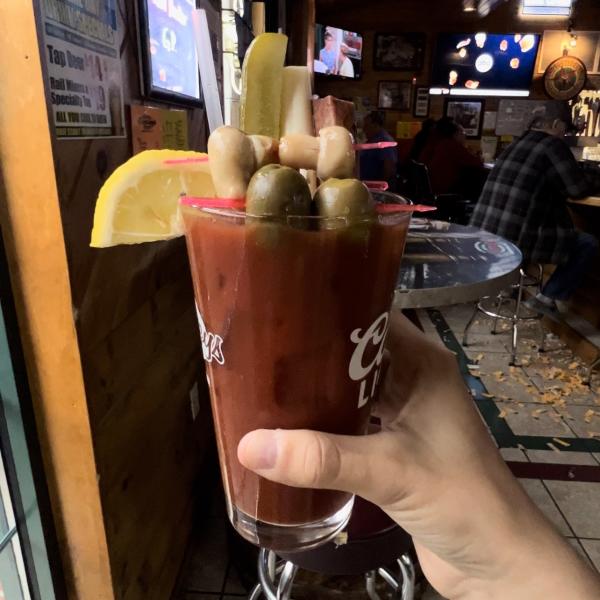 Ready to find your new favorite Bloody Mary?
Whether you prefer a classic, spicy, or inventive rendition of this beloved cocktail, you're sure to find something that tickles your taste buds in the Green Bay area. Cheers to uncovering the best this city has to offer, one sip at a time!