Updated 5/7/21
I'm pretty sure it's a scientific fact that food tastes better, beer drinks easier, and conversations are more engaging outside! Don't kill the messenger, but summer in Green Bay doesn't last forever. Our list keeps growing as new patios continue to pop up around Greater Green Bay for you to enjoy great food and drinks under the sun.
Titletown Brewing
Drinking beer on a roof brings a sense of freedom and exhilaration not experienced when cracking a cold one with both feet on the ground. Titletown Brewing Company's Roof Tap gets you five stories above the rest of Green Bay below. Order your favorite brew or be adventurous [indecisive] with a flight while overlooking some of the best views of the Fox River and Downtown Green Bay.
Anduzzi's Sports Pub
At this Holmgren Way location, you will find an open-air second-floor patio that offers plenty of covered tables and barstools while still providing all the fresh air you could want. The other half of Anduzzi's patio is beaming bright with sun, moon, and stars shining down on diners and drinkers at any time of day. On Packers game days ( …uh… every day. This is Green Bay!) you'll see this outdoor patio just a block away from Lambeau Field 'pack'-ed with Green and Gold wearing fans. You can also relax on the patios at their Howard and Green Bay east side locations. Although not a rooftop, they still offer great food and drinks in a wide-open, half-covered concept.
Hagemeister Park
Hagemeister Park, the original, holds a special place in Green Bay Packers history. This park, located on the east side of Green Bay, was the home of the Packers for their founding in 1919 and their first two seasons in the NFL. Hagemeister Park, the restaurant, holds a special place in the patio scene around Green Bay. With the CityDeck, Fox River Trail, and the Fox River right next to this patio, biking, kayaking, or boating are great options to take even more advantage of outdoor activities.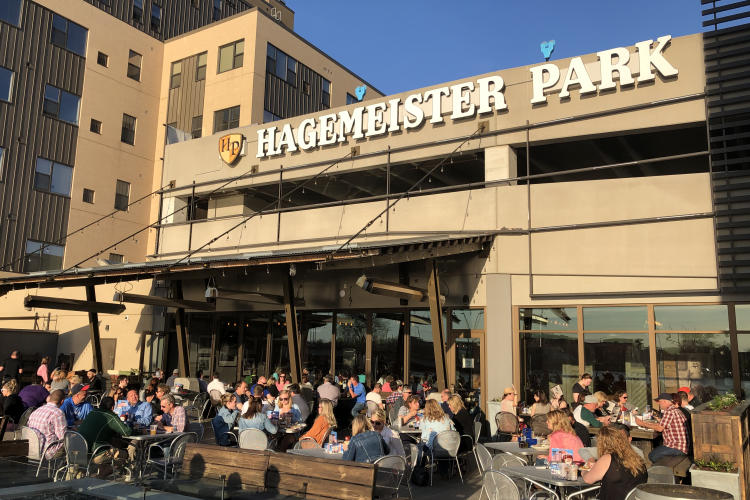 Fox Harbor Pub & Grill
A local favorite conveniently located in Downtown Green Bay on the Fox River State Trail is the perfect spot to stop for a bite to eat on the patio. Fox Harbor Pub and Grill is perfect for boaters cruising the river with a dock right out front or walkers and bike riders to veer off the trail to enjoy great food and drinks. In the summer, enjoy music on the patio on Sunday evenings at 6 p.m.
Angelina Restaurant
There's food so good it can take your mind and taste buds on a journey. Angelina's homemade Italian cuisine does just that, bringing you 5,000 miles away in just one bite. In just a few steps, you can also actually walk out to a lush Italian patio garden. For the full Italian experience, I highly recommend an order of Tiramisu with an espresso.
1951 West
Serving traditional Wisconsin fare with a contemporary twist, 1951 West throws in an even trendier option with outdoor patio dining. If that wasn't enough, stop by for Hungry Hour to enjoy reduced prices on appetizers – yes, while eating them outside! Just looking for a patio cocktail, 1951 West slings one of my favorite Old Fashioneds around. Cheers to outdoor patios!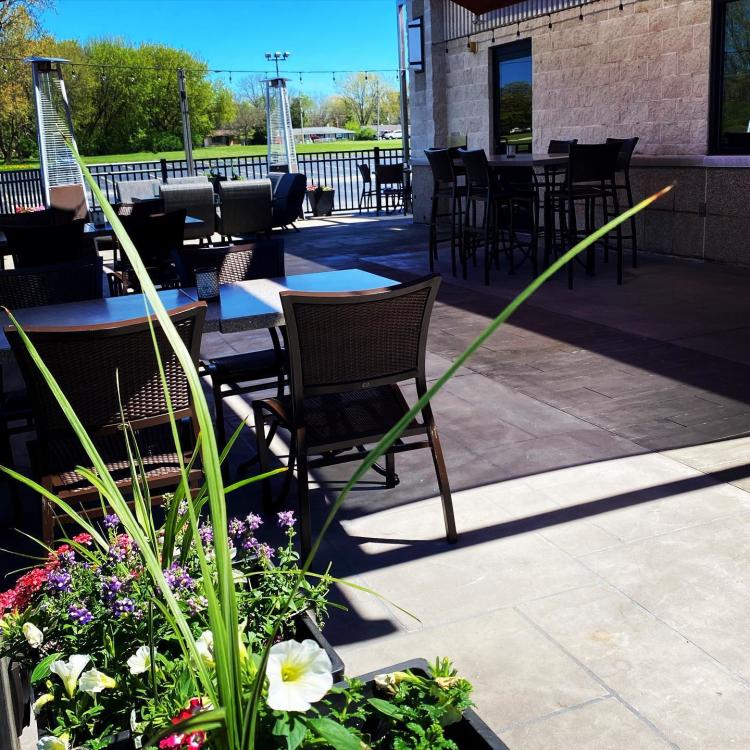 Taverne in the Sky - Lodge Kohler
This Titletown staple offers beautiful views of Lambeau Field from the 5th floor outdoor balcony at Taverne in the Sky. Enjoy comfortable seating around individual gas fire pits with full service from the kitchen or bar! If I may, I suggest their Kohler Chocolate Brandy Old Fashioned.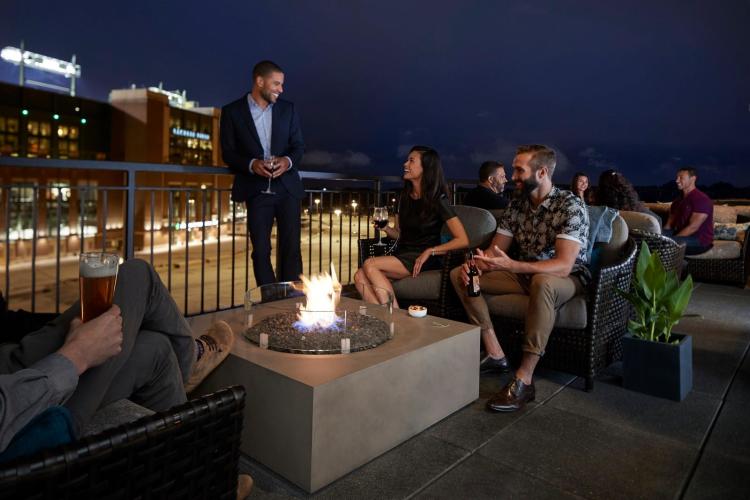 The English Inn
A little off the beaten path, you can find The English Inn located on the Bay of Green Bay. For a spectacular view of the Bay and Niagara Escarpment while enjoying your favorite Wellington, you'll want to spend an intimate evening on the patio.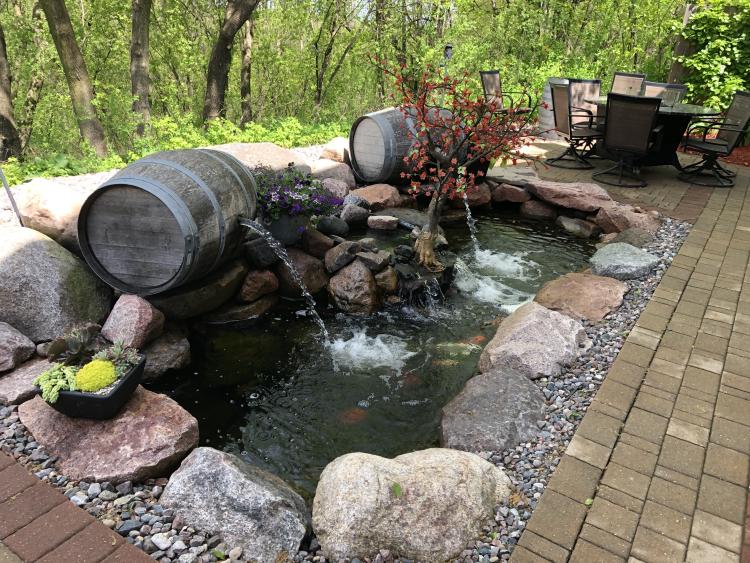 Studio 1212
Another outdoor waterfront dining spot to catch the sunset over the Fox River is at Studio 1212 Café & Wine Bar. This cozy café offers a variety of small plates to enjoy with a glass of wine or Studio 1212 specialty cocktail.
Stadium View Sports Bar, Grill & Banquet Hall
For the newest rooftop view in town, visit Stadium View Sports Bar! Choose from patio dining on the ground or up above. The perfect spot to catch the game and get an amazing bird eye view of Lambeau Field down Armed Forces Drive. If you haven't visited in awhile, it may be unrecognizable as it has a new look from the inside-out! Check it out for happy hour, while you are tailgating for the Packers Game, catching a show at the Resch Center or just to enjoy their great eats.
Hinterland Brewery
Find yourself in the heart of Titletown when you head outside for lunch, dinner or just to enjoy a few of your favorite Hinterland beers while catching up with friends.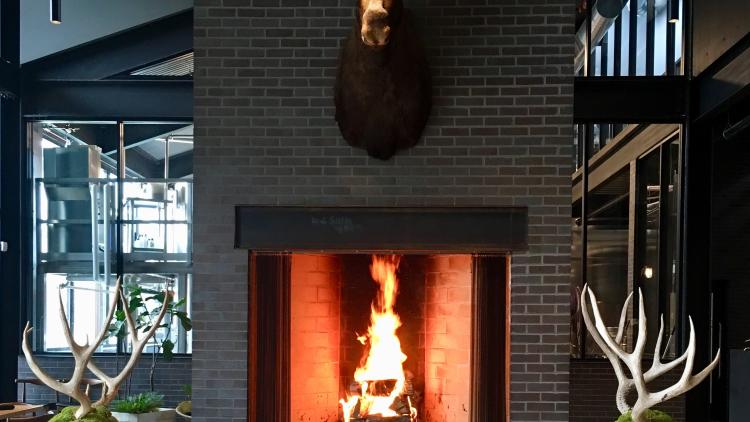 Copper State Brewery
It all started with connection at Copper State Brewery– a family coming together to craft great beer. Those relationships share a common set of values that drive this brewery's goal of creating a warm, inviting gathering place for your friends and family. Bring along your furry friend to this biergarten and enjoy delicious bites and brews while being surrounded by hops and friends.
The Bottle Room
The Bottle Room is dedicated to creating a relaxing environment for those passionate about great wine and craft beer. The tapas menu has been designed to complement The Bottle Room's specialty. A suggested list of featured pairings accompanies each menu item of both wine and beer. With the ever-changing menu and wide selection, there is sure to be something to order for everyone to enjoy around the fire on the patio.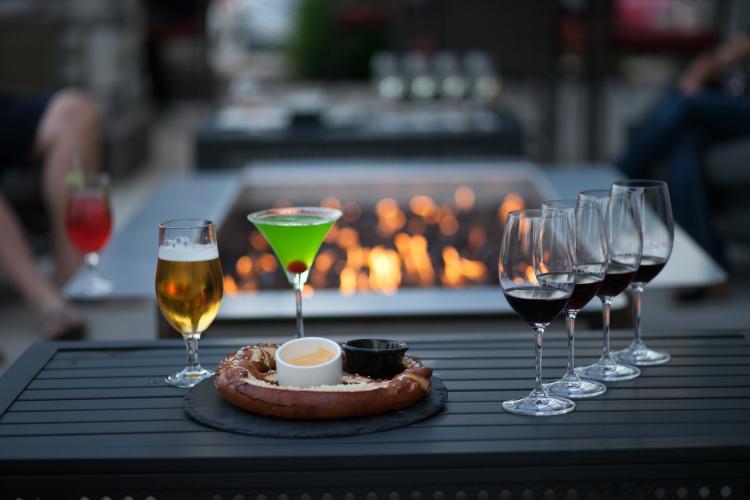 Plae Bistro
For a place to laugh and eat, Plae Bistro offers the perfect blend of fine dining with a cozy atmosphere. Whether you're enjoying an afternoon lunch or a night out, the "Plae" Ground offers you the perfect patio dining experience during the summer. With a diverse menu of imaginative flavor combinations and additional daily features, you're sure to find that perfect dish for a quick lunch or a long romantic dinner. And, don't forget to check out their wine selection with happy hour beginning at 3 pm daily.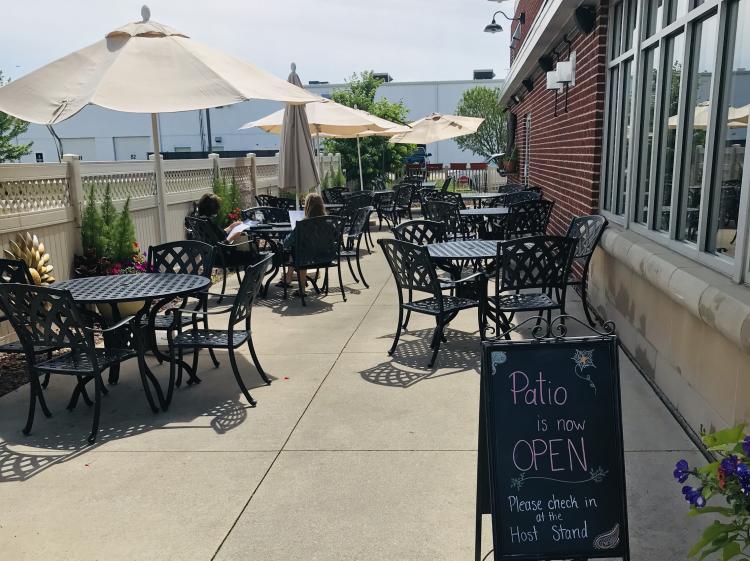 More outdoor patios can be found at the following restaurants and bars:
Keggers (Hidden patio out back with seasonal bar)
Leaps & Bounds Café at Lodge Kohler
Poke the Bear at Hotel Northland

The Patio at River's Bend gives you a stunning view of Duck Creek while you enjoy a traditional supper club meal.
For the record – fall and winter here are pretty amazing in their own way, but that's a different story for cooler times.