The practice of putting up lights for the holidays started in Germany in the 17th century. Back then, of course, people used candles. Today, there are an unlimited range of colors, sizes, and special effects that can be achieved with holiday lights!
If you enjoy a good holiday light show, you're in for a treat. Green Bay has several great displays that will leave you feeling the magic and wonder of the season! Some of these extend into the new year, so you still have time to start planning your holiday lights tour!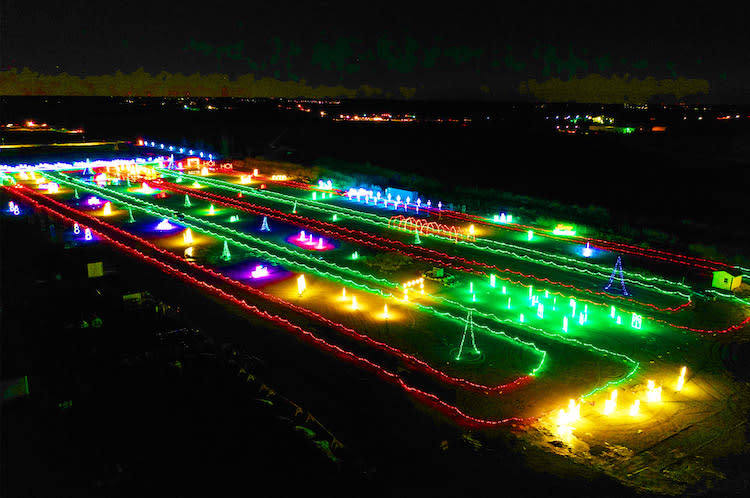 This drive-thru holiday light show is one of the most popular in Green Bay, and for good reason! It features over 700 feet of dancing light tunnels that you can drive through, 3D dinosaurs, polar bears, giant sparkling emojis, and so much more!
This is a great socially distant activity to do with the family. You can purchase your tickets online, then head to the fairgrounds at your dedicated time slot. Tune your radio to 88.7 and get ready to experience the magic. The show runs through January 2, 2022.

No holiday lights tour is complete without a light show at Lambeau. The Winter Jubilee Light Show is a very popular event for locals and visitors alike! This seven-minute extravaganza features holiday-themed lights and projections that are set to music, as well as impressive special effects like lasers and fireworks that will impress viewers of all ages.
This event is free and there are still a few weekends left to catch it in 2021: December 17-18, 22-24, and 26-30. The show kicks off every 30 minutes on the hour and half-hour from 6 to 9 p.m. and the best seats in the house are either in the Titletown District Plaza (located on Ridge Road) or Lots 5 and 6 at Lambeau Field.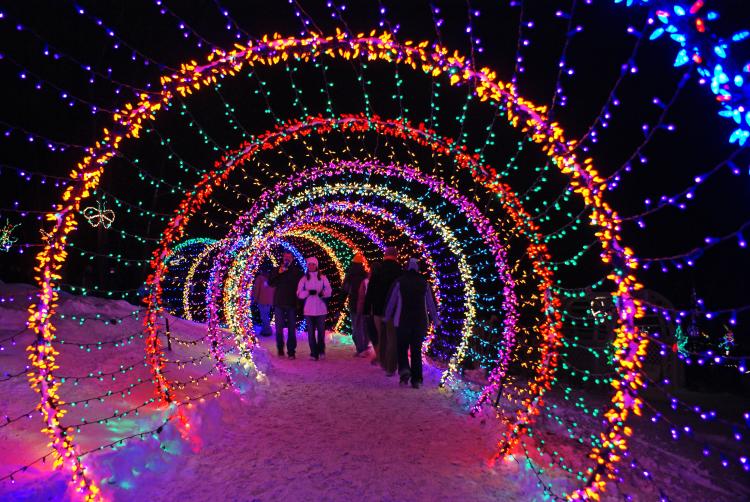 Celebrate 25 years of holiday wonder at the Green Bay Botanical Garden's beloved WPS Garden of Lights event. This year, there are an impressive 325,000 twinkling lights illuminating nature-themed scenes that were all created and built either by the botanical garden staff members or local NWTC students!
To limit capacity, dated and timed entry tickets must be purchased in advance on their website. The light show runs through January 1, 2022. Limited seating is also available for horse-drawn carriage rides and are offered on a first come, first served basis.
This year is the first year Voyager Park in De Pere is participating in the holiday light fun, and they're not playing around! Cars can drive through the light display which is located in the riverwalk parking lot. It features 20-25 trees decked out in approximately 20,000 lights, as well as some other special surprises mixed in!
The light display is free for visitors and it is open on Friday and Saturday nights through Christmas Day from 5 to 9 p.m. If the event is popular this year, the parks department is planning on adding even more lights next year!

Downtown Green Bay Light Displays
There are lots of beautiful lights and holiday displays in the downtown district. Take a stroll on the CityDeck and see the huge ornament sculptures lit up in blue lights! Take a leisurely drive around downtown and enjoy all of the decorated wreaths and the gorgeous Peace Tree in front of the Brown County Courthouse.
For the last stop on your holiday lights tour, you'll want to make sure to head over to the Rail Yard Innovation District (on Donald Driver Way, near Titletown Brewing Company) to catch the light show which runs every 30 minutes on the hour and half-hour and lasts about 14 minutes. 
The holidays are an awesome time to visit Green Bay, but there's so much to do and see all year round! Start planning your trip today with a copy of our Official Destination Guide!