In Green Bay, cheese curds are a subculture. If you didn't have cheese curds on your trip to Green Bay, did you actually visit Green Bay? This cheese curd guide compiles the best places to get cheese curds in town. When visiting Green Bay, you'll find a variety of cheese curd options. This guide highlights the classic, legendary, and cheese curds with a unique twist.
The Classics 
When it comes to Wisconsin cheese curds, the classic curds are white cheddar, breaded or beer-battered, then fried and served with a side of creamy buttermilk ranch. Both Anduzzi's and The Bar in Green Bay serve these classic-style cheese curds. Anduzzi's opts for a beer batter while The Bar uses breading to cover their curds before frying.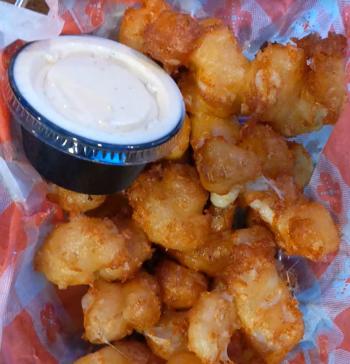 These restaurants serve them up hot and fresh out of the fryer. The quality of these fried curds are consistent and always satisfying. You can't go wrong with either of these places for your first cheese curds in Wisconsin. 
The Legendary
If you're looking for curds and an old-school Wisconsin atmosphere to enjoy them in, check out Al's Hamburgers or Kroll's. Both restaurants have been operating since the 1930s and are some of the oldest restaurants in the city, making them essential stops for history buffs and cheese curds lovers. 
Al's Hamburgers provides an old-school Americana atmosphere, serving up burgers, fries, milkshakes, and cheese curds. While Kroll's gives old school Wisconsin tavern vibes with dark woods and rich jewel-tone colored interior accents. Both will give a glimpse into Green Bay's history while you savor salty cheese curds. 
The Unique Curds 
If you're looking for unique cheese curds, these restaurants put their own spin on traditional Wisconsin cheese curds. Crown & Common serves square cheese curds that are fried 'naked' or without breading. These square curds are crisp on the outside and creamy on the inside served with a side of marinara sauce. 
Parker John's is an authentic BBQ joint serving white cheddar cheese curds with chives added into the breading. These curds are garlicky, delicious and a personal family favorite with no curds left uneaten.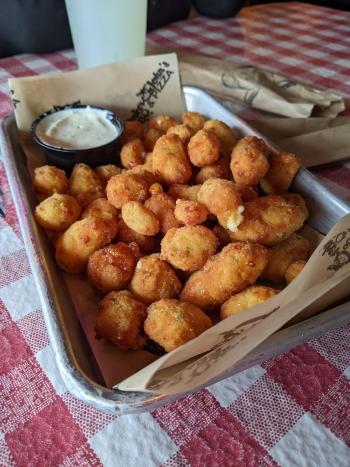 Copper State Brewing Co. serves beer-battered cheese curds with one of their very own beers, taking beer-battered curds to a whole new level. These cheese curds are served with a homemade bloody mary aioli that pairs incredibly well with these edgy cheese curds.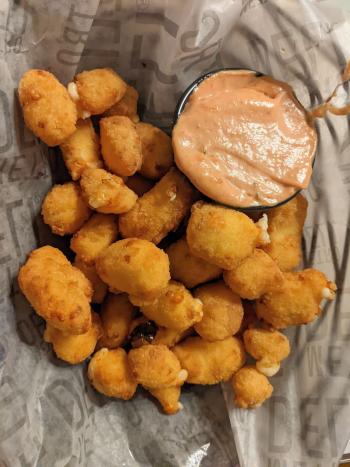 Less Greasy Curds aka The 'Healthy' Options
If you're seeking salty delicious cheese curds with less grease you'll find great options at Mackinaw's Grill & Spirits or Hagemeister's. Both restaurants offer lightly breaded cheese curds. Mackinaw's cheese curds have a firm breading and are served with fries. While Hagemeister's serves curds with a light crumbly breading that contrasts the soft cheese. 
Cheese Curds at Mackinaw's Grill & Spirits
Cheese Curds Worth a Drive 
If you've tried all of the great cheese curd options around the city, Dykesville Bowl, located 18 miles North of Green Bay has award-winning cheese curds. These curds are frequently recommended by locals. 
These cheese curds are salty and squeaky, which is typically lost as soon as the cheese curds hit the fryer. Fresh cheese curds that aren't fried yet will always squeak against your teeth while you're chewing them. This squeaking is the sign of incredibly fresh cheese curds. Dykesville Bowl may seem like a hole-in-the-wall place but these cheese curds are certainly worth the drive.