Blog updated: 5/7/21

**Video put together pre COVID-19
Local organizers continue to monitor the impacts of COVID-19 and will have health and safety guidelines in place to ensure a great experience for all.
Visitors are often looking to experience Greater Green Bay the way the locals do. During the Summer and Fall months, it's a no-brainer to send them to check out a farmers market. The Downtown Green Bay Farmer's Market has been running strong since 1917--for those keeping score, that's longer than the Green Bay Packers have been around. So Greater Green Bay has a deep history with these outdoor markets. Here's some info on several of Greater Green Bay's favorite farmers markets available throughout the week.
Saturday Farmers Market - Downtown Green Bay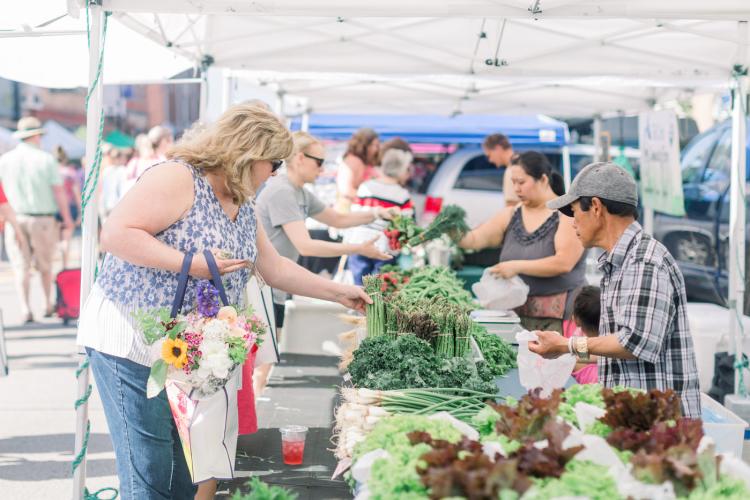 When: Saturdays, May 29 through October 30 from 7 am to Noon.
Where: South Washington & Doty Streets
75+ local vendors will line the streets, safely distanced from each other, to offer the community fresh produce, baked goods, carry out foods, coffee & teas, meats, cheeses, flowers & plants, handcrafted goods, soaps, and even more.
Market Safety Tips:
Per current CDC guidelines, shoppers may or may not choose to wear a face mask/covering due to the large number of shoppers at our outdoor market or dependent on their vaccination status. We trust our market shoppers to make the best decision to keep themselves and our community safe! Vendors and staff are required to wear face masks until further notice. Learn more about face mask tips & safety here.
Maintain six feet of physical distance from other customers and vendors whenever possible.
Use hand sanitizer or on-site hand-washing stations frequently.
Stay home if you are sick.
Please do not touch any product until time of purchase
For more details and a complete vendor list, go to the Downtown Green Bay website.
Farmers Market On Broadway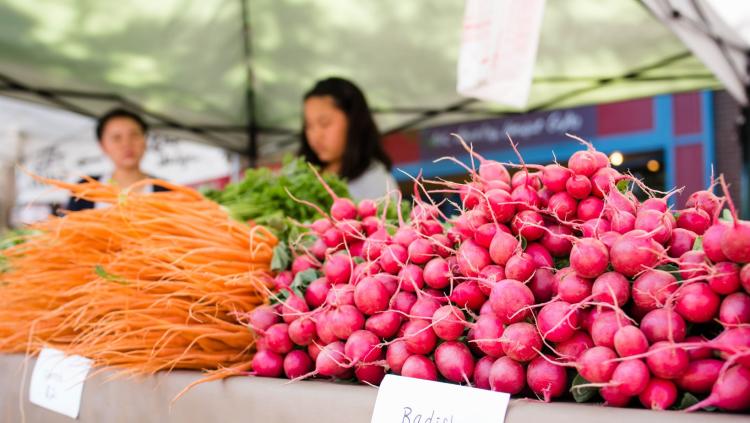 When: Wednesdays, May 26 through September 29 from 3 pm to 8 pm.
Where: On Broadway this year between Walnut and Dousman and extends east and west on to Hubbard St.
The popular Wednesday night Farmers Market returns to Broadway for its 18th year starting May 26. The 2021 market will run from 3 p.m. to either 7 or 8 p.m. on Wednesday nights and will include produce, craft and food vendors. There will also be live musicians and a beverage tent. However, COVID-19 precautions like mask-wearing and social distancing will still be encouraged.
The Farmers Market On Broadway Facebook page will keep you updated on the latest vendors and details from week to week.
Downtown De Pere Farmers Market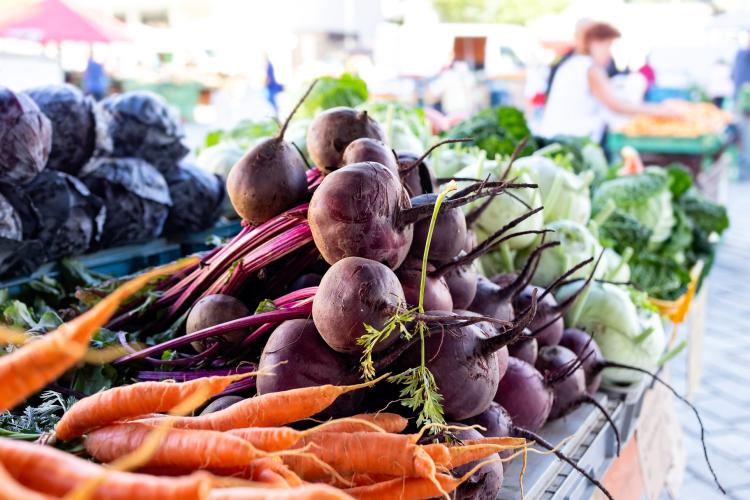 When: Thursdays, June 17 through September 23 from 3 pm to 8 pm 
Where: Downtown De Pere
On Thursday evenings you can find the Downtown De Pere Farmers Market located at the George Street Plaza (between Broadway and Wisconsin Street).
The market features nearly 25+ vendors selling fresh fruits and vegetables, meat and cheeses, breads and baked goods, specialty foods, and handcrafted items. With beautiful river views, picturesque sunsets, and a location just steps off the Fox River Trail, the Downtown De Pere Farmers Market is a special place to be on Thursday evenings. Join the fun all summer long for live music, food, beverages, shopping and fun evenings near the river.
Safety guidelines will remain in place.
Market on Military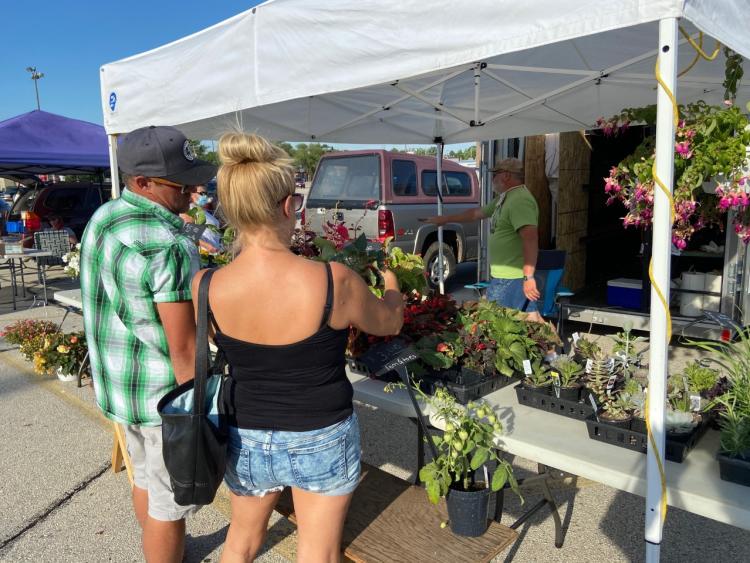 When: Thursdays, April 29 through October 28 from 2 pm to 7 pm.
Where: 1555 WI-54 (W. Mason Street), Green Bay, WI 54304
Located in the Green Bay Plaza on Military Avenue, the Market on Military is open every Thursday for you to choose from locally grown, made and crafted products. Seasonal selections ripe each week.
The Market on Military continues to ask visitors to take COVID-19 precautions including encouraging masks and social distancing. 
Titletown Night Market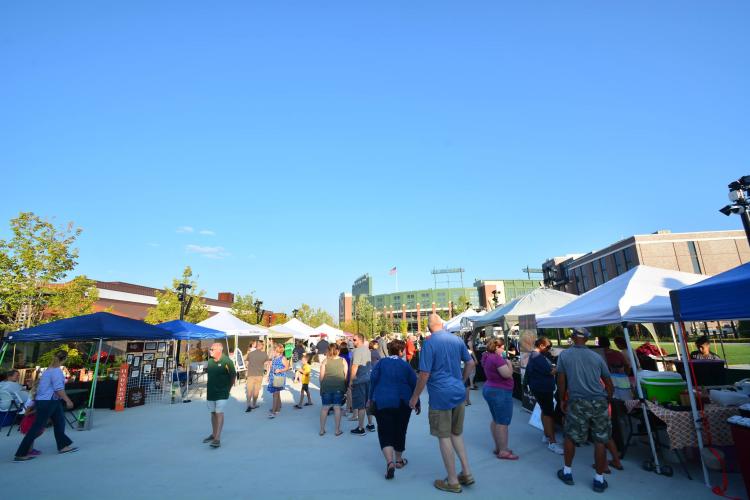 When: Thursdays, June 10 through August 27 from 4:30 pm to 8:30 pm.
Where: 1065 Lombardi Ave, Green Bay, WI 54304
Blending Wisconsin culture and fun with food, drinks, and shopping, the Titletown Night Market is the place to be on Thursday nights. The Titletown Night Market is located just west of Lambeau Field and hosts over 70 vendors each week, blending Wisconsin culture and fun with food, drinks and shopping. It's the perfect social setting for a summer night in Green Bay.
For the safety of the Titletown Night Market vendors and guests during these uncertain times, the safety requirements at Titletown will be based off the recommendations of the CDC and state/federal government guidelines.
Oneida Farmers Market
When: Thursdays, June 17 through October 7 from Noon to 6 pm.
Where: N7332 Water Circle Place, Oneida, WI 54155
The Oneida Nation is a Native American Tribe that resides in northeastern Wisconsin. This farmers market allows attendees to shop Oneida and other locally grown fruits, vegetables, honey, maple syrup, flowers, plants, sweet grass and naturally raised or grown products. You can also find handmade Oneida arts and crafts. Head to the Oneida Farmers Market on Thursdays starting at Noon on June 17. You'll find it located at N7332 Water Circle Place near the water tower in Oneida, about 6 miles west of Green Bay on Hwy 54.
It may once again be a Drive-Up Farmers Market like 2020 - dependent on safety and health recommendations. More details to come.