Updated: February 24, 2021
Green Bay sure has lived up to its name of an "untapped beer city on the brink of exploding" over the past few years. Greater Green Bay has ensured this prediction from Thrillist came to fruition, and it continues to grow. There are currently eight craft breweries overflowing with success (and suds), located within a few miles of each other and one more just outside Green Bay on the shores of Lake Michigan in the quaint little harbor town of Algoma with a second location now open in Green Bay!
You can never have enough beer around, but with so many breweries so close to each other, what sets one apart from the other. Each brewery has its own story to tell, with some truly unique characteristics to provide beer lovers something special when visiting their establishments and drinking their creations.  
Explore an "Untapped" Beer City - Map out your own beer trail and discover Greater Green Bay's craft breweries.
1. AHNAPEE BREWERY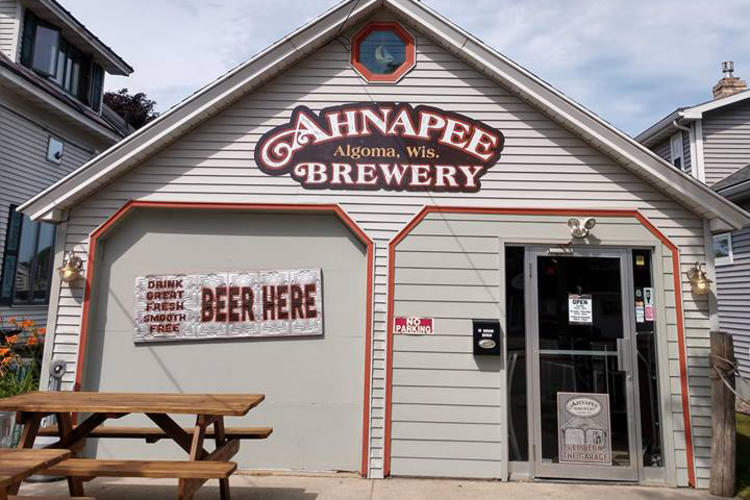 Meet your friends at the garage for craft beer from Ahnapee Brewery! This quaint brewery is located in historic Algoma, Wis., just 30 miles north of Green Bay along the shores of Lake Michigan. From the loose horses and fires, to the ice houses and fermentation vaults, Ahnapee Brewery owns an integral part of beer-making history in Wisconsin as far back as 1868. Fast forward 150 years to find Ahnapee Brewery re-imagined by Head Brewer, Nick Calaway. True-to-style small craft batches of full-flavored beers are produced in the old Carnival Guernsey Dairy northwest of Algoma, and are served in a two-stall-garage-turned-tap room. 
Enjoy more Ahnapee Brewery beer at their second taproom in Suamico on Green Bay's west side. Enjoy a lineup of 16 brews on tap, many newly released and never before brewed.
Known for: Two Stall (Chocolate Milk Stout), Little Soldier (American Amber Ale) and Café Blonde Ale.
2. BADGER STATE BREWING CO.
Step into a repurposed warehouse that is now Badger State Brewing Company. This brewery, located in the shadows of Lambeau Field, is bursting with Wisconsin pride! Wisconsin's state nickname is the Badger State. Aside from brewing and pouring their own beer, they are proud to pour fellow Wisconsin craft beers!
The Badger State beer list is impressive, ranging from their year-round Walloon Witbier, Green Chop Session IPA, and On Wisconsin! Red Ale to seasonal brews like scotch ale, smoked jalapeño porter, mashing pumpkin ale and the milkshake IPA series.
There's no need to worry about having a beer alone—your pup can join you for a pint at Badger State—just for company, though, please don't give beer to dogs. Enjoy outdoor seating in the Beer Garden, or sit at the bar inside with your furry friend. On select nights you will find a food truck to fill you belly and on a Friday or Saturday night in the summer you may catch music in the beer garden. If you are in town to cheer on the Pack, consider heading to Badger State for some tailgating fun.
Known for: Dubious Ruffian Chocolate Stout, Grassy Place Hazy IPA, Brewski
3. COPPER STATE BREWING CO.

After a career change to explore the world of craft beer, the head brewmaster brings his engineering perfectionism to this new art. 
For those who love great beer and appreciate the best of puns, Copper State Brewing is the place for you! You'll want to check out their brewery tours, ranging from the informative tour to a unique scavenger hunt experience. If you would like to get more enjoyment out of the brewery puns above, these tours are for you!

But great beer is not all they are crafting at Copper State Brewing Company—the restaurant menu has been carefully crafted for your enjoyment. Aside from unique burgers and woodfired pizzas, they have put together creative small plates and exquisite entrees that beg to be photographed and instagramed and tweeted, if you can hold off eating them for that long. Look for Engineer-turned-Brewmaster Jon's beer creations to be used in the menu as well.
Known for: Rugged North Lager, One Cent Wheat, Up Nort'er Nitro Porter
4. HINTERLAND BREWERY

Hinterland. The land beyond. The unexplored. A journey. Drinking Hinterland beer brings you on a journey to explore unknown territory.
Following a dream to be a [literal] rock star traveling coast-to-coast in a VW Bus somehow landed (future brewer and business owner) Bill Trassler writing for Beer, The Magazine. Aside from just enjoying drinking beer, Bill became enthralled with the beer-making world.  
Bill decided to take his own stab at the brewing process by purchasing an old cheese factory in Green Bay—what could be more Wisconsin than buying a cheese factory to turn it into a brewery? This has since succeeded into an amazing brewery and restaurant in Green Bay's Titletown District across the street from Lambeau Field.
This craft beer pours with intense flavor and zeal bringing you to hinterland with every sip! 
Known for: Packerland Pilsner, Luna Coffee Stout, Evergreen IPA
5. NOBLE ROOTS BREWING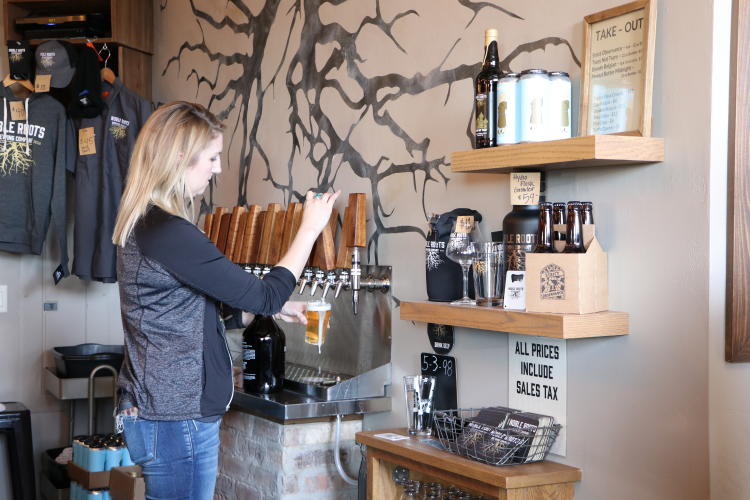 With deep roots in home brewing as a family bonding activity, this east-side brewery offers a welcoming and trendy atmosphere while pouring "home-grown-beer!" Many of their beers have fun stories either behind the name or the recipe—Mackinac Island Amber, was home-brewed many years ago to bring along on a weekend road trip with friends and was a big hit.  
Continuing to hone their brewing knowledge and skills, the guys of Noble Roots began entering their suds into competitions. They won four awards in the first year of competitions! This brought some added confidence in their beer pushing them to follow their dream of one day opening a brewery.
Noble Roots is proud to be a neighborhood brewery with approachable beer, a relaxed atmosphere, and an at-home feel. On warm evenings, sip your beer on the outdoor patio or enjoy the fresh air in the taproom with the large 'garage-door' open.
Kown for: Noble Roots IPA, Mackinac Island Amber, Midnight Confection
6. STILLMANK BREWING COMPANY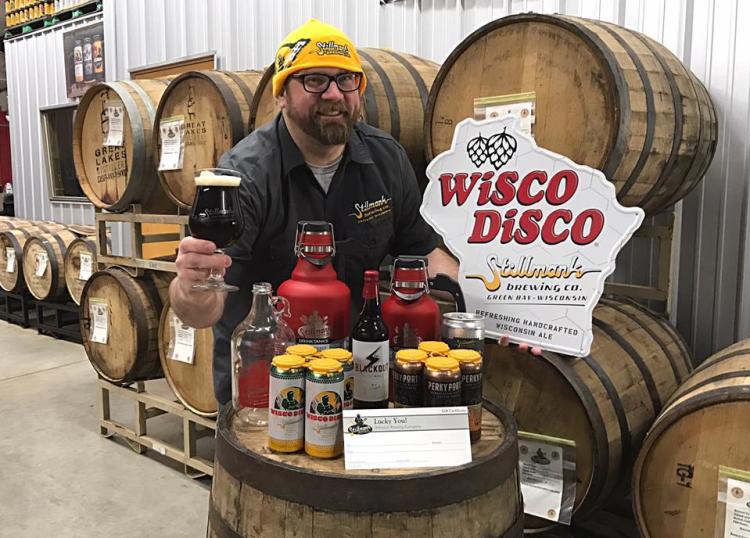 Disco may be dead, but don't tell Stillmank Brewing—their Wisco Disco beer is certainly alive and thriving. This ESB (Extra Special Bitter), an English Style-Pale Ale, is their most well-known brew. Wisco Disco has earned two gold medals at the US Open Beer Championship in 2014 and 2015; and a silver medal at the 2013 World Beer Championship.
Perky Porter is Top 5 Ranked English Porter on every beer lover's favorite app, Untappd. This porter is brewed with local coffee from La Java Coffee Roasting House. Ordering a Perky Porter at Stillmank Brewing Company will get you some taproom specials. It is served in a large coffee mug, often with a donut hole on the side. When you see the Double Perky on tap, be sure to ask for a pour of that to get a little extra coffee punch. From keg to tap, the Perky Porter passes through fresh ground La Java coffee.
Brad Stillmank, owner and head brewer, became a Certified Cicerone in 2009 – this man knows beer and knows how to make really good beer!
Known for: Wisco Disco, Perky Porter, Tailgater
7. TITLETOWN BREWING COMPANY

Take a brewery tour of Titletown Brewing Company to sip out of its Beerbler - a 'bubbler' is what Wisconsinites call a drinking fountain, but that's a post for a different time. What's important is that this drinking fountain flows with Titletown beer!! Oh, and they were named "Best Brewpub in America" by USA Today in 2016 and defended their title again in 2017.
For breathtaking views of Downtown Green Bay and the Fox River, head to Titletown's Roof Tap. This taproom, located on the roof, is open year-round, with both indoor and outdoor seating.
If you're looking for food, the historic train depot across from the taproom is Titletown Brewing Company's restaurant. This train station was built in the late 19th century with service along the coast of Lake Michigan to Milwaukee. Early Green Bay Packers teams departed for away games via this train depot and through crowds of cheering fans. Almost a century after the train depot opened and many years of history, Titletown Brewing Company was opened in the now vacant building in 1996 and has been writing a new and different kind of history.
Known for: Johnny Blood Red, Green 19 IPA, Dark Helmet Schwartzbier
8. ZAMBALDI BEER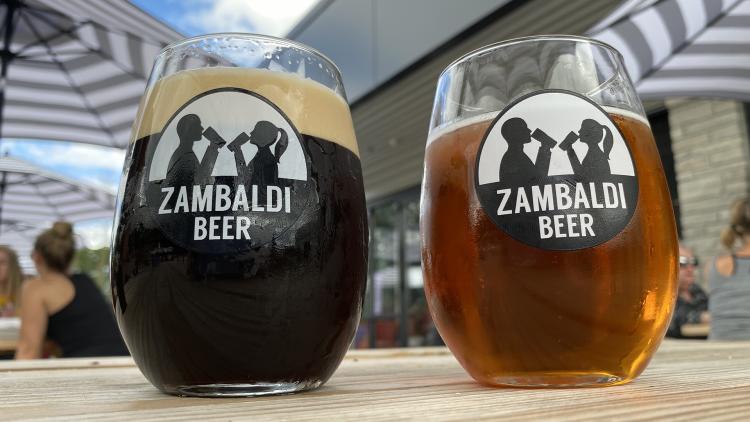 Zambaldi Beer is Green Bay's newest brewery located on Webster Avenue offering new craft beer flavors to try in the taproom or on the patio.
Head Brewer David started home brewing in an Army barracks in 1999 when he fell in love with craft beer in Washington state. Abby (David's wife) discovered how delicious beer could be while backpacking in Munich, Germany in 2005. Wade (Abby's big brother) has sought out delicious beer from Alaska to Budapest to Chile, and everywhere in between since 2000.  
The idea to start their own beer company, and eventually, a brewhouse and tasting room was hatched years ago, not surprisingly over delicious craft beer. That was before they all got busy with life - jobs, kids, a dog named Porter, chickens, move across the country and move back home again.  
What kept calling them back to Green Bay and to this dream was that they love raising glasses together. Abby and Wade's grandparents believed that every day, no matter how ordinary, deserves to be celebrated by raising glasses together.  
At Zambaldi Beer, they believe that every day is worth celebrating, and everyone deserves great beer. They are excited to share their beer and raise a glass together with you.
Known for: Meatball Man Amber, Good Dog Porter, Yard Games IPA
BREWERY TOURS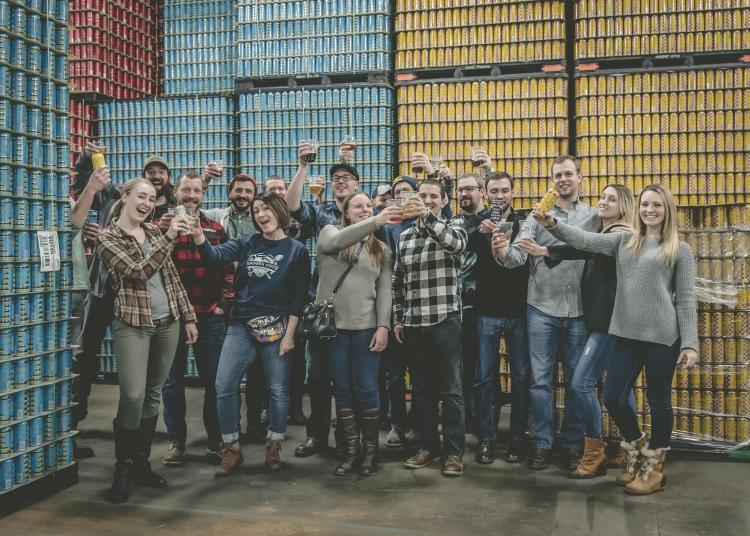 **This photo was taken pre-pandemic
Interested in seeing how they make the beer? Badger State Brewing Co., Copper State Brewing Co., Hinterland Brewery and Titletown Brewing Company all offer tours on Saturdays. Check their websites for times and to save your spot!
Note: Due to COVID-19 the breweries may not be offering public tours, call and inquire before going if looking for a brewery tour. All of the taprooms are currently open for business. Stop in for a flight or a pint, the breweries would love to see you and share their story.