How to Infuse Culture into Your Green Bay Trip with an Oneida Nation Visit
Introduce your family to the rich history of Wisconsin's Oneida tribe with these engaging and kid-friendly experiences.
Green Bay is a treasure trove of history — not just football history, but cultural history as well. Wisconsin's Oneida tribe has a rich cultural heritage, and it's all there for you and your family to appreciate during your next trip to Green Bay. But don't picture this as homework: You and your kids will be engaged and inspired by experiencing the centuries-old traditions of the Oneida tribe, also known as "People of the Standing Stone."
Come away with a wider perspective on Wisconsin's indigenous peoples by visiting the museum, viewing stunning art, attending a pow wow and much more.
Oneida Nation Museum
With its hands-on, immersive exhibits, the Oneida Nation Museum in De Pere is a great first place to start learning the history of the Oneida people. You can peek into a historic village diorama, experience original artwork and traverse trails on the property. Close out your museum visit with a stop at the gift shop, filled with historical books and traditional crafts such as jewelry and corn husk dolls.
Oneida Buffalo Overlook
Open year-round, this is a can't miss Green Bay experience! At the Oneida Buffalo Overlook, found in the town of Oneida, your family can gather on the covered observation deck and spy a majestic herd of buffalo grazing in the field. Don't forget to take a picture with the life-size bronze buffalo.
Woodland Art Show
Every fall, Green Bay visitors are in for an amazing cultural experience at the three-day Woodland Indian Art Show and Market. In addition to the 25-plus tribal artists spotlighted each year, you can take in live entertainment, fashion shows and discussions of Native culture. This year's art show takes place November 10–11 and promises to be a full-blown celebration of Oneida Nation traditions and heritage.
Oneida Nation Pow Wow
If you've ever wanted to attend a real-deal Native American pow wow, now's your chance. The annual Oneida Nation Pow Wow takes place in July and invites guests into a sacred cultural ceremony. During this three-day event filled with dancing and authentic music, you'll appreciate the beauty and reverence of the genuine costumes as well. Also, be sure to stop by the food and vendor booths, where Indigenous artists display their wares.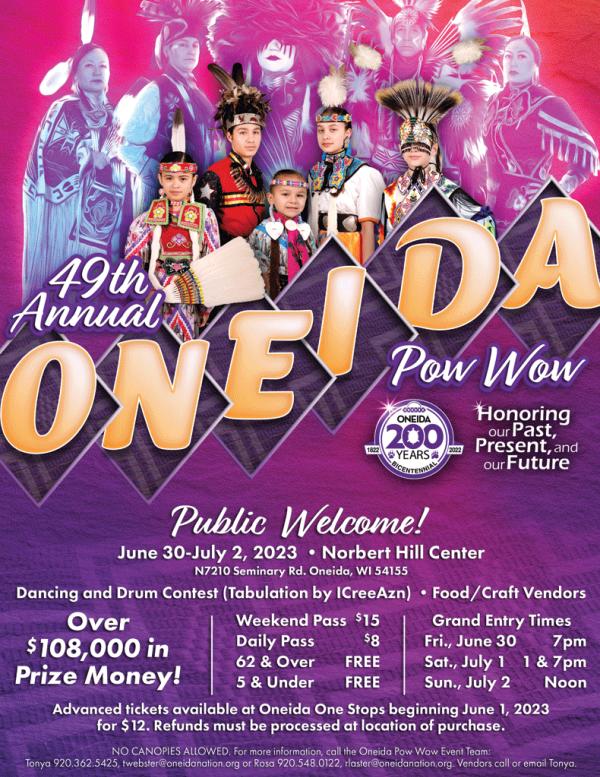 Oneida Long House Village
The Oneida Reservation provides several opportunities to take tours of the land, which includes the Amelia Cornelius Culture Park. Here, you'll find the recently-completed Oneida Long House, an exact replica of a traditional Oneida home. At a spacious 65 feet long, 25 feet wide and 17 feet high, it is filled with historical exhibits showcasing the Oneida people's origins and history, such as their participation in the Revolutionary War. The 35-minute tour is sure to be memorable and will give your family a glimpse into the past.
There are other tours on the reservation to enjoy in addition to the tour of the Long House. For instance, there's the Tsyunhehkwa Agriculture Tour, where you'll take in an all-natural organic farm punctuated by herds of cows, rows of white corn and tobacco plants. You can even add lunch to your tour to sample traditional Oneida foods.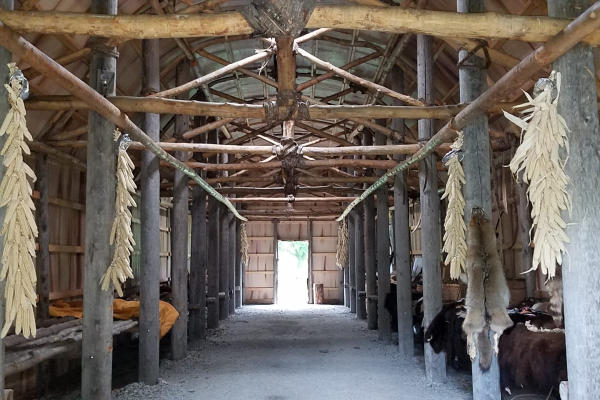 Oneida Nation Walk of Legends
Lastly, don't miss the Oneida Nation Walk of Legends on your trip to Green Bay. Situated on a public art walkway east of Lambeau Field, the walk features 24 statues that pay homage to both Green Bay's football history and the Oneida people. Each statue represents legends and notable eras of Green Bay Packers football while simultaneously sharing information on the Oneida Nation's history. Open 365 days a year, it's a great way to bring together two aspects of the region's history.
With so many options to learn about the Oneida Nation's rich history, you and your family will come away with unforgettable memories and new cultural appreciation.