Is there anything better than May in Wisconsin? The scent of new flowers blooming, the excitement of summer just around the corner, the sweet and tangy flavor of barbecue sauce in the air… Okay, that last one might not be exactly what you think of as late spring rolls through our fair state, but it should be! May marks National BBQ Month, and though we might not be south of the Mason-Dixon line, you can still celebrate with top-notch BBQ right here in Green Bay, Wisconsin, where the love for barbeque runs deep.
Keep reading to get the low down on all the best BBQ in the Green Bay area and get some tips for throwing your own backyard barbecue! 
T. Bacon's BBQ Restaurant
Self-described as an "unfussy place with a down-home vibe," we can't really think of a better atmosphere for indulging in some delicious BBQ than the one at T. Bacon's BBQ Restaurant on Holmgren Way in Ashwaubenon. Boasting meats that are smoked daily with hardwood and over 800 five-star reviews on Google, it's a safe bet that you're going to have a great experience when you visit. They have a wide variety of appetizers, sides, soups, burgers, and more, but of course, the main event is the BBQ.
Try a meat plate with your choice of nine different meat options and five different house-made sauces, or get fancy with it and dig into the brisket mac & cheesy BBQ burrito or Jen's BBQ BLT served with T. Bacon's signature BBQ aioli on two thick slices of grilled Texas toast. Is your mouth watering yet?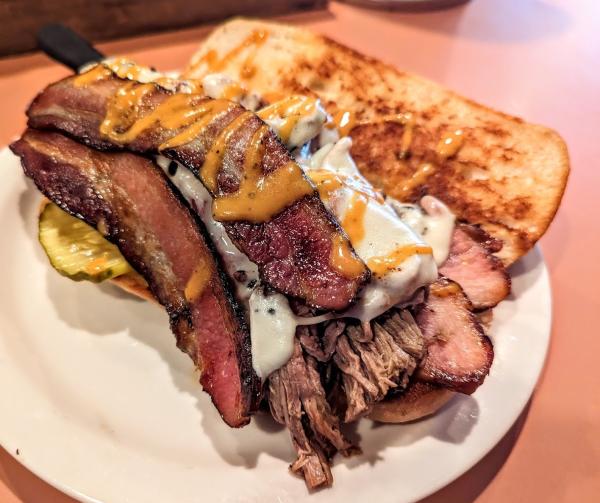 Parker John's BBQ & Pizza
If you're looking for a restaurant that combines the best of both worlds — BBQ and pizza, of course — then Parker John's BBQ & Pizza on Oneida Street is the place to be. This laid-back joint is perfect for a fun night out with friends or a casual family dinner. You'll have nearly limitless barbecue options like the Carolina BBQ sandwich, endless Thursday St. Louis-style ribs, Kansas City Burnt Ends, or the Pitmaster's Platter (described on the menu as "meant for sharing, yet possible for the daring").
But if you really want to expand your BBQ landscape, we recommend trying a BBQ chicken pizza. Loaded with hickory smoked chicken, PJ's signature sauce, and diced red onion, Parker John's proves that nothing goes better together than barbecue and pizza.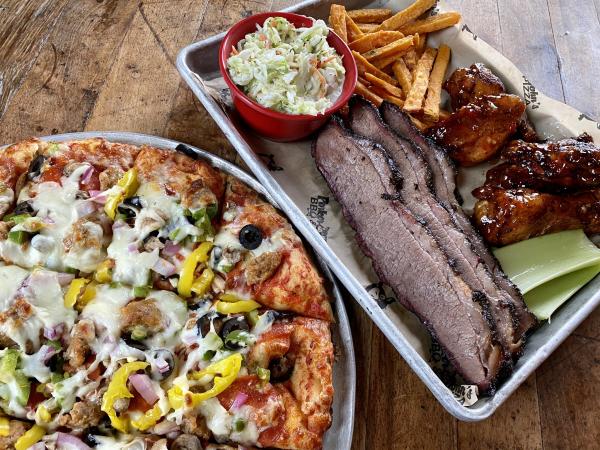 Scrapyard Smoker BBQ Food Truck
For those who love the quick convenience of a food truck or are looking to bring a little BBQ flavor to an event, Scrapyard Smoker is a must-try. You can find this food truck headquartered on State Street on the west side of the Fox River in Green Bay, but the beauty of BBQ on wheels is that it can bring the BBQ to you!
Scrapyard is a hit at weddings, work events, birthdays, and just about anywhere else where guests might enjoy dishes like tender, juicy pulled pork barbecue and barbecue mac n cheese. Don't forget a side of coleslaw — Scrapyard is known for its special coleslaw recipe that pairs perfectly with its BBQ options.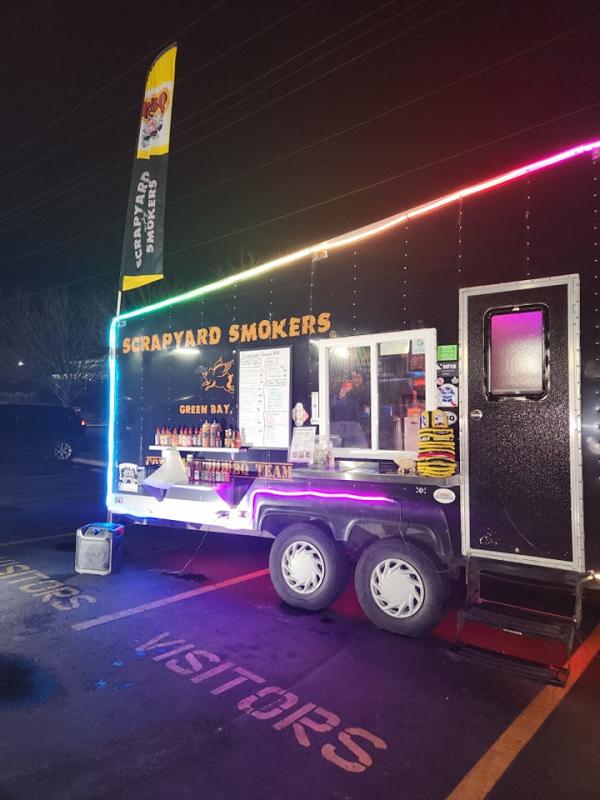 Or, Go Ahead and Throw Your Own BBQ
Want to celebrate National BBQ Month your own way? Fire up the grill! It's time for a good old-fashioned backyard style barbecue! 
Get Your Meats
When it comes to selecting the best meats for your backyard BBQ, quality is key. Look for fresh, high-quality cuts marbled with fat, which will help keep the meat moist and juicy during the grilling process. Two great places to get quality meats in Green Bay are Pelkin's Smokey Meat Market in Suamico and Maplewood Meats in Green Bay.
Pelkin's offers custom meat processing services, allowing you to select the exact cuts and preparations you want for your BBQ. And Maplewood Meats offers convenient pick-up and delivery options, making it easier than ever to get the meat you need.
Both markets offer a wide variety of options, from beef to pork to poultry and even bison and lamb, ensuring you have plenty of meats to choose from. By selecting high-quality meats from trusted markets like Pelkin's Smokey Meat Market and Maplewood Meats, you can ensure that your BBQ will be a delicious success.
 
Find a Grill
The weather is perfect this time of year, so why not enjoy it? Green Bay has several public parks with grills, picnic tables, and pavilions, making it easy to host a BBQ party even if you don't have the equipment or space at your own place. Visit the city of Green Bay's Parks & Recreation webpage for a full list of parks and facilities to find a park near you.
Let the Good Times Roll
Having a great BBQ is all about creating a fun atmosphere for your guests. Don't forget to stock plenty of extra food and drinks in addition to your main BBQ dishes! There's no shortage of grab-and-go food options around town (check out places like The Revolution Market and Scray Cheese) and of course, keep our amazing local breweries in mind for beer and seltzer. 
How Will You Celebrate National BBQ Month?
Whether you visit one of Green Bay's fantastic BBQ restaurants or host your own BBQ in a park, there are plenty of ways to enjoy delicious barbecue fare. So start your planning now, and get ready for a month of fun, friends, and barbecue sauce!