Sunday, April 4 to be exact and Greater Green Bay restaurants, shops and attractions are ready to help you make some plans.
Easter Fun
The NEW Zoo & Adventure Park
The NEW Zoo & Adventure Park is hosting its annual EggStravaganZoo on Saturday, April 3, from 9 a.m. to 2 p.m. The event has been redesigned with health safety in mind, featuring a new, spring-tastic activity that's sure to be fun for the whole family.
The "Great EggStravaganZoo Slither-hopper Count" will introduce you to a new "species" discovered at the zoo: the Eastern eared slither-hopper! These colorful, elusive creatures will be hiding throughout the Zoo during EggStravaganZoo, and it will be your job to help us find them.
During the event, guests can meet the Easter Bunny, see the animals, and (weather permitting) ride the carousel, PLUS, The Dog House will be on-site, serving up their fantastic, fresh, deep-fried cheese curds, along with delicious burgers, and more.
Purchasing tickets in advance is recommended due to limited capacity.
Broadway Eggstravaganza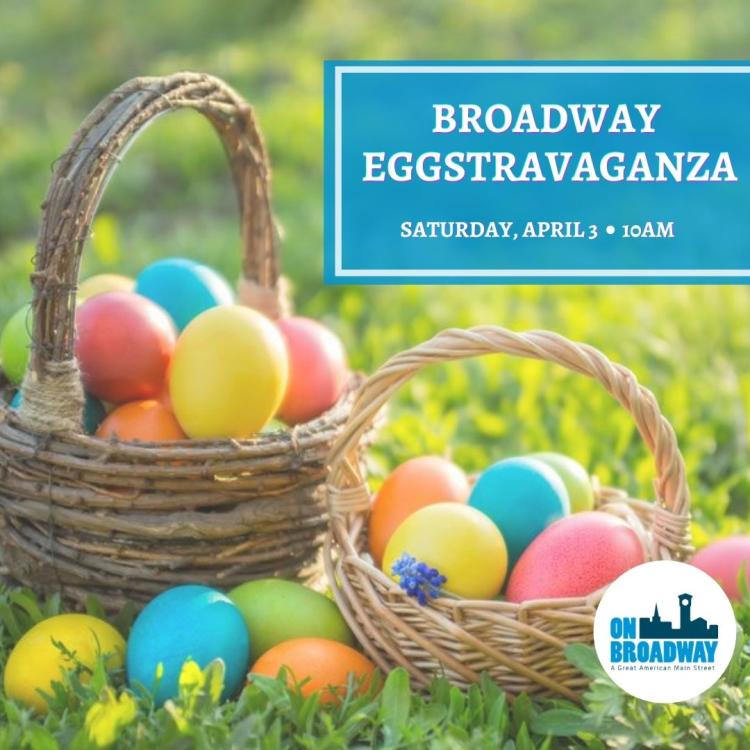 Come on down to the Broadway District as a family and spend the morning finding eggs throughout the district! Eggs will be hidden outside and inside participating businesses. Eggs will be filled with treats and coupons to use at Broadway businesses. If you're lucky you may even find an egg with a "golden ticket" for a larger prize! Along with the egg hunt there will also be a springtime scavenger hunt throughout the district. A big friendly bunny may make an appearance as well! This is a free event, but registration is REQUIRED. Click here to register.
Capital Credit Union Park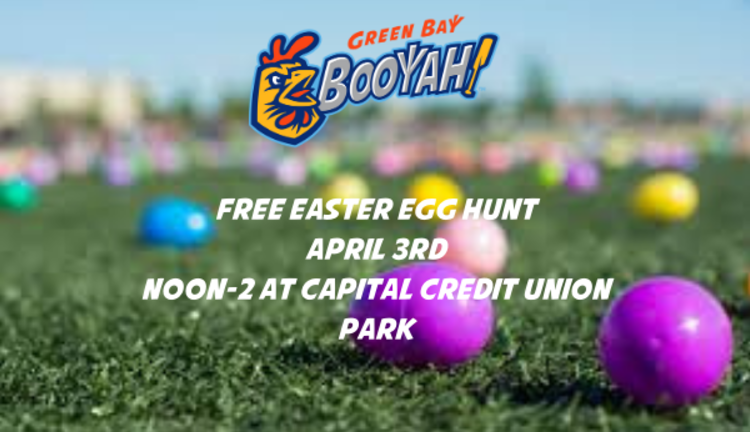 Capital Credit Union Park and the Green Bay Booyah are hosting a free Easter Egg Hunt on Saturday, April 3 from noon until 2 pm.
Kids and their families are invited to come out and 'hunt' for an egg on the field. Once found, the egg can be turned in for a goody bag, courtesy of the Green Bay Booyah. Booyah team mascot Rocky Bal-Booyah along with the Easter Bunny will also be on hand for pictures with the kids in attendance.
To ensure the team has enough goody bags to accommodate everyone attending, and to adhere to capacity guidelines within the stadium, the team will be limiting the event to the first 500 kids that sign up. Please fill out the online form to ensure admittance.
The Art Garage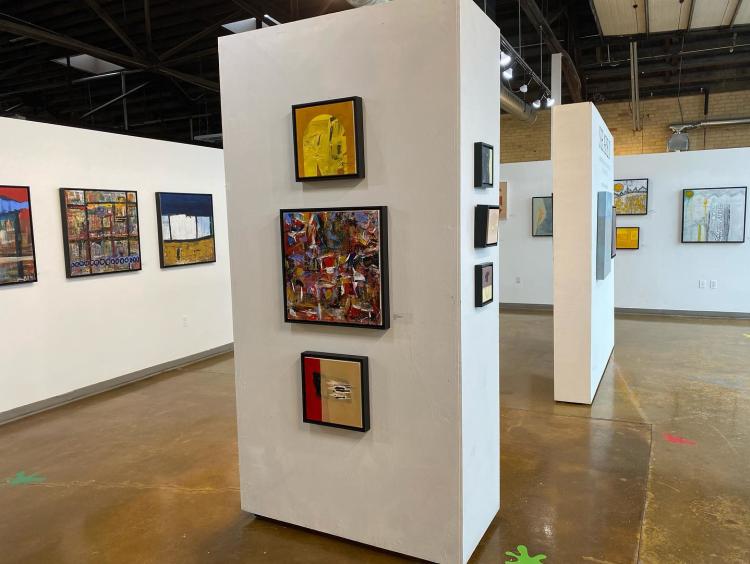 If you love art, you can create your own or view the exhibits with a visit to The Art Garage.
New Side Gallery Exhibit – Explore & Discover: Beyond the Map
Explore & Discover, beyond the map, is intended to take viewers through a unique journey to "visit" environments around the world. Road trips and travel have evolved over time from pioneer explorations to escapes from the chaotic and hectic lives that we now live. 2020 was a year of little travel, so enjoy a walk through various vacation spots to experience relaxation, adventure, and exploration. Thursday, April 1 through Sunday, May 30.
New Front Gallery Exhibit – Green Bay Arts Unlimited Art Exhibit
This April, Green Bay Arts Unlimited, a group of local artists, is presenting their spring fine art exhibition including artwork from members of their group. 
Easter Brunch
1951 West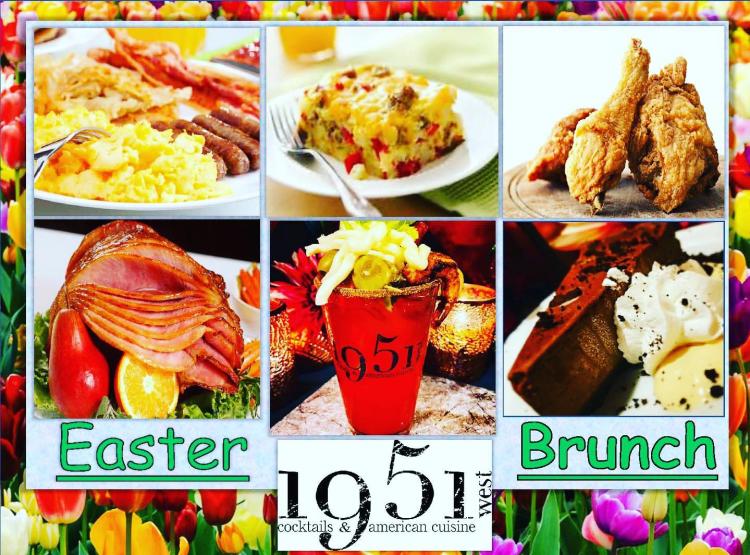 Enjoy Easter Brunch at 1951 West. Now accepting reservations for Sunday, April 4. They will be serving Easter Brunch from 9:30 a.m. until 2 p.m. Call 920-497-4701 today to make your reservation.
D2 Sports Pub - Stadium District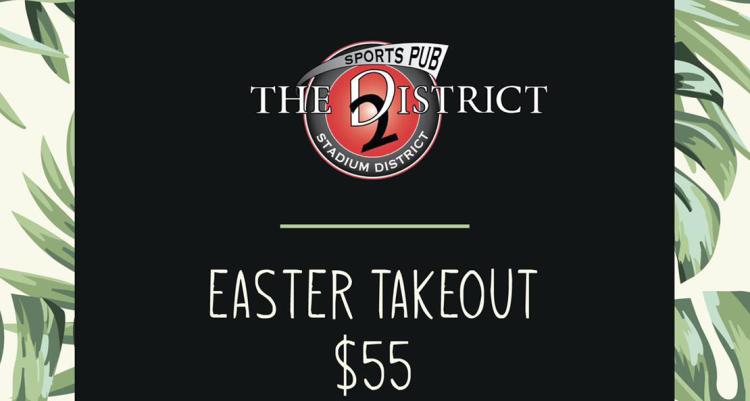 Enjoy Easter takeout from D2 Sports Pub. You get three pounds of ham, three pounds of mashed potatoes, three pounds of dressing, green bean casserole, coleslaw, gravy and buns; all for $55. All orders must be placed by April 1. Call 920-499-3110 to place yours today!
Graystone Ale House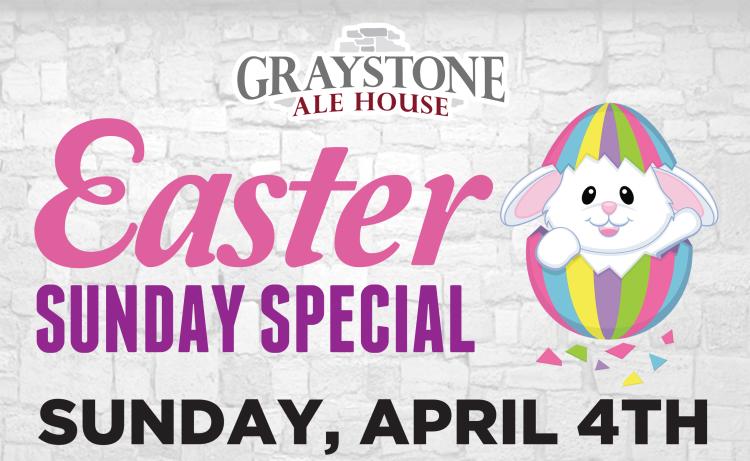 Graystone Ale House will be having an Easter Sunday Special for $12.99. Choose from hickory-smoked glazed ham or pressure-fried chicken. Served with cheesy potato casserole, steamed green beans, dinner roll and butter. Available for dine-in, delivery, curbside to-go and pick up.
Hagemeister Park
Hagemeister Park will also be having an Easter Sunday Special for $13.99. Easter plate includes hickory-smoked glazed ham. Served with cheesy potato casserole, steamed green beans, dinner roll and butter. Please call 920-884-9909 for reservations. Also available for delivery, curbside to-go and pick up.
Not By Bread Alone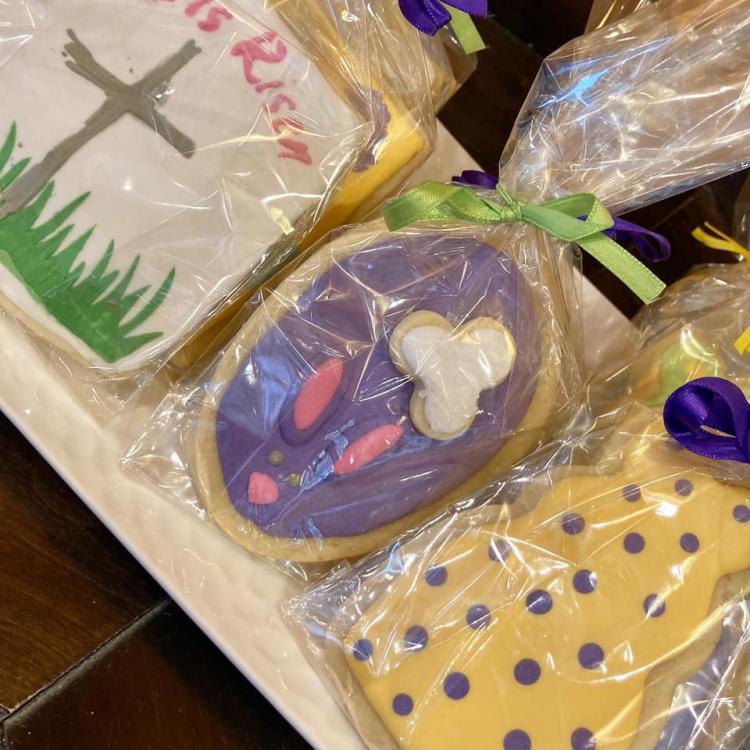 Not by Bread Alone is taking specialty orders for Easter through March 27. Bread and most dessert orders will be taken until April 2. Download menu.
Radisson Hotel & Conference Center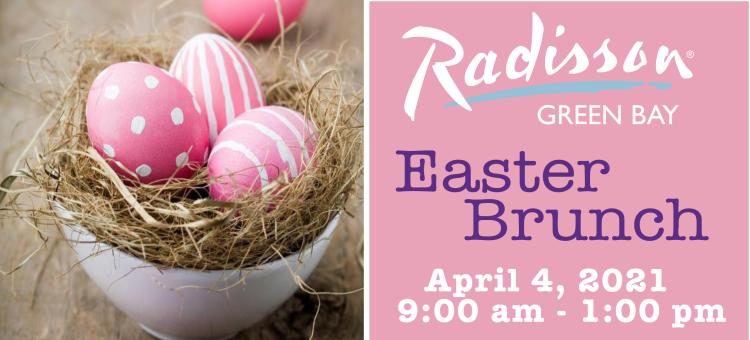 Join the Radisson Hotel & Conference Center Green Bay in the 3 Clans Conference Center for their Easter Brunch on Sunday, April 4 from 9 am to 1 pm. Enjoy live entertainment, mimosa and bloody mary specials. Brunch features: Chef carved cider-glazed bone-in ham, chef carved strip loin, teriyaki, glazed salmon, broasted chicken, bison mushroom stew, fettuccine w/ pesto cream sauce, primavera vegetable salad, vegetable fried rice, honey ginger glazed baby carrots, white cheddar chive mashed potatoes w/ gravy, fruit salad w/ lime honey dressing, made-to-order eggs & omelets, eggs benedict, farmers scrambled eggs, bacon & sausage, desserts & pastries. $24 per adult, $10 (ages 5-10), children 4 & under free. A Gratuity of 20% will be added for groups of 6 or more. Call 920-944-9759 for reservations.
Stadium View Sports Bar & Banquet Hall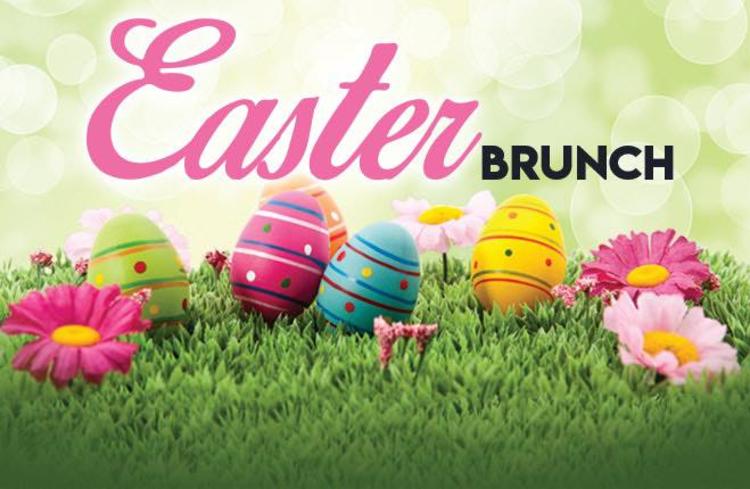 Call 920-498-1989 or stop in Stadium View to reserve your spot for their famous Easter Buffet!
Choose from chef carved ham, New York strip roast, broasted chicken, BBQ ribs, baked cod, mashed potatoes. Breakfast items to include made-to-order omelets, Belgium waffles, scrambled eggs, hash browns. Fresh Fruit and Dessert Table. Adults $19.95 Kids 5-9 years old $8.95. 4 and under Free.
The Marq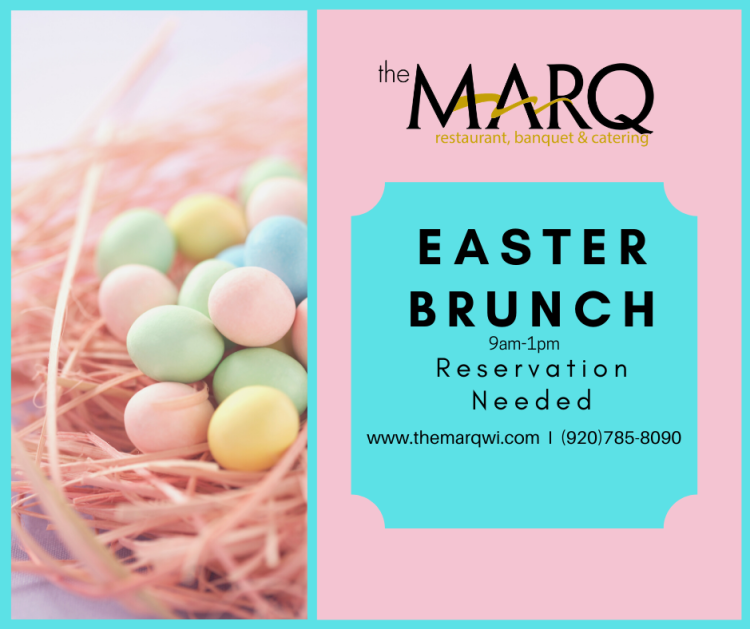 The Marq will be serving Easter Brunch from 9 am to 1 pm. Call 920-785-8090 to make your reservation today!
Goodies to Fill Your Easter Basket
Seroogy's Chocolates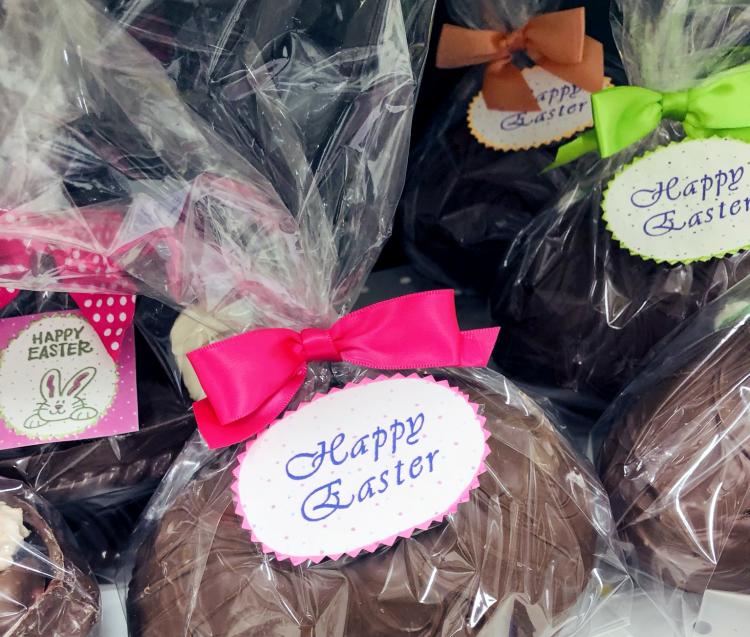 Easter is not complete without a stop at Seroogy's. There's an endless supply of chocolates, coffee, candy and gifts to fill your Easter basket.
Plus, the Easter Bunny will be hopping around both stores March 26-27 and April 2-3.
He will be waving at customers while he is there. Six feet social distancing will be observed to protect our customers, staff and the Easter Bunny, himself.
You do not need to make a purchase to see the Easter Bunny, but Seroogy's requires everyone except young children to wear a mask inside the stores. Check Seroogy's Facebook page for times the Easter Bunny will be on site.
The Candy Bar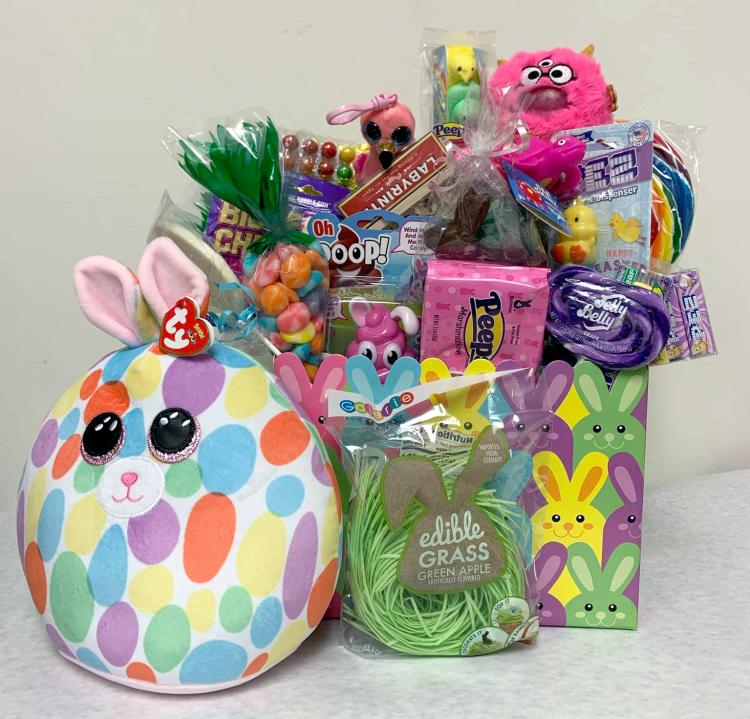 The Candy Bar located in Suamico is another spot with all the goodies to fill your Easter Basket with.
NEW Zoo & Adventure Park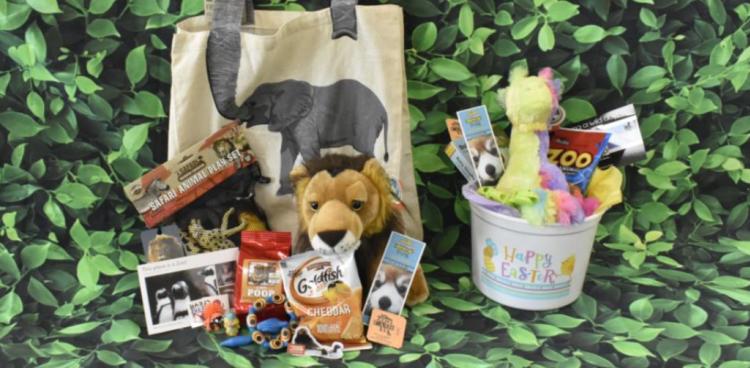 If chocolates and candy are not your cup of tea, then check out the springtime, animal-themed baskets and gift bags available for purchase from the NEW Zoo. Every basket includes a zoo admission ticket, a "Zoo Cash" ticket to ride the carousel, and an assortment of fun items from the Paws and Claws Gift Shop, such as plush animals, toys, games, trinkets, and more.
Let your fingers do the online shopping at newzoo.org - and the staff will do the work of putting the packages together, customizing them for the animal lovers in your life. Let us know the age of the recipient during purchase, and we'll make sure the basket is perfect for him or her.
All purchases must be made online prior to midnight on Monday, March 29th.
For more ways to fill your Easter weekend with fun, check out our Trip Ideas section.