Coworking Spaces
Coworking spaces are probably the first place most people think of when they need to do a little work from the road. Green Bay is home to several convenient and welcoming coworking spaces where you can set up shop for a few hours or a few days… whatever you need!
The Nest is a female-forward coworking club located on Broadway in Downtown Green Bay. The space is open 24/7 for women who want to get work done or just have a little "me" time. They offer a convenient day pass for just $35 that grants you full access to The Nest clubhouse plus two conference rooms. The only catch is you have to purchase the day pass at least 24 hours in advance, but as long as you plan ahead this is a fantastic option!
Also located in the heart of the Downtown District is The Urban Hub. This modern coworking space and programming hub in the Railyard Innovation District is perfect for remote workers, modern entrepreneurs, and corporate collaboration. Just like The Nest, they offer a day pass, which is perfect for visitors! Your day pass includes access to the space from 8 am to 4:30 pm, free on-site parking, free coffee for meetings, free 5G internet access, and more!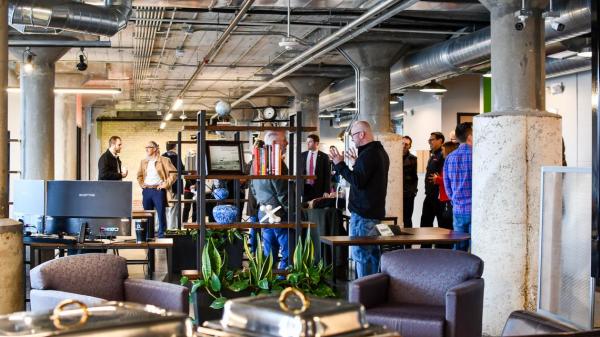 courtesy image from the Urban Hub
Cozy Coffeeshops
Are you looking for a more casual place to get some work done? Coffeeshops are perfect for this! While you're here, we invite you to skip the chains and try out some of Green Bay's amazing independently-owned coffee shops. Here are just a few of our faves:
This adorable cafe is owned by three sisters, and you can feel the love the moment you walk in. It's a perfect place to set up shop for a few hours because it has everything you need: energizing coffee, a warm and comfortable environment, and legitimately good food (because we all know you're going to get hungry while you work). We highly recommend The Lo Sandwich for breakfast, paired with either the Wildberry Smoothie or Campfire Chai.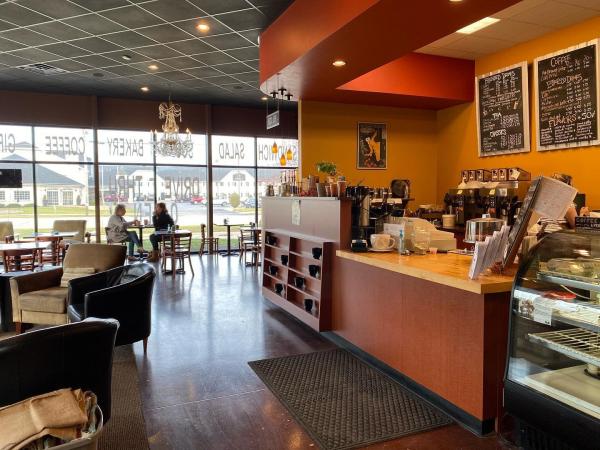 Tazza is another great place to grab a drink, plug in your laptop, and get some work done. Located in historic Downtown De Pere, this place has all the vibes and a seriously great coffee menu. Order up your favorite latte or if you can't decide, try one of their flights! They also have an ever-changing selection of sweet treats from local bakeries like Uncle Mike's and Monzu Bakery, as well as grab-and-go options that will hold you over until lunch!
The *Other* WFH 
In the last few years, we've all become very familiar with the acronym WFH but what about when you're away from home? Well, that's when WFH becomes "Work from Hotel." Luckily, almost all of the hotels in Green Bay have amazing business centers that have everything you need for a serious work sesh! Here are a few that we love to recommend:
The Hyatt Regency is a great place to stay if you want to have a productive visit to Green Bay. Their automated business center is equipped with computers, printers, and even online boarding pass capability. The best part? It's available 24 hours a day! And when you need to take a break, you can go for a stroll on the nearby Riverwalk or pop into The Market (located across the lobby) for a grab-and-go sandwich, salad, or snack. Talk about convenience!
We love St. Brendan's Inn because they're all about offering their guests sophisticated accommodations, authentic Irish food, Irish drinks, and Irish music. And if you need to log in and work, they have no problem with you bringing your laptop into the pub or dining room, or if it's nice outside, onto the back patio overlooking the Fox River. For a little more privacy, hotel guests are welcome to use The Waterford Room, as long as it isn't already reserved.
Green Bay offers a variety of options for travelers looking to stay productive on the go. Whether you're a digital nomad, a remote worker, or simply in need of a temporary office space, we've got you covered. Stay connected, stay productive, and make the most of your time with us!