Dogs Welcome: Best Dog-Friendly Places to Visit in Green Bay with Your Furry Friend
If you're looking to plan a dog-friendly trip, then Green Bay is the perfect destination for you. The area's welcoming nature is extended to canine visitors, as seen through its many parks and trails and its numerous patios that are more than happy to host you and your pup. Whether you're on the lookout for a hotel where Fido can snuggle in bed with you or an idyllic place for a walk together, we've got you covered with these best dog-friendly places that are sure to get that tail wagging.
Dog-Friendly Hotels
Nowadays, it's easier than ever to find accommodations made not only for you, but also for canine companions, and Green Bay is no exception. One such hotel is Aloft Green Bay, outfitted with modern decor that you'll love and a room where your pup is sure to feel pampered. Another option is Lodge Kohler, located right next to Lambeau Field. In De Pere, directly next to the St. Norbert College campus, there's the Kress Inn, a stone's throw from the Fox River with charming, traditional interiors.
Did you leave any dog essentials at home? You can shop at the Healthy Pet Market for anything you need, from dog food to treats to toys. They also purvey organic, nutritious options and supplements.
Playtime Perfection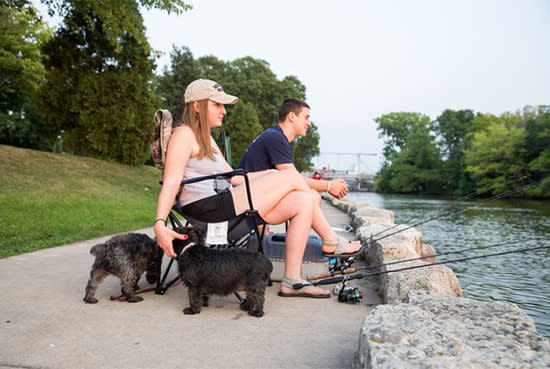 There are lots of spots throughout Green Bay where your dog can get playful, go for a long walk, and burn off some energy. At the fenced-in dog exercise area at Whitney Park (800 Main St.), hounds can go off-leash and make some new friends. The beautiful Gordon Nauman Conservation Area offers two areas, one fenced and one semi-fenced in the woods, that are made just for pups. And then there's the Fox River State Trail, which runs right through the heart of downtown Green Bay. It's the perfect dog-walking path as it's almost entirely paved and provides gorgeous waterside views.
After all that playing outside, perhaps your pup could use a quick bath? In that case, you can head over to Poochies & Mutts, which features dog boarding and daycare along with a do-it-yourself dog wash, complete with a tub and professional grooming equipment.
Patios for Pooches
Green Bay has no shortage of patio dining, and many gladly accept dogs to dine right alongside their owners. Across from the Fox River, you'll find The Depot, a place where you can grab traditional Wisconsin fare like a Friday night fish fry or a hearty burger. Their dog-welcoming patio is housed in a real-deal historic depot. For a delicious lavender latte and cherry almond muffin, visit Crystal Coffee Café & Beanery and sit at one of the dog-friendly tables on their patio. Perhaps you're in the mood for some vino instead. Head on over to The Bottle Room Wine Bar, which has outdoor tables where you can sit with your furry pal and savor a panini. If you'd love to catch a Packers game with your dog at your side, look no further than Poke the Bear Bar & Restaurant. Located downtown, this eatery boasts classic cocktails (order the Wisconsin Old Fashioned), lots of stick-to-your-ribs offerings made with fresh, local ingredients, and a stunning outdoor patio where pups will feel right at home.
Get Outside with Your Four-Legged Friend
Find a complete list of area parks to add some puppy playtime to your visit.