It's Friday Night, Let's Go Out
I can't pass up a night with live music. When I saw that the EPIC was bringing another country tour to town last Friday night, I knew I wanted to go to the show. I was sold when I saw that the event was partnered with Happily Ever After, a local animal sanctuary. Each ticket purchased directly helps the cats and dogs that the nonprofit cares for. While I haven't personally adopted a pet (yet), I know a few people that have adopted from Happily Ever After. I admire the organization, what they stand for, and the work they do. A fun night out for a great cause? Sign me up!
Arriving at the EPIC Event Center
As soon as I walked into the EPIC, I saw the partnership with Happily Ever After in action. Very cute and adoptable pups greeted us fans. I had the chance to meet a sweet dog, Alfredo. I'm sure every fan that held him wanted to take him home. Lots of other dogs were hanging out around the venue before the show got started. I was happy that I arrived when the doors opened so I got to experience this. I've been to quite a few concerts, but I had never been to a show like this.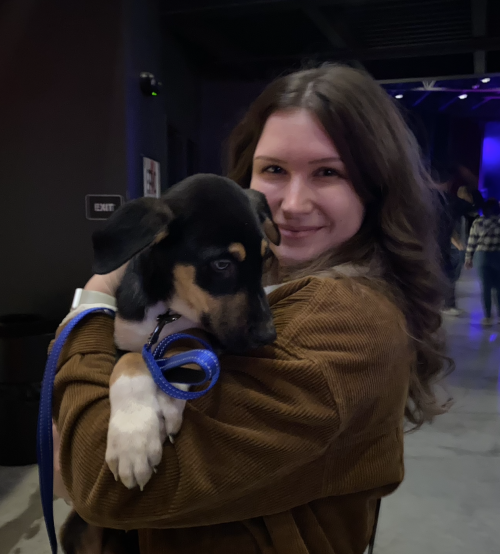 Getting Ready for the Music
I opted for standing tickets so I could be close to the action. However, the balcony at the EPIC is a nice option if you would like to reserve a seat. With standing tickets, it's especially nice to show up to the concert early so you can walk around and scope out your spot. I like having the time to grab a drink before the show gets started too. I enjoyed the drink special of the night that was themed after Tyler Rich's dog, Yukon. Cleverly, the drink was made with Yukon Jack whiskey.

Let's Get It Started: Mandi Sagal Takes the Stage
The first opener was Mandi Sagal, a Nashville singer-songwriter who is originally from Green Bay (and a Bay Port High alumnus). She had a very personal connection to the show since she adopted a cat from Happily Ever After years back. Mandi performed lots of original tunes and even a Shania Twain cover alongside her husband who played the guitar. I loved her song, "One Less Broken Heart," which is set to release in January. She shared a raw and real story behind the new music: I always find it impactful to hear the meaning of songs from the songwriters themselves.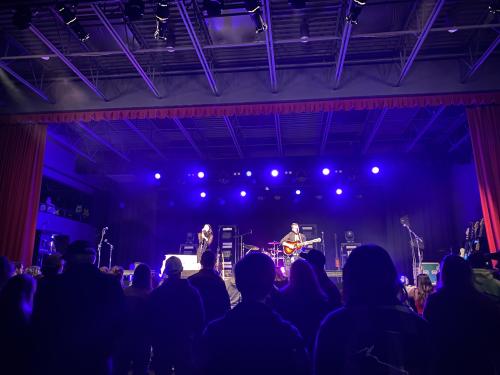 Up Next: Time To Rock with Robyn Ottolini
You may know her from her TikTok viral hit, "F-150." Robyn came out to the stage with lots of energy and a powerful band behind her. She delivered a variety of genres in between original songs and covers like Elle King and Miranda Lambert's "Drunk (And I Don't Wanna Go Home)." In the crowd, we got to hear her rap, get a bit rock-and-roll, and even perform Hannah Montana's "Best of Both Worlds." It was incredible to hear her play the piano and perform "Trust Issues." I was also happy to hear a bit more Shania; Robyn played "Whose Bed Have Your Boots Been Under?" with her own unique twist.
Hello, Headliner: It's Time for Tyler Rich
Last but certainly not least, Tyler Rich and his band met the audience. He's no stranger to Green Bay or performing in Green Bay. Like Mandi, Tyler also adopted a furry companion from Happily Ever After. Near the end of the show, we got to see his dog, Yukon, come out on stage. It was really cool to hear the story of Yukon's adoption and Tyler Rich's personal connection to the area. Not to mention, it was amazing to hear him perform so many of his original songs and even a "Billie Jean" cover. Tyler really engaged with the crowd and even refereed a beer-chugging contest between two fans in the front row. Near the end of the show, Robyn joined him for a song. His grand finale was "Leave Her Wild" (one of my favorites).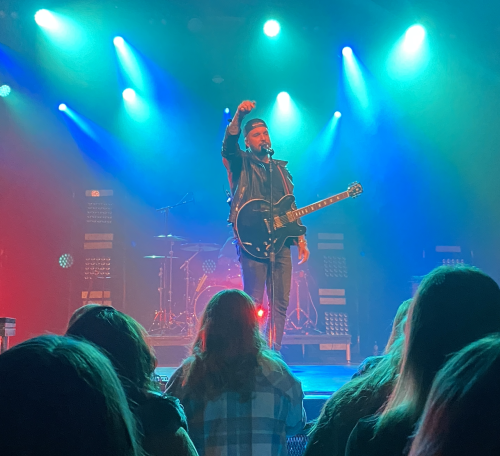 What A Night
Friday night's concert was an excellent blend of performances that left me excited for what may be next at the EPIC. I will definitely be keeping my eye on upcoming show announcements. I understand that not every concert can be accompanied by adorable pups, but let's just say, I wouldn't mind it.