Saturday, August 5 is the 22nd Packers Family Night, presented by Bellin Health. If you've never attended Family Night, you are about to experience something you and your family will never forget. Since we've been around the block a few times, allow us to fill you in on everything you need to know as a first-timer!
What is Family Night?
Packers Family Night is so much more than just a team practice; it's an introduction to the 2023 team and a beloved annual tradition for fans of the green and gold! It's a great way for kids of all ages to get inside the stadium and see the team in person, at a price point that is much more wallet-friendly than an actual game can be. But that doesn't mean they skimp on the fun. The Packers go all out on Family Night with all kinds of fun games, activities, freebies, and bonus performances, including a full on fireworks and laser show to close out the evening!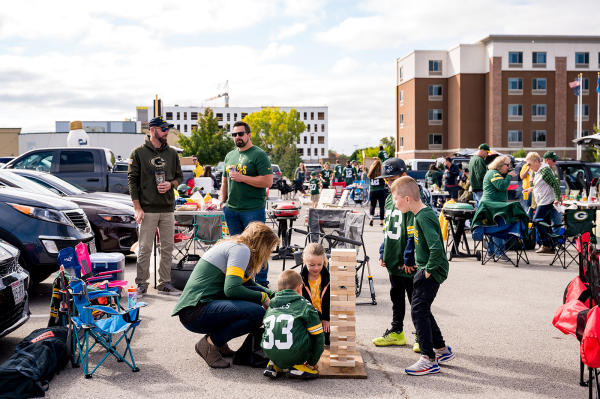 Getting Your Tickets
Tickets for Family Night are only available through Ticketmaster. All individuals, regardless of age, will need a ticket. Note: refunds will not be given for inclement weather unless all stadium activities – from 5:30 p.m. until the end of the fireworks show – are canceled.
During the Day
We recommend starting your big day off across the street at Titletown for the Titletown Family Fest. This free event includes tons of activities, games, and entertainment for kids and families. There will be food trucks available, as well as ice cream and snow cones, face painting, and hair glittering. Kids can also take part in the "Hail Mary Challenge" to see if they have what it takes to become a Packer someday. This is a great way to spend a few hours before the official Family Night activities start at Lambeau Field at 3:30 pm.

Where to Park
If you're going to the Titletown Family Fest or just Packers Family Night, limited parking will be available at either Titletown and Lambeau Field for five dollars. Only credit cards and mobile payments will be accepted (Lambeau Field is cashless). Due to the large number of people attending Family Night, you can expect parking to be limited. It's a good idea to arrive early if you can. If the lots are full, street parking will also be available in nearby neighborhoods.
What to Bring
Like most stadiums, Lambeau Field does have a specific bag policy. You may bring a small clutch purse no larger than the size of a woman's hand, a one gallon clear plastic bag, or a clear plastic or PVC bag no larger than 12" x 6" x 12" into the stadium with you. Stadium seats smaller than 18" wide are also allowed, as long as they only consist of a seat cushion and back rest (no arm rests). Small cameras and binoculars are also allowed. Coolers, video cameras, umbrellas, obstructive signs, food, beverages, and weapons will not be permitted.

What to Wear
It's going to be warm — yes, even at night — so be sure to dress accordingly! It gets a little hot inside Lambeau Field once everyone's in their seats! Additional layers of clothing and blankets are allowed if they're carried loosely (e.g. not in a bag) so you can bring those items in case you need them. This year, the Green Bay Packers are encouraging fans to wear white for a Lambeau Field White Out. They will use the "Packers FanCam" to take photos, which you can download after the event at packers.fancam.com.
Pre-Kickoff Events
As mentioned above, Family Night kicks off at 3:30 pm. The Johnsonville Tailgate Village will have a DJ playing music and asking Packer-related trivia questions. There will also be games, a sign making station, and lots of other fun activities! At 5:30, the Family Night activities begin inside the stadium bowl. First, fans will see a Packers highlight film, then a few local youth teams will get a chance to scrimmage on the field. At 7:00 pm, the team warm-up will start and the practice officially begins at 7:30 pm. The practice usually lasts a little under two hours.

Freebies + Fireworks
If you're lucky, you'll end up taking home some really great freebies from the event! There are going to be tons of booths in the Johnsonville Tailgate Village before the practice starts, so be sure to head over and see what kinds of goodies they have! Inside the stadium, a hype team will be doing t-shirt tosses throughout the practice and the Packers will also be giving away their used Family Night jerseys to fans in attendance. At around 9:30, the evening will wrap up with a fantastic fireworks and laser display that will delight everyone, even the grown-ups!