"I firmly believe that any man's finest hours – his greatest fulfillment of all that he holds dear – is that moment when he has worked his heart out in good cause and lies exhausted on the field of battle – victorious." –Vince Lombardi
There isn't much that I remember about Super Bowl XLV. Sleep deprivation (aka the six-month-old baby I had at the time) can do that to you. I could never forget, however, the emotions I had as the game came to a close. I can slip into that feeling as easily as I put on my favorite CU sweatshirt. I wonder what it was like to have actually played because as a spectator I felt deep gratitude to have been there and palpable relief that the ultimate goal had been realized, an entire season, an entire career of hoping had come true.
The whole team was laughing, hugging, and playing in the confetti…and at the center of it all was the Lombardi Trophy. Could anything be sweeter than winning a Super Bowl wearing green and gold?
The men on that field were there together, victorious, because they had been drafted or signed on to the team by Ted Thompson. That brings me back to the topic at hand, the 2025 NFL Draft (and all the games and time in between) and what I would suggest you do if you come and visit. This won't be the first time that Wisconsin has hosted the draft. In 1939, the 1940 draft was held in Milwaukee. The event traveled around the country a bit before landing in NYC for a few decades.
It wasn't until 2015 that the show went back on the road and now Wisconsin has been bestowed the honor once more. The time that has passed since Mason was drafted to the Packers has passed in a blur but every post I write about my favorite things to do in and around the city is a chance to again slip into that feeling of gratitude and joy…savoring all the good and fun that has come my way while living in the state of Wisconsin.

De Pere in a Day - Take 1
Let's establish a few ground rules, shall we? This post is going to be a lot about eating and shopping. You can't say I didn't warn you. Also, no one go pulling out a map and pointing fingers. I will be grouping things together in a way that makes sense to me and absolutely is how I would put my day together. So let's call this De Pere-ish.  Also, today's post has a theme and that is Vince Lombardi! He lived in a home right outside De Pere! I love this quote and it has a one size fits all sort of quality.  "Confidence is contagious. So is lack of confidence." Let's apply this to shopping. And travel. And maybe parenting.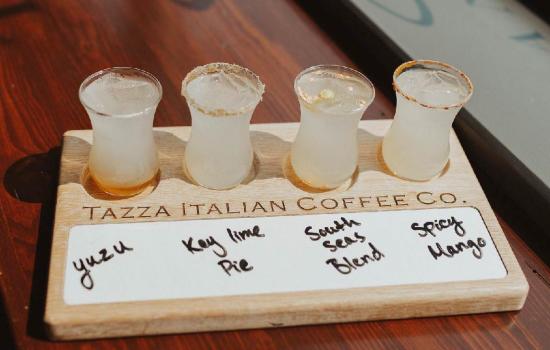 Anyways, the first thing you are going to do is make sure you have on a legitimately comfortable pair of shoes. All set? Set your GPS for downtown De Pere and find a place to park on North Broadway, North Wisconsin St. or George St. Your mission: Tazza Italian Coffee Co. I will be honest; I have zero reviews to give of the coffee. I don't drink coffee! The little latte flights I have seen come out however are just precious and Mason has downed every cold brew or latte I have brought home so I do have plenty of confidence as I recommend something that I don't really care for personally. Here you can fill up on croissants, egg bites, and cute little Italian pastries. I am all about the tea selection (side note La Java in Howard has a killer loose-leaf tea collection as well…get the Almond Cookie Green Tea…sorry should have mentioned this earlier). The cozy environment at Tazza might have you wanting to stay but nope, not on the agenda for the morning. Take everything to go and head down to Voyageur Park.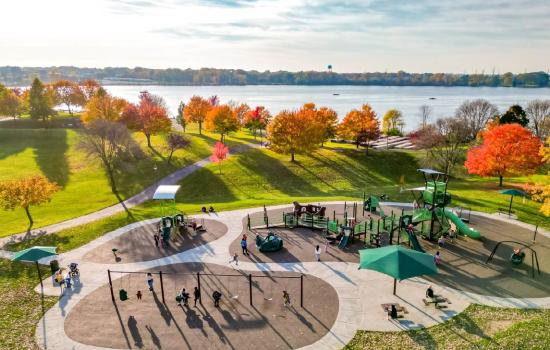 This park has everything; it is handicap accessible, has music installations which is helpful to hear your kids even when you might momentarily lose sight of them, unique swings, massive slides, different sized plays capes for varying ages and benches to sit and enjoy the river. I understand that as a visitor you aren't going to go into the Kress Family Public Library but if fabulous parks with river views aren't your thing you could go into the basement level of the library and see the intricate model trains set up by a local train club. So miniature and cute. This is a favorite stop when my dad is in town as a matter of fact.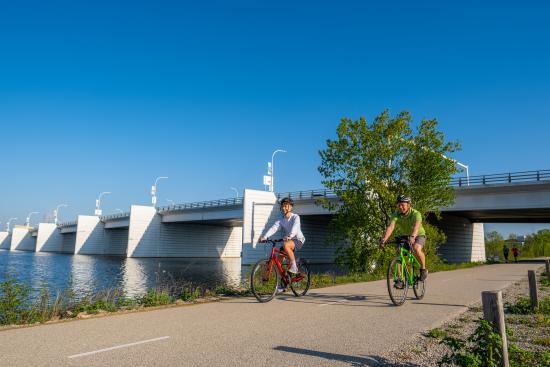 After you have finished your breakfast hit the Fox River trail; gotta make some room for lunch! When you get back to the park go ahead and cross the street towards the gas station and walk until you get to the Union Hotel. It is said a long-time resident Gerald "Dad" Brasher, who was a Packers equipment manager, helped fashion the team logo here. Coach Lombardi asked Mr. Brasher to help develop a logo for the player's helmets and it was late at night in the room he held for 40 years at the Union Hotel that the iconic emblem came to life. According to Milwaukee Journal Sentinel reports the "G" wasn't actually for Green Bay, it stood for "Greatness". Once approved by Lombardi it has gone on to become one of the "most universally recognized sports symbols in the world" (Journal-Sentinal). A reason to pause if I do say so myself!  
If it is lunchtime, you could stay awhile otherwise cross the street and find yourself Hey Daisy a women and girls boutique that several of our out-of-town guests like to frequent every time they are in town. My absolute mainstay for gifts forever is The Puddle Duck. My go-to gift for a teammate or coach having a baby is a magnetic onesie, teeny little Packer knee socks, and a Packer ABC book.  Creative Packer gifts you won't find anywhere else as well as the perfect hostess gifts, travel items, kid's clothing, and toys, and even hilarious socks for adults. Puddle Duck has single-handedly made me a better friend and family member because Kristy the owner has everything you need for celebrating babies and new homes to consoling the deepest of hurts. Plus, they gift wrap. Plus, they ship.  Before you leave this area poke your head into Alpha Delights. The Chicken Salad is a signature as far as savory items go but I've never been able to say no to one of their lemon bars either.
As you walk out of Alpha Delights it is decision-making time. "No one knows when the big play is coming up, therefore every player must go all out on every play." –Vince Lombardi.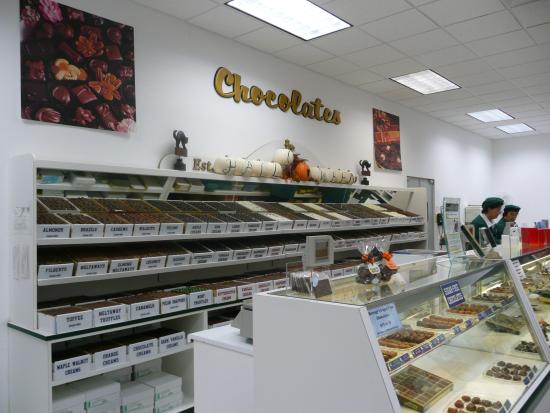 Time to dig deep here. Do you head directly into Seroogys Chocolate shop or continue around the corner to Azure Clothing, and try on clothing BEFORE chancing chocolatey fingers from Seroogys? Life is full of tough choices and I'm curious which way you are going to go with this but whatever your decision, leave it all on the field. You will need to leave yourself plenty of time for Azure. I miss Shanna and Ally and their expertise so much that we are in talks about seeing the store expand down here in Tennessee! They have styled me for everything from charity events, football games, and NFLPA meetings to Packer lady's events and everything in between. The result is always the same…a distinctive look that is perfectly on point for the task at hand. Case and point, the NFLPA meetings were in Scottsdale a few years back and I ran to Nordstrom to grab something and the main buyer for the store came and interrupted my shopping because he just had to know where my outfit was from and how he could bring it into the store. I have been inspired over the years to see how Shanna has brought her dreams to fruition and I think another Lombardi quote is fitting here.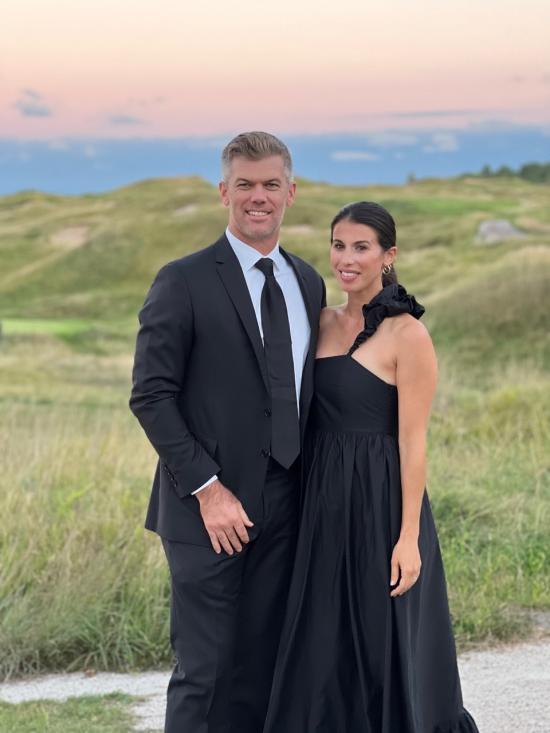 This dress is from Azure and has pockets…Worn it to three weddings and counting lol
"There is only one way to succeed in anything and that is to give it everything."
Here's to our next adventure Shanna! I would be remiss not to say go ahead and start saving your pennies now and by pennies I mean dollars but in my opinion, to buy less but buy quality and support an independent viewpoint is worth it every dime. I mean time. 
Another go-to that I tend to share immediately with new girls on the team is the clean beauty boutique, Verde. Tatcha Harper, Supergoop, FitBeauty, Osea Malibu…you want it they have got it! Seriously y'all there is a seriously decadent day to be had in just this one section of De Pere.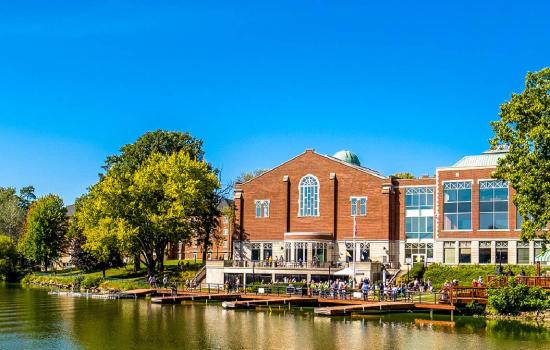 Walk over the bridge at this point and take a stroll around St. Norbert College campus and check another Packers must-see off your list. The tradition of Packers players staying in the St. Norbert College dorms started in 1958. Coach Lombardi was very close to former SNC president Father Burke and the tradition continued and became the longest-running tenure of a team staying in one place for training camp in the NFL. History everywhere you turn!
You will need to return back to your car to get on over to Bleu but hopefully, you found everything you needed during the day to make getting ready for dinner a breeze. The menu changes so often here that I don't have specific suggestions other than the goat cheese curds. Legendary.
De Pere in a Day-Take 2
Eating, shopping, and eating some more might not appeal to all so what if there was another choice?
Start your morning Jenstar Movement Studio. Feel a little out of shape or new to yoga? I can assure you this is a judgment-free zone. A very pregnant, fairly new to yoga Molly once fell asleep in this class when it was the deep relaxation part. Jen and I have been friends ever since lol.
No need to change into anything fancy, just head straight to breakfast at Toast and Co. Homemade chai, Mario's Power Up Omelet made with egg whites only, and a side of sourdough and jam, thank you very much.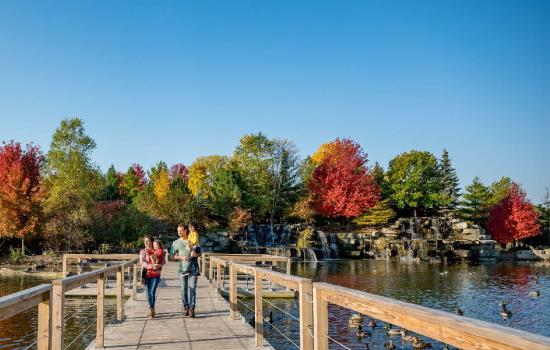 The day of wellness continues as you take Highway 172 to Bay Beach Wildlife Sanctuary. This is where I need us to not get too into details. This probably doesn't count as De Pere but I have done this exact day too many times to count and told guests we were spending time in De Pere so let's not be sticklers here. This place is just magical. It doesn't cost anything unless you buy food for the ducks and geese and is great in any weather. Explore the trails and see bobcats, and wolves, feed the deer, and watch your little ones run amuck with zero stress as the whole thing has a perimeter fence. Well, I suppose the children might be a little stressful if you are the aforementioned wildlife but I have always really enjoyed the experience. Inside the visitor center is a two-story slide that can tire out even the most wired kid as well as interactive learning displays.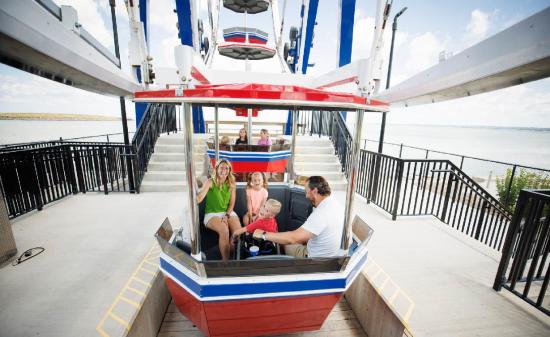 If you are in town for training camp go straight from the Wildlife Sanctuary over to Bay Beach Amusement Park! This attraction is over a hundred years old and is full of good old-fashioned fun. My kids BEG to go here. Come to think of it when grandparents come to town they also BEG to go here : ) Most rides take a ticket or two and the tickets cost a quarter. It is charming and clean and home to the Zippin Pippen, a wooden roller coaster! Kind of like Coney Island, Green Bay style.
Abravo Bistro is a great option for lunch and even has a little Packer flare as Donald Driver was an investor here at one point. The Big Boo special was his signature order however my signature order is to call ahead and make sure they have a sweet potato pie for me and eat only that for about 3 days straight. Fine, you caught me, that thing is usually gone in 2 days and I'm certainly not sharing.
If you brought your clubs head on over to NextGen for a little golf  (spoiler alert you have to bring your clubs for when you go to Kohler, to be detailed in another post at another time). Also, an option is to do a tiny bit of backtracking and go to Heritage Hill State Park. This is a no-brainer for soaking up some historical context for the area that isn't Packer related.
Dinner tonight will be at Plae Bistro. I couldn't tell you what is good there other than the seared Ahi as I had that the first time I ever went and loved it so much I have never tried anything else. Don't sleep on the Plae Ceasar salad and whatever you do make sure someone at the table orders the risotto of the day!
Well there is another day (or two) in the books. Which day is more your style????