Traveling can sometimes be challenging for children and adults with unique abilities. Changes in routine, a lack of predictability, noises, and large crowds can be difficult, especially when you're in a new place. Discover Green Bay has compiled a list of accessible and sensory-safe attractions that you and your family can enjoy while you're here. We want to make sure Green Bay is an amazing place for visitors of all abilities!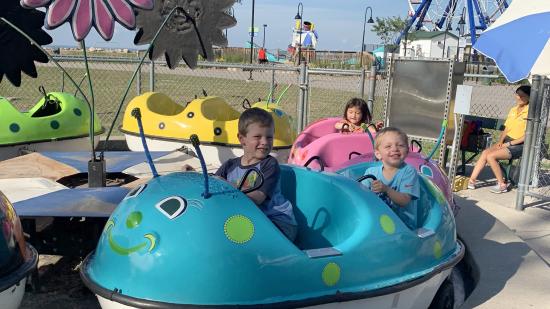 1660 E Shore Drive, Green Bay, WI
This 700-acre wildlife safe haven is located on Green Bay's north east side. Adults and children of all ages and abilities will love exploring nature up close (or safely distanced). They also have amazing wildlife encounters that can be accessed via paved trails. Various lookouts and viewing areas will give you a unique and memorable glimpse of the area's natural beauty. Admission to the park is always free, and it is open to the public year-round. 
2600 Larsen Road, Green Bay, WI
As the leading educational, recreational, social, and horticultural destination in the midwest, the Green Bay Botanical Garden gives people of all abilities an opportunity to be inspired, no matter the season. From butterfly gardens in the spring to the beloved WPS Garden of Lights display in the winter, there's always a good reason to visit. About half of the garden has paved walkways, and wheelchairs and electric scooters are free to use on a first-come, first-served basis.
1273 Lombardi Access Road, Green Bay, WI 
Finding a place to let the kids run and play is key when you're on a family vacation. Although Chuck E. Cheese is a very stimulating place for any child, they do offer a sensory-friendly experience for the first two hours of the day on the first Sunday of every month. The lights are more dim, the show and music is either quieted or turned off completely, trained staff is on-hand to assist with anything you need. Mark your calendars for Sensory Sensitive Sunday and enjoy a less crowded environment and a fun-filled visit.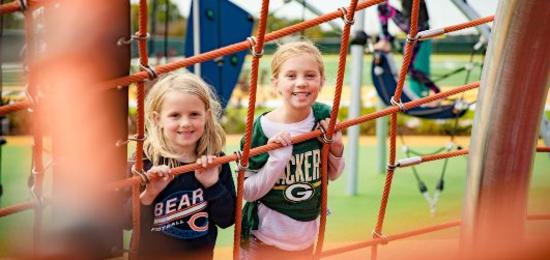 1065 Lombardi Ave, Green Bay, WI
The 36,000 square-foot playground in Titletown features several play areas geared toward kids of all ages. Packers fans will love the football-inspired Play-60 themed equipment, and kids who want to test their skills will enjoy the timed 40-yard dash component. There's also several climbing structures, unique slides and surfaces, spin buckets, and lots and lots of room to run. The Titletown Playground is open from 8am to 9pm daily, but is closed during the winter months.
2881 S Broadway, Green Bay, WI
If you're visiting in the warm, summer months, you'll definitely want to spend a few hours at Ashwaubomay Lake. This large, man-made lake features a huge sand beach, sun arbors, a toddler slide, sand and water playground equipment, picnic areas, and an accessible Mobi-Mat. The lake is open daily in June, July, and August from 11:00am to 6:00pm and on Wednesdays, it stays open until 8:00pm.
1230 Bay Beach Road, Green Bay, WI
The Children's Museum of Green Bay is an amazing place to let your kids learn, explore, and get curious. Every fourth Thursday of the month from 3:30 to 5:30pm, the museum hosts a sensory-friendly night designed specifically for children with different abilities. Kids are able to express themselves in a safe environment which includes dimmed lights, adjusted sounds, fewer crowds, and trained staff. No registration is required, just come on in and play!
790 Hansen Road, Suite A, Green Bay, WI
Trampoline parks are super popular among kids of all ages and abilities! On the first Saturday of every month, Get Air Trampoline Park has a dedicated "Calmer Atmosphere" time for jumpers with special abilities from 8am to 10am. During this time, the music is played at a decreased volume and parents can assist jumpers on the trampoline for free. Siblings are welcome to jump for the same price, as long as they are more careful.
2024 Lakeview Dr, Suamico, WI
Barkhausen is home to over 900 acres of forest, meadows, and wetlands. They also have an amazing and inclusive Sensory Woods experience, which helps to connect people of all abilities to the unique sensations of nature. There are so many ways to interact with nature, including a woodworking table, chime wall, interactive and visual stations, magnifying station, sensory wall, and more! They also have accessible trails and scattered seating to accommodate all needs.