In this blog, we'll introduce you to the five best vegetarian dishes in Green Bay so you can experience the city's flavors without compromising your dietary preferences. Let's dig in and discover the top five delicious veggie options in Green Bay!
#1 - Kavarna's Black Bean Burger
Since 1999, Kavarna has been a staple coffeehouse and community space in downtown Green Bay, and they boast one of the most robust vegetarian menus in the city. Just glancing at the menu, you'll find 15+ different vegetarian options.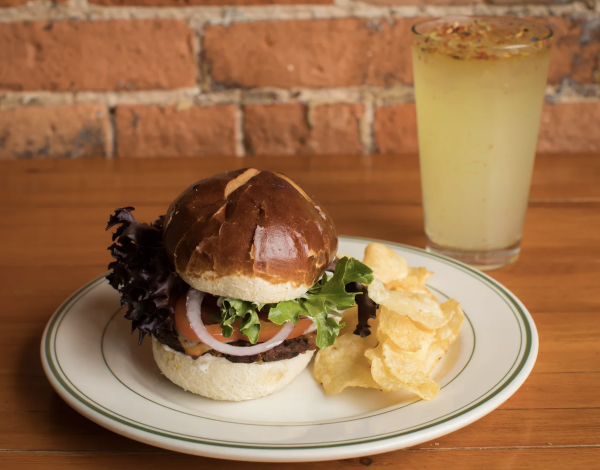 But the top spot has to go to the Black Bean Burger. A customer favorite, this burger features a black bean patty, pepper jack cheese, onion, red pepper, tomato, Heritage Blend mixed greens, and garlic cream cheese, all perfectly stacked on a warm toasted pretzel bun. 
Combined with the friendly atmosphere and delicious house-roasted coffee, you won't be able to help but feel at home at Kavarna!
#2 - India Bhavan's Veg Dum Biriyani
Want to add a little spice to your life, vegetarian-style? Look no further than India Bhavan in Ashwabenon, conveniently located right off 172 near the Titletown District. India Bhavan offers a massive menu of classic Indian and Southeast Asian dishes, with a variety of delicious vegetarian and vegan options.
It's hard to choose a favorite with almost twenty vegetarian curries alone, but if you want to try something extra special, order the Veg Dum Biriyani, one of the chef's specialties. This mixed rice dish is made with authentic Indian spices, rice, and fresh herbs and vegetables. Pair with a side of handmade naan and a sweet lassi to drink, and you'll feel like you've been transported from Green Bay to the lush green palm forests of Kerala!
#3 - Hey, Soup Sister's Chipotle Sweet Potato Soup
Owned and operated by DePere mother-daughter duo Joell and Khali Hill, Hey, Soup Sister is the best place in the greater Green Bay area to get everyone's favorite comfort food — soup! Since 2020, Hey, Soup Sister has been serving up delicious, healthy, and hearty soups to the community, partnering with Make-A-Wish, NEW Community Shelter, and Taste of Wisconsin to spread the soup gospel far and wide.
All of the soups at Hey, Soup Sister start out with a vegetarian base, and there is always at least one vegan daily soup on the menu. With almost 100 (!) soups rotating through a varied daily menu, there's something new to try every single day of the week.
Our pick for the top dish goes to the Chipotle Sweet Potato - a sweet, nutritious, and filling soup with just the right balance of comfort and kick. Customize the Chipotle Sweet Potato soup (or any of their soups) with your pick of add-ins. You'll find everything from mushrooms and cheeses to sriracha drizzles and crispy chickpea toppers!
#4 - Plia's Drunken Noodle
Thai food is undergoing something of a renaissance in Green Bay, and we couldn't be happier! One of the best places to go for an authentic and varied Thai menu is Plia's Kitchen in Allouez. With several meat-free menu items, Plia's is vegetarian-friendly without skipping out on the flavor.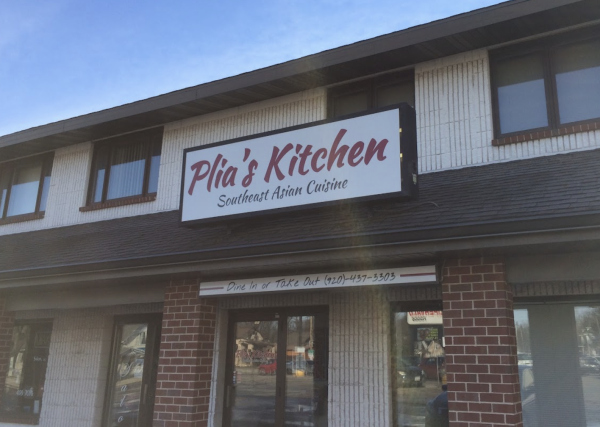 Call us basic, but if we have to pick just one, we're going for the classic Drunken Noodle dish. This is a Thai staple done to perfection at Plia's. You'll enjoy the thick rice noodles mixed with green and red bell peppers, tomatoes, basil, onions, and your option of add-in protein (go for the tofu, of course!), all cooked with a wine-based sauce. Is your mouth watering yet?
#5 - Umi Sushi
Family-owned and notably accommodating to vegetarians and vegans alike, Umi Sushi rounds out our list with some of the best vegetarian hibachi and sushi in Green Bay. With a special dedication to preparation and presentation, everyone will enjoy this fun and elevated dining experience.
Our pick for the best vegetarian dish? You can't go wrong with the delicious vegetable tempura roll with asparagus, potato, and squash tempura. Get that delicious tempura flavor and crunch with nothing but vegetarian goodness inside. Round it out with some vanilla, green tea, red bean, or mango mochi for dessert, and you'll already be planning your next visit before you even leave!

Are you ready to go vegetarian in Green Bay?
So many restaurants in the area offer truly unique and delicious vegetarian options that don't just feel like last-minute additions. The varied and innovative menus you'll find here will please even the pickiest of vegetarians, as well as the most die-hard meat eaters who might have thought they'd never enjoy a vegetarian dish. Let's go eat!
Map out your vegetarian foodie trail below! ⬇️