The warm weather has officially arrived in Green Bay and people are looking for fun ways to cool off. Luckily, there are several amazing swimming and splash pad options available throughout the city!
Staying cool during the hot summer months can be a bit of a challenge, especially if you're spending a lot of time outdoors with your friends and family! Yes, even though Green Bay has a reputation for being a frozen tundra, we experience very warm temperatures from June through August. In fact, the average temperature is over 78 degrees!
Taking a dip in a pool or a lake is a great way to get some much-needed relief — plus, it's super fun for both kids and grown-ups. If you're looking for a quick cool-down, you can run through the refreshing streams at one of Green Bay's many splash pads… if you're brave enough, that is!
Note: We recommend calling ahead as some Green Bay area pools are experiencing staffing shortages and may not be open every day or may have limited hours.
Swimming Pools & Lakes
Resch Aquatic Center (1058 Reed Street) - Located next to Fisk Park (which we talk about below in the "Splash Pads" section) is the Resch Aquatic Center, a must-visit destination for water lovers of all ages! For little swimmers, there's a zero depth wading area and tot sand play zone. For bigger kids and grown-ups, there's multiple water slides and a diving board to show off your flips and cannonballs! Big changing rooms and on-site concessions are available, too!
Joannes Aquatic Center (1430 E. Walnut Street) - Joannes Aquatic Center is a VERY popular hangout for locals and visitors alike! Here, you'll find a heated pool with zero depth wading area, a tot sand play area, and two sand volleyball courts. For brave souls, there's two 23′ high water slides, a drop slide, and a high diving board. Little ones will love zooming down the mini slide in the shallow pool or splashing around in the water fountains and sprayers!
Ashwaubomay Lake (2155 Holmgren Way) - If you're looking for a place where you can swim AND play in the sand, you have to visit Ashwaubomay Lake! This three million gallon man-made lake is just a few miles from Lambeau Field, and features a huge sandy beach, several diving rafts, and a diving platform with two diving boards. There's a shallow area for younger kids, showers, changing rooms, and a concession stand that sells both hot and cold items!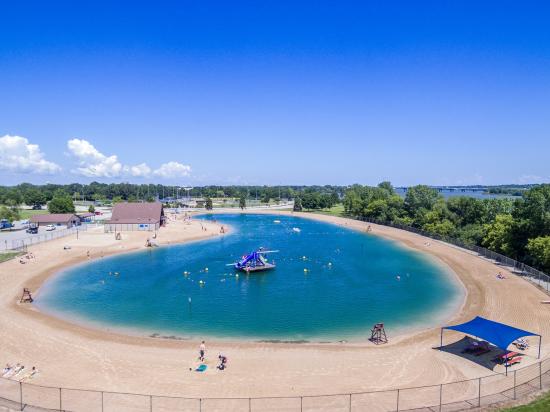 Crescent Beach (1226 Lake Street, Algoma) - Want to take a fun summer day trip? Head to Algoma! This charming city is about 30 miles northeast of Green Bay, right on the shore of Lake Michigan. At Crescent Beach, you can take a stroll on the beautiful boardwalk, play a game of beach volleyball, launch your kayak, or take a refreshing dip in Lake Michigan. The water is usually a little bit chilly, so if you're looking to cool off, it will definitely do the trick!
Splash Pads
Green Bay CityDeck (100 North Washington Street) - The CityDeck is the perfect downtown destination on a gorgeous summer day. You can watch the boats go by while the kids run around on the splash pad. And, if you work up an appetite, you can grab a meal at Hagemeister Park and enjoy their beautiful outdoor seating area!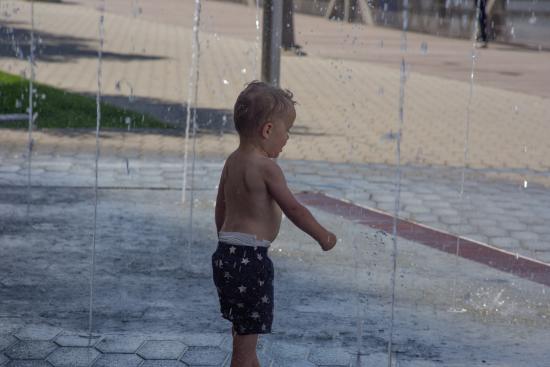 Fisk Park (995 Dousman Street) - If you want something a little less crowded than the bustling downtown CityDeck, Fisk Park is the perfect place to go. The park's splash pad is so much fun for little ones. They'll love guessing where the water is going to pop out from! The park is also home to the Resch Aquatic Center, which we talked about in the swimming pools section.
Fort Howard Park (714 Augusta Street) - Located on Green Bay's north side, this splash pad is globe-themed and it has LOTS of room to run and and play. Fort Howard Park also has over 17 acres' worth of family-friendly activities, including a basketball court, football field, tennis court, horseshoes, picnic area, playground, and restrooms.

We can't wait for you to come hang out with us this summer in Green Bay! There are so many fun things going on, and we would love to help you plan your trip! Check out our "Trip Ideas" section here for ideas and inspiration!