Spring is prime season for walleye fishing when the fish move from the Fox River to the deeper waters of the bay. Learn when, where and how to have the ultimate Green Bay fish story.
In 1933, Anthony Brothers reeled in Wisconsin's largest walleye — an 18-pound behemoth he snagged on High Lake in Vilas County. That record still stands.
But Green Bay may have actually been the site of a record-breaking catch, if only the fish had been weighed. Bret Alexander, a local fishing guide, once pulled in a 34.25-inch walleye. Brothers' fish was only 32 inches long. It's possible a new recordholder would have been crowned, but sadly, Alexander's fish was released into the water without hitting the scale first. We'll never know for sure.
It goes to show, though, that Green Bay has the potential for monster-size walleye. Fishing experts consider the waters in the bay and tributaries as the top contenders for eventually breaking the state record. Green Bay's water system — the world's largest freshwater estuary — is huge and deep, and the walleye have a plentiful supply of food thanks to delectable perch, whitefish and shad.
In the next few years, the fishing outlook is likely to just get better, since Green Bay is in the process of being designated as a National Estuarine Research Reserve, which will add funding and guidance to protect the Green Bay ecosystem.
Will you be the one to shatter the record? It's possible, but you'll need to be versed in the basics for catching walleye in Green Bay. Check out this walleye fishing guide to prepare to pull up your biggest catch yet. Just make sure you remember to weigh it!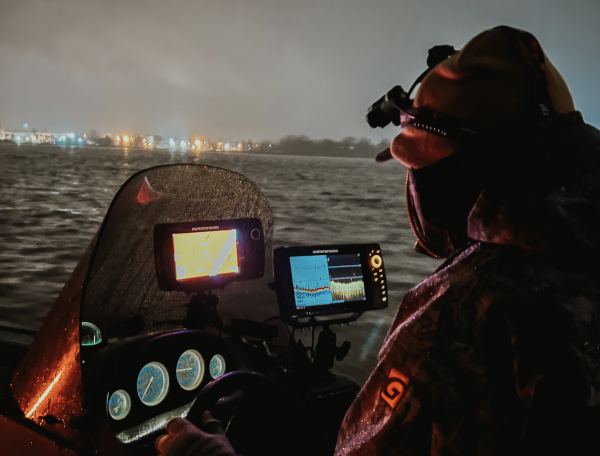 photo courtesy: @skozlowskiii
When Is Peak Season?
Technically, you can fish for walleye any time throughout the year. Ice fishing, anyone? But if you want to brag to your buddies about the biggest catch, head out in spring. Beginning in March, when the ice starts to break up on the water, walleye move from the Fox River and other tributaries out into the deeper waters of the bay. It's common to end a spring walleye fishing trip with about 30 fish in the boat. The fish are hungry this time of year, and they swim in large schools, congregating in buildups of warm water pushed in by the current. You can typically catch trophy-size walleye from March through mid-May.
Where Should I Go?
Green Bay is big. It's 20 miles across at its widest point and stretches up about 120 miles. With all the tributaries heading into the bay, knowing where to fish can be a bit of a mystery. Since you'll be out in the spring, though, stick to the river mouths. The water will be warmest there at this time of year, and the walleye will be hanging out in the toasty temps. The Fox River is best for early in the season. As it gets later, move up to the Oconto and Peshtigo Rivers.
Where to Drop the Boat in?
Bomier Boat Launch - 700 Fox River Dr., De Pere

Fox Point Boat Launch - 1075 N. Broadway St., De Pere

Perkofski Boat Launch - 1500 Fort Howard Ave., De Pere
Where to Get Some Grub? 
After a day of reeling in monster walleye you're bound to have a hungry belly - here are a few local spots directly off the Fox River to grab dinner or a quick bite:
The Abbey (center photo) - A De Pere landmark with an easy going vibe and traditional pub food
Brickhouse Burgers (left photo) - Modern & roomy pub featuring build-your-own burger options, unique beers & live music.
Lost Key Tap (right photo) - (15 mins away from downtown De Pere) Lost Key Tap brings an elevated, chef-driven menu to downtown Wrightstown. Set directly between Green Bay and Appleton, Lost Key Tap brings a taste of big-city flavor to small-town Wisconsin. Chef Curt Lambert offers a curated menu composed of a made-from-scratch fare, ranging from favorites such as house-made pastrami reubens to risotto and grilled salmon.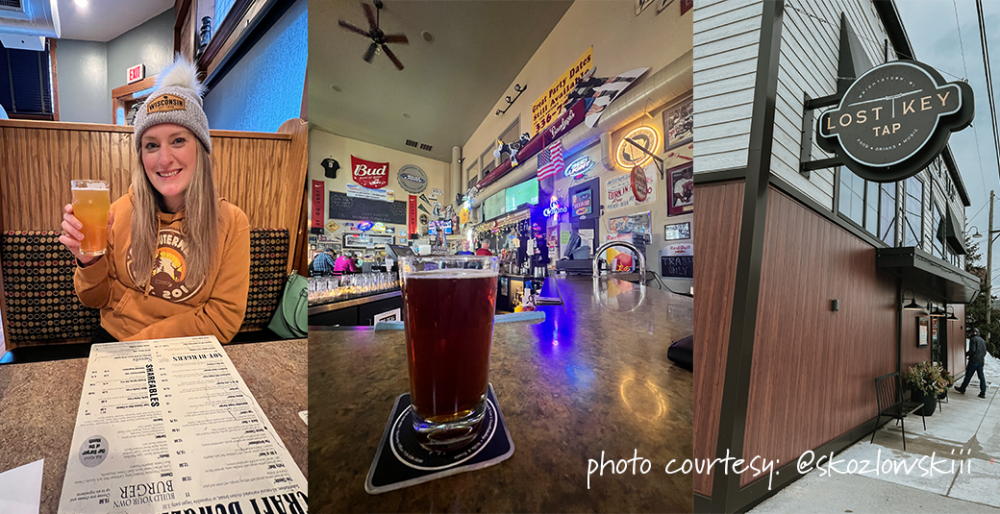 How Do I Learn?
If you're just starting out, hire a guide. Walleye fishing outfits are plentiful here — we recommend Green Bay Outfitters or Chasin Eyes — and they'll have all the equipment and knowledge you need to get your catch. They'll let you know the best fishing method for the timing of your trip, which will likely be one of three options: trolling, jigging or casting crankbaits. With trolling, you bait a line and drag it through the water. When you're jigging, you're pulling the bait up and down in the water. Casting crankbaits means throwing out a line with a crankbait on it, which is a lure that dives underwater when you reel it in. Consider fishing at night, as well. Walleye spend most of the day hiding in lower depths, and they become more active when night falls.
No matter when you go, though, you'll be sure to wow your friends when you come back with a shot of your biggest trophy catch yet. Learn more about how to plan the perfect fishing trip in Green Bay.
This blog is written by Jennifer Billock in collaboration with content creator @skozlowskiii