Your Guide to Ice Fishing in Green Bay
Anglers know the joy of feeling a heart-pumping tug before reeling in the biggest, most perfect fish they've ever seen. In Green Bay, you can do that on ice!
In Green Bay, it's possible to extend your summer fishing days into the winter by popping up an ice fishing shed, drilling a hole in the ice and throwing down your line into the depths. Scoring a huge fish is that much more rewarding when you manage to pull it from a frozen lake. You'll be bundled up against the cold, but you won't be able to deny that those rosy cheeks aren't just from the chill — they're also from fishing pride.
Where to Go
The great thing about Green Bay is that it's, well, on Green Bay. That means when the weather is right and the ice is thick enough, you can pop out to virtually anywhere on the lake or the Fox River system and drop a line for some ice fishing. Just keep in mind that ice fishing in the Bay Beach Wildlife Sanctuary is not allowed.
What to Wear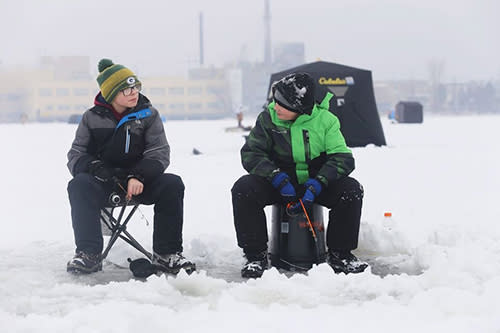 With a name like "ice fishing," it's clear you're going to be pretty cold out there. First thing's first: Make sure you have the right clothes. Get a pair of thick wool socks and a pair of moisture-wicking socks. Skiing socks that go up to the knee work great for this. Cover those up with a good pair of winter boots, ones that are rated for negative temperatures. Check the bottoms for robust traction patterns so you won't slip on the ice — otherwise you might need to consider crampons. For the rest of your outfit, layer layer layer. A one-piece thermal underwear makes a great base layer, topped with a couple layers of wool or fleece. Put a waterproof winter jacket over that, and snow pants if you have them. Remember that you'll be kneeling by the hole a lot, so be sure you have enough flexibility in your clothes, and either overalls or a good belt to stop your pants from creeping down. Bring two pairs of gloves, a hat that covers your ears, and sunglasses to help you spot the fish against any glare from the ice.
Safety First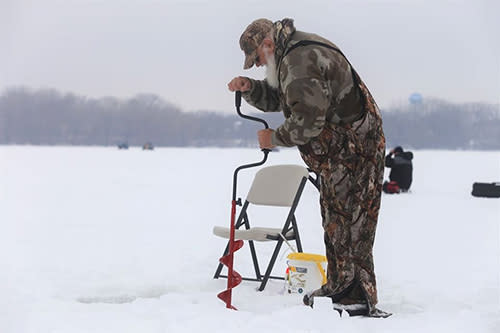 It's extra important to check the thickness of the ice before heading out to ice fish in Green Bay. You'll need at least four inches of solid ice to support the average adult weight. Speak to a local outfitter (like Ice Fish Green Bay or Silver Strike Fishing) who can tell you the reported thickness of the ice where you are, and then head out and double-check it yourself. Use an ice auger to drill straight down into the ice, then measure the depth of the hole with a tape measure. You can also use a chisel to make the hole, or even a hatchet. Just remember: less than four inches, no fishing.
More Ways to Play
Discover more ways to embrace the chill with winter activities in Green Bay, a year-round destination that may surprise you.