St. Patrick's Day is right around the corner, which means you probably want to know the best places in Green Bay to get an order of corned beef or a pint of Guinness. Don't worry, we've got you covered!
Green Bay might not be the first place you think of when you think of Irish culture, but Wisconsin actually has a fairly significant Irish population. In 1860, the population of Wisconsin was just over 775,000 and almost 50,000 of them were Irish immigrants. In fact, the Irish were the largest English-speaking group to settle in the state.
Whether you have Irish roots or not, St. Patrick's Day is a great time to get out and celebrate (and indulge in some amazing food and drinks). And, just your luck… Green Bay has great places for you to do that. So, may the road rise to meet you as you enjoy your time exploring Green Bay's best Irish stops. Sláinte!
St. Brendan's Inn is probably the first place most locals think of when they think of Irish food in Green Bay. This Irish inn and pub has so much charm, you immediately feel relaxed and cozy when you walk through their front door.
The pub specializes in contemporary Irish dishes like grilled salmon, sautéed mussels, shepherd's pie, and of course — everyone's favorite — their famous Guinness pot roast. The pub is encased in large stained glass windows and even features a bog snug, which is an Irish term for a private sitting area, complete with a roaring fireplace. It's the perfect place to settle in with a pint after a filling meal!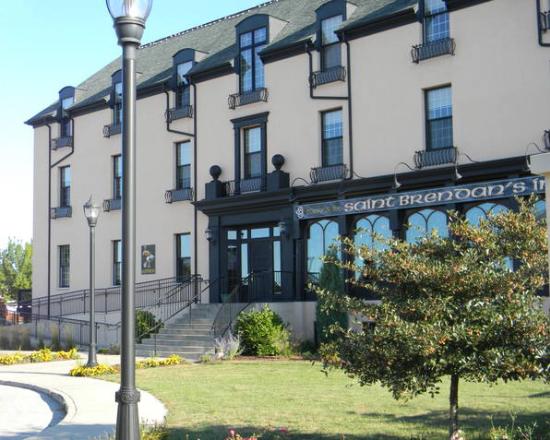 The Ennis Inn is another boutique hotel located in historic downtown De Pere. Their slogan is "Where the Fergus meets the Fox" and their goal is to create an old world escape in the middle of the upper midwest. It's the perfect place to continue your Irish pub crawl!
Step up to the bar and order yourself a glass of Bushmills Irish Whiskey or a Smithwick's Ale. If you're feeling adventurous, try a Blacksmith (half Smithwicks and half Guinness) or a Black Velvet (half Magners Irish Cider and half Guinness). Feeling hungry? You can't go wrong with an order of Colcannon Poppers or their beloved Irish Root Soup.
If you really want to let loose, McGeorges Pub should be on your list. According to their Facebook page, they "love to party and guarantee a good time." Say no more! We recommend hitting up their happy hour from 3-5pm Monday through Friday. Pick out a few of your favorite songs on the jukebox, grab a beer, and challenge your friends to a game of darts or billiards. 
Speaking of beer, they have a VERY impressive selection to satisfy any craving, from a traditional Guinness or Smithwick's Irish Ale to Wells Sticky Toffee Pudding from England. Their pub menu features a mix of American dishes and Irish favorites, like the Dublin Meatloaf Sandwich and the McGeorge's Mussels.
For serious beer drinkers only! Just kidding; everyone is welcome at Ned Kelly's Pub. But beer drinkers will be amazed at the vast number of beers they have on tap (we're talking over 100 different options at any given moment). Not only that, their bartenders know exactly how to serve each one; always in a freshly rinsed glass and at the proper temperature.
Their beer lineup changes weekly, but you'll always be able to find a few of your favorite Irish options no matter when you visit. Also, be sure to ask the bartender about their $2 "Such is Life" shots, which are only available when the Jameson chandelier light blinks on and off.
McGuinness Irish Pub - If you're headed to Appleton during your trip, you'll definitely want to make a stop at the McGuinness Irish Pub. It's a short 30-minute drive south of Green Bay, and it's definitely worth a visit if you want to check all the area's best Irish pubs off your list.
McGuinness is Appleton's only authentic Irish pub. They have 85 whiskeys available, a large collection of Irish beers, and specialty drink options like their Irish Coffee and Shamrock Martini. They also have a full menu with all of your favorite Irish dishes like Curry Chips, Scotch Eggs, and Bangers and Mash. Here's a tip: ask for your meal to be made the "O'Hara Way" and they'll add a helping of their famous slow-cooked corned beef to your plate!
If you decide to embark on this Irish pub crawl, be sure to share your experience with us on social media! Tag us @discovergreenbay so we can see your photos and videos.